Neem Capsules - Uses, Benefits and Dosage
Neem Capsules by Planet Ayurveda contains standardized extract of "Azadirachta indica" bark in pure vegetarian capsules. Each capsule consist of 500 mg of neem extract (10:1). The dosage of neem for skin diseases is 1-2 capsules twice/thrice daily for one month after meal, with plain water.
Medicinal properties of neem have been known to Indians since time immemorial. The earliest Sanskrit medical writings refer to the benefits of neem's fruits, seeds, oil, leaves, roots and bark. Each of these has been used in the Indian Ayurvedic systems of medicine.
In Ayurvedic literature neem is described in the following manner: 'Neem bark is cool, bitter, astringent, acrid and refrigerant.
It is useful in tiredness, cough, fever, loss of appetite & worm infestation etc. Neem herb heal wounds and vitiated conditions of kapha, vomiting, skin diseases, excessive thirst and diabetes etc.
The Neem leaves are reported to be beneficial for eye disorders and insect poisons.
It is anti-leprotic. The fruits are bitter, purgative, anti-hemorrhoids and anthelmintic. Claimed that neem provides an answer to many incurable diseases.
Traditionally neem products have been used against a wide variety of diseases which include heat-rash, boils, wounds, jaundice, leprosy, skin disorders, stomach ulcers & chicken pox etc.
Modern research also confirms neem's curative powers in case of many diseases and provides indications that neem might in future be used much more widely. Some important medical applications of neem capsules are as mentioned below
Major Uses Of Neem
Neem gives excellent results in all skin diseases like Acne, Eczema, Psoriasis, Scabies, Herpes, Athlete's foot, Yeast infection, Candida and so on.
Neem is also Helpful in:
Dental diseases like Gingivitis, Gum disease & Tooth decay etc. open up the capsule and scrub the powder on the gums and teeth.
Respiratory diseases like Bronchitis and Cough- excellent to treat infections.
Leucorrhoea - Good to clear the foul smell and works best anti-biotic and anti-septic.
Skin related infections like Acne, Eczema, Psoriasis, Scabies, Herpes virus & Athlete's foot etc.
What Is Azadirachta Indica – Neem Tree?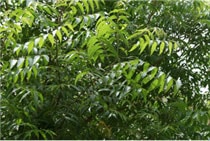 Among the many natural plants and Ayurvedic herbs that people in India use for their medicinal properties, the Neem tree (Azadirachta indica) is one of the most beneficial for natural or Ayurvedic medicine. Found over most of the forested regions of the Indian Subcontinent, as well as in other countries of similar climatic conditions.
The Neem tree can thrive in climates that range from hot, or tropical (45 degrees Celsius) to altitudes of semi-temperate, higher altitude regions, with temperatures slightly above freezing. Used in Indian Ayurvedic medicine for more than 3,000 years, the Neem tree's bark, Neem leaves, Neem seeds and roots can be made into various medicinal remedies for a wide range of ailments, ranging from anti-hemorrhoids and loss of appetite, diabetes to leprosy and other skin disorders.
For generations, Indian medical practitioners have made poultices from Neem leaves to care skin diseases such as boils, ulcers, eczema, and ring worm. Pastes and extracts from Neem trees have also proven effective in treating various skin fungus conditions including athlete's foot, lesions in the mouth and vagina. More serious diseases such as chicken pox and small pox have been treated with Neem tree pastes. Even people suffering from herpes and hepatitis B viruses have obtained relief from Neem tree preparations.
Oil made from the Neem tree's fruit and seeds is light to dark brown in color and somewhat bitter tasting almost like a combination of peanuts and garlic. The oil contains quantities of steroids, including beta-sitosterol (used to treat men suffering from enlarged prostate glands) as well as linoleic and oleic acids (Omega 6 and 9) and is found to contain well known Omega 3 fatty acid (used to prevent arterial sclerosis). In addition to its medicinal properties, Neem oil is also used as a base for variety of organic cosmetics including soaps, shampoos, hand and body lotions and creams. It is also used as an organic bio-pesticide repellant against insects such as Japanese beetles, meal worms and aphids.
Neem trees are now grown commercially in more than 30 countries and have even been successfully introduced into warmer regions of North America. Because of its climatic versatility, Neem trees are being used in many reforestation projects around the world.
Benefits of Neem
The Neem tree has been used for more than 4,500 years in the Indian sub-continent. Indian physicians Charaka (2nd century AD) and Susruta (4th century AD), whose books provided the foundation of the Indian system of natural treatment. The Ayurveda also mention Neem tree and its medical use. In Ayurveda the neem tree is called the "Sarva Roga Nivarini" (one that could care all ailments and ills). Neem capsules are the best product for curing psoriasis naturally. Psoriasis is a complicated skin disorder, but neem helps to get rid of this disease naturally. There are several other skin diseases which are healed by using neem capsules.
Neem Extract Uses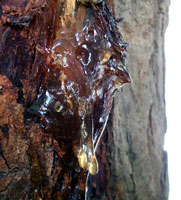 Neem extracts is used in different industries like- Agricultural industry, the azadirachton compound in neem has been recognized as an effective insecticide that is biologically selective, not harming the useful pest- predators but keeping almost 250 harmful ones at bay. Neem is used as bio pesticide, cake is traditionally put in rice fields as a fertilizer.
Herbal industry, Traditionally Neem was used in Ayurveda for a number of conditions and herbs are prepared from centuries. One of the main ingredients in every blood purification formula used in Ayurveda and appears in most Diabetic formulas. It is used for arthritis, rheumatism, the removal of external and internal parasites, including malaria, fevers and as an insect repellent. Neem possesses anti-diabetic, antibacterial and antipyretic (fever reducing) properties. Neem is used for a wide range of ailments including flu, fever, sore throat, cold, fungal infections, skin diseases, malaria and many more ailments.
Pharmaceutical industry: Neem is used for making antiseptic creams, tablet binder and coater.
Cosmetic Industry: In India neem is being used in cosmetic and in toiletries from centuries. The boiled spring's water is used for hair wash. Neem herb hair treatment clears scalp infections, dandruff, stimulates both the growth and texture of the hair. It rids the scalp of nits, dry itchy scalp and excessive oiliness. Neem is very effective in clearing up fungal infections like athlete's foot, ringworm and Candida Facial masks, lotions, face powder & protective creams etc. This herb cake is traditionally put in rice fields as a fertilizer. Scientists recommend coating urea with neem cake to kill nitrifying bacteria.
Paper Industry: Used as an adhesive and strengthening the paper.
Textile Industry: It is used in dyeing and printing of fabrics.
Personal Hygiene Industry: Neem herb is used in soaps, tooth paste & tooth powders etc.
Food Industry: Used as a stabilizing agent, gels and thickening agent.
Purify air: Neem is air purifier, hence can be planted around hospitals, sanitariums, polluted areas, tree leaves or camphor balls are placed inside bookcase or cupboards to protect from insect infection.
Leaf tea: Tea made from the leaves and mature seeds is popular remedy for treating bladder, kidney and prostate ailments. Brewed tea can be added to a base cream and used as a healing, soothing treatment for haemorrhoids. The bark and roots are made into a tea and has been used for centuries to treat jaundice, liver ailments, intestinal parasites, stomach ulcers and malaria. A strong tea of the leaves is used as a lotion for sprains, bruises and swollen glands – a bandage or cloth soaked in the hot tea is applied to the area and held in place, often with a banana leaf wrapped around it. As a wash and lotion the same tea is used for eczema, rashes, grazes, scrapes and to wash out wounds. Leaves heated in boiling water are applied to boils, sprains, infected wounds, bites, stings and infected grazes.
Classical Reference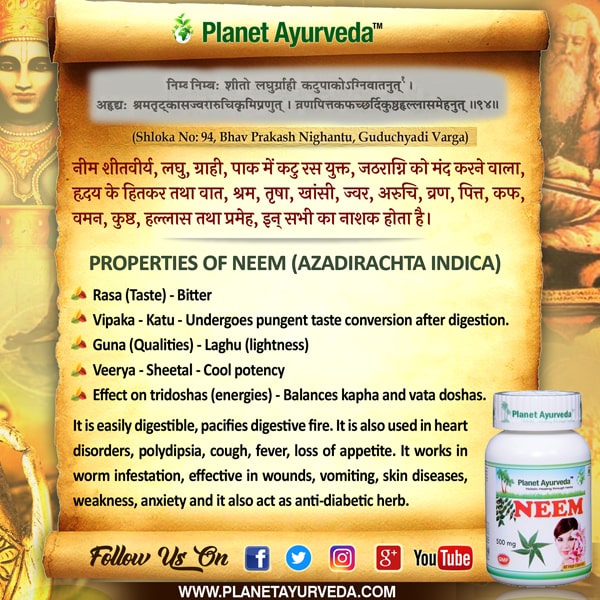 The results of Neem are evident within 5 days. Two capsules three times a day is the recommended dosage. The Neem based products we are selling are of high quality and 100 % vegetarian. We assure you of guaranteed results.
To buy Neem Capsules, please visit store.planetayurveda.com/products/neem-capsules