Planet Ayurveda Products Distributor in Bucharest, Romania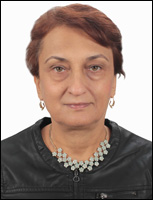 Ms. Dumitru Mihaela Elena
Ms. Dumitru Mihaela Elena is licensed in Biochemistry and Technology Depollution. She and her husband have a business that deals with European projects and the implantation of large industrial production sites for customers from several countries. She is also a trainer in European project management. She has a very strong connection with nature and every year she studies and collects the herbal plants from her country, Romania. She prepares the herbal blends, creams, massage oils and extracts by herself, which she then offers to those around her who need them.
She is an enthusiastic and passionate acquaintance of Ayurvedic therapies, a passion she has developed for 20 years. In 2014, she had a health problem and, after reading about Planet Ayurveda's products, she wrote to Dr. Meenaski Chauhan, who recommended her to treat herself with the products of this company and so Mihaela has restored her health.
She translated Dr. Vikram Chauhan's book for the Romanian public, which popularizes the wonderful qualities of this ancient wisdom, which is Ayurveda. Click here to read/download this book online.
She attended the 2nd Ayurvedic Workshop of the Planet Ayurveda company, held in Rishkesh, India.
She has a special love for Ayurveda and she loves introducing its healing power to those new to it, as nothing gives her greater joy than seeing others awaken to the enduring health of the body, mind and spirit with these ancient sciences. She is grateful for the opportunity to contribute to the continuation of this knowledge, that these sacred teachings may continue to spread far and wide, offering healing and hope to as many as possible.
Address:-
Dr. Joseph Lister
Street No. 20, Sector 5,
Bucharest, Romania
Postel Code - 052034
Contact Details:-
Phone No.: (+40) 742240203
E-mail ID: officesadeco@gmail.com