AYURVEDIC TREATMENT OF LEUCORRHOEA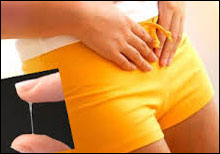 Now a days, problems of genital disorders in the women are increasing at very fast rate. Various factors are responsible for this problem like our life style, emotional stress and improper eating habits. Leucorrhoea (shwetapradara), genital is also a genital disease which is very common in women these days. In this disease there is secretion of white discharge from vagina which results in the inflammation and redness in genital parts. This disease can be treated by allopathic medicines but it results in many other health complications. Whereas ayurvedic medicines provide the excellent health benefits with the treatment of disease and main purpose of ayurvedic medicine is to diminish a disease with its roots. Here we are discussing the various aspects of Leucorrhoea.
ABOUT LEUCORRHOEA
Leucorrhoea is the common problem of vaginal discharge in women which causes the inflammation, irritation and redness of genital parts. There is presence of white discharge in the vaginal secretion. This problem can be due to hormonal imbalance in the body. Vaginal secretions vary during menstrual cycle and ovulation. Heavy stress may also lead to Leucorrhoea.
BEFORE SWITCHING TO TREATMENT PART, WE MUST KNOW THE CAUSES OF DISEASES
Improper diet habits.
Uses of contraceptives.
Hormonal imbalance.
Use of unhygienic toilets.
Dirty undergarments.
Parasites like Trichomonas vaginalis also results in Leucorrhoea.
Fungus like Candida albicans can cause the Leucorrhoea which is due to poor hygiene.
Bacteria like Chlamydia and Gardnerella vaginalis also cause Leucorrhoea.
Weak immunity also raises problems of Leucorrhoea.
Spray and jellies used by female to avoid pregnancy can also trigger the infection in vaginal areas.
Lesions in genital parts due to excessive itching.
WHAT CAN BE THE SYMPTOMS OF DISEASE?
Presence of white discharge in undergarments is the major symptom of Leucorrhoea.
Excess irritation and inflammation in genital areas.
Pain in stomach and itching sensation with discharge results in the serious problem.
Lethargy.
Presence of dark patches under eyes.
Headache and irritation
Problem of indigestion.
Vertigo.
Problem of constipation.
In severe cases color of discharge can be yellow, green and brown.
DON'T TAKE LEUCORRHOEA LIGHTLY BECAUSE IT CAN CAUSE THE SERIOUS COMPLICATIONS
When infection is not treated timely, it can spread into ovaries, uterus and fallopian tubes. Infection in the fallopian tubes causes the destruction of tube which results in infertility. White discharge after menopause and late fertile stages should be diagnosed properly because it can lead to severe cases of cervix cancer. Infections of vagina and urethra easily spread into the nearby organs like urinary and reproductive areas.
CAUSES OF LEUCORRHOEA ACCORDING TO AYURVEDA
In ayurveda Leucorrhoea is named as shwetapradara. According to ayurveda, there are three energies – kapha, pita and vata which are required in a proper balance for for good health. In ayurveda it is concluded that cause of Leucorrhoea is due to aggravation in kapha dosha. It occurs commonly in women who are weak internally and anemic. This disease causes the irritation and inflammation in genital parts of women. Problem of Leucorrhoea occurs during fertility years, menopause and hormonal imbalance. This disease can be treated easily by having the healthy diet, reducing the stress levels and herbal medicines.
HERBAL REMEDIES FOR LEUCORRHOEA BY PLANET AYURVEDA
Planet Ayurveda provides best combination of effective herbal remedies such as Leucorrhoea Care Pack for ayurvedic treatment of leucorrhoea. These herbal remedies are prepared from using best quality herbs and strictly follow the principles of Ayurveda. All these herbal remedies of Planet Ayurveda are 100 percent pure, natural and vegetarian. These are free from chemicals, additives and preservatives. These are safe to use as these are free from side effects.
Dosage
Female Health Support : 2 capsules twice a day with warm water.
Pradrantak Churna : 1 teaspoon twice a day with warm water.
Pitta Balance : 1 capsule twice a day with warm water.
Gandhak Rasayan : 2 tablets twice a day with warm water.
PRODUCTS DESCRIPTION
1. FEMALE HEALTH SUPPORT
Planet ayurveda offers the female health support for the treatment of Leucorrhoea. This product is the mixture of herbs like ashoka and lodhra. From the ancient time it is believed that ashoka is quite effective to balance the female hormones. It also helps to solve the menstrual cycle irregularities and provide the relief in menstrual cycle. Lodhra is the herb which is commonly used to treat the infection caused by Leucorrhoea. This herb fights against the various problems like excessive vaginal discharge and problem of menstruation cycle in women.
2. PRADRANTAK CHURNA
Pradrantak churna is the powerful product in powder form offered by planet ayurveda. This product is quite effective in the treatment of Leucorrhoea. This product is the combination of various herbs like arjuna, lodhra, ashok and udumbur. Herbal remedies for Leucorrhoea by planet ayurveda show the satisfactory results in patients without side effects. This product has anti inflammatory properties and gives the relief in hypertension. Pradrantak churna solves the various problems in females to control stress levels, irregularities of menstrual cycle and excess bleeding problems.
3. PITTA BALANCE
Pitta balance helps to stable the three energies of body that are kapha, vata and pitta. This product is the combination of various ingredients and herbs like parval pisthi, akik pishti, kamdudha ras, parval pishti and giloy which are useful in the treatment of leucorrhoea. This herbal product helps to balance the kapha dosha in body which is the main cause of Leucorrhoea. It is also useful to control the heavy stress levels and also balance the hormonal changes in the body. Herbal remedies for Leucorrhoea by planet ayurveda show satisfactory results in patients.
4. GANDHAK RASAYAN
This product is prepared by the purified form of sulphur. This product is quite effective against urinary tract infections and also has anti-inflammatory properties which help to reduce inflammation in the tissues. It is also effective against the bacterial infections. Herbal remedies for Leucorrhoea by planet ayurveda show good results in the patients.
To buy Leucorrhoea Care Pack, please visit store.planetayurveda.com/products/leucorrhoea-care-pack
WHY ONE SHOULD GO FOR PLANET AYURVEDA PRODUCTS?
100% purity of products.
All products are made from pure herbs.
Products are free from preservatives, starch, additives and colors.
Product manufacturing is done by the experienced MD doctors of planet ayurveda.
Main emphasis is to trigger the good health with the treatment of disease.
WE BECOME WHAT WE EAT, SO TAKE A HEALTHY AND BALANCED DIET
Foods to be preferred
Include one or two bananas in diet.
Dip the Coriander seeds in the water for whole night and consuming that filtered water in the morning is quite effective in the cases of Leucorrhoea.
Consuming cranberry juice daily is also quite effective in the treatment of Leucorrhoea.
Drink a glass of lemon juice and orange juice in the morning is good.
Consume the vegetables like lady finger in raw form is also effective.
Include figs, raisins, apple, figs and all berries in your diet.
Take milk every day.
Indian kitchen spices like garlic and ginger have antimicrobial and anti inflammatory properties which are effective to treat the Leucorrhoea infections.
Foods to be avoided
Fried and spicy foods should be avoided completely.
Avoid white flour.
Avoid white sugar products.
Avoid packed and canned juice.
Drinks like tea and coffee should be avoided.
SOME SUGGESTIONS FOR LEUCORRHOEA
Besides the dietary guidelines, there are various factors which are also responsible for Leucorrhoea. So there is the need of some transformations in life style like proper hygiene in washrooms or undergarments, proper rest for body and yoga exercises.
Share On