Natural Treatment of Depression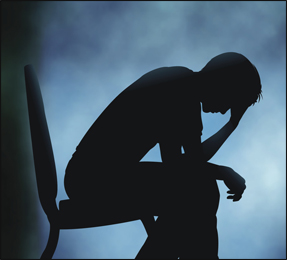 About Depression
Depression is a mood disorder which causes loss of interest and a feeling of sadness in a person. The disorder is also known as clinical depression or major depressive disorder. It affects mood, thinking, feeling as well as the behavior of an affected person. A person may have trouble in doing his daily activities.
Causes of Depression
The exact cause of this disorder is not known, but there are some factors that may cause this disorder.
The factors are listed below:
A person with depression may have a different physical appearance.
Stress is the major reason for the same disorder.
Change in the functioning of neurotransmitters is also responsible for the same. Neurotransmitters are associated with the functioning of the brain.
Hormonal changes in the body may also cause depression.
A person having a family history of this disorder is also at high risk of getting this disorder.
Certain medications can be the reason for the same.
Serious health problem may cause depression.
Alcohol abuse is another reason for the same disorder.
What are the Complications of Depression?
This mood disorder is often gets serious and may cause some serious health complications if not treated well.
The complications that can be resulted due to this disorder are listed below:
It may lead to weight gain and in turn may cause heart disease as well.
Physical illness can be caused due to this disorder.
Conflicts within a family or family relationship may get disturbed.
Anxiety or any other panic disorder.
Pain in the body.
The disorder may cause suicidal feeling in the affected person.
The disorder may cause social isolation.
How can Depression be Diagnosed?
A doctor may diagnose the disorder by doing a physical examination of an affected person. He may ask for some test, such as blood test such as complete blood count test or he may check the functioning of the thyroid gland in order to confirm the diagnosis. A doctor may even ask about your feeling, thoughts or behavior pattern.
Depression and Ayurveda
Ayurveda offers a natural way to cure this mental disorder. It offers the treatment that involves the natural herbs. And these herbs are free from side effects and hence safe to use. Ayurveda cures the disease by balancing the aggravated doshas.
In general, there are three doshas of the body which are in turn regarded as the life forces. The doshas are Vata, Pitta and Kapha. All these doshas must be in a balanced state because Ayurveda says, any imbalance in any of these doshas leads to health problem. Hence, their balancing is required to maintain a good health.
Depression in Ayurveda is known as "Vishada". This mental disorder is described as one of the most disease aggravating factors. No doubt, the disorder comes under the category of psychological disorder, but it may affect the whole body.
Herbal Remedies for Depression by Planet Ayurveda
Planet Ayurveda provides best combination of effective herbal remedies such as Depression Care Pack for ayurvedic treatment of depression. These herbal remedies are prepared from using best quality herbs and strictly follow the principles of Ayurveda. All these herbal remedies of Planet Ayurveda are 100 percent pure, natural and vegetarian. These are free from chemicals, additives and preservatives. These are safe to use as these are free from side effects.
Dosage
Gotukola Capsules - 2 capsules twice daily with plain water.
Medhya Churna - 1/4 teaspoon once daily with 1 spoon of Cow Ghee (Clarified Butter).
Memory Support - 2 capsules twice daily with plain water.
Stress Support - 2 capsules twice daily with plain water.
Products Description
1. Gotu Kola Capsules
This herbal capsule from the house is the effective product for depression and stress. This product is made using the pure and standardized extract of Gotu kola (Centella asiatica).
The herb is useful in boosting memory, manage concentration as well as helpful in treating acidity that occurs due to stress and depression. The herb helps in preventing nervous exhaustion and calming down the nervous system. Thereby helping with stress management as well.
2. Medhya Churna
This is the herbal powder that is made using a special combination of some wonderful herbs that are used frequently in Ayurveda. The herbs include Brahmi (Bacopa monnieri), Vacha (Acorus calamus), Sonth (Zingiber officinale), Ashwagandha (Withania somnifera) and Shankhpushpi (Convolvuluv pluricaulis).
All of these herbs are effective in the management of stress and depression.
3. Memory Support
This product is prepared using the pure herbal extracts of useful herbs such as Brahmi (Bacopa monnieri), Vacha (Acorus calamus), Shankhpushpi (Convolvuluv pluricaulis) and Licorice (Glycerrhiza glabra).
All these herbs are effective for this health problem. The Vacha herb is known to have a strong effect on memory. It manages stress and improves memory. Licorice is one of the best known anti-stress and anti-depressant herb. The Shankhpushpi herb is known to have a cooling effect on our mind and is a strong brain booster as well and hence, a great herb for managing stress as well.
With the help of this product, sleep can be easily induced in a natural way. Hence, the great one for this problem.
4. Stress Support
As the name suggests, the product is great to manage stress and depression. The product is made using a combination of result oriented herbs such as Ashwagandha (Withania somnifera), Tagar (Valeriana Wallichii) and Brahmi (Bacopa monnieri).
The herb Brahmi has a cooling effect and is effective in managing mental stress. The herb tagar is known to have a strong effect on the nervous system. It calms down the nervous system and is useful in providing relief from stress and is helpful in fighting depression. Ashwagandha is used frequently in Ayurveda for a number of health benefits. One of its most important benefits is to provide relief from stress as well. That's why the herb is also known as antistress herb as well.
Overall the product is the perfect one to manage this health problem.
To buy Depression Care Pack, please visit store.planetayurveda.com/products/depression-care-pack.
Diet and Lifestyle
Depression can be controlled to some extent with the help of some ways that can change our mood. Exercise makes us feel fresh and active. So a person suffering from this disorder should regularly do the exercise. Be regular in the treatment. Don't ignore the symptoms. Alcohol should be avoided. Always pay attention to your symptoms. Always take care of yourself. Eat healthy and balanced diet.
Share On