Natural Treatment of Irritable Bowel Syndrome (IBS)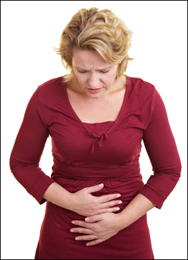 Introduction
It is very common digestive disorder that occurs all around the world. In modern era, people have busy lifestyle and they have no proper time to pay attention to diet, exercise and daily routines. Due to lifestyle changes the proper diet has been replaced with junk foods and bakery products. This food causes indigestion and is responsible for gastric problems like IBS, Dyspepsia, because bad digestion is the root of all diseases.
What is IBS?
IBS is the functional disorder in which functioning of digestive system changes which results in gastric problem includes abdominal pain and trouble with bowel habits either may be diarrhea or constipation that referred to IBS. It is considered as syndrome with alterations in stool consistency either liquid or solid. People who have IBS have extra sensitive nerves and muscles in the bowel because of vitiated Pitta and Vatta. It affects intestine which is part of digestive system that stores stool. It is a problem with movement rather than any tissue damage of digestive system.
Ayurveda Outlook
Vatta, Pitta and Kapha are the main energies of healthy body. If there is imbalance occur between these three energies that results in health complications. Any of body energies aggravated and toxins (ama) are generally present in such cases. IBS is known as Grahani Roga. Grahani is the particular part of GI system which is main site of Enzymes (Agni). Normally, Agni is the base of life that plays a key role in bio- transformation. Grahani holds the food for digestion and absorption. It is nourished by strength of agni. Vitiation of Agni results in Madagni that is responsible for Ama dosha (accumulation of endotoxins) which is the main factor for various diseases.
Ama dosha may cause many gastric problems:
Bloating
Autoimmune disorders, arthritis
High cholesterol level
IBS (Irritable Bowel Syndrome)
Piles
Hindrance in absorption of nutrients.
Types of Grahani (IBS)
Due to imbalance of three doshas IBS is divided into different types:
Constipation - Predominant IBS - It is caused by vata imbalance and also known as Vata Grahani.
Diarrhea - Predominant IBS - It is caused by pitta imbalance and also known as Pitta Grahani.
Dysentry - Predominant IBS - It is caused by Kapha and known as Kapha Grahani.
Complex IBS - It is also known as Tridosha Grahani and t is caused by all three doshas.
Accrual IBS
Tympanitis predominant IBS (Ghatiyanthra Grahani).
Common Symptoms of IBS
Abdominal pain and discomfort
Abdominal contraction increases after eating
Feeling of unclear bowel
Chronic diarrhea, constipation or a combination of both.
Cramping
Common Causes of IBS
There are number of factors may be responsible for IBS. These may be:
Complications Associated with IBS
Diarrhea and constipation both can aggravate to hemorrhoids.
Herbal Remedies for IBS by Planet Ayurveda
Planet Ayurveda provides best combination of effective herbal remedies such as IBS Care Pack for natural treatment of irritable bowel syndrome (IBS). These herbal remedies are prepared from using best quality herbs and strictly follow the principles of Ayurveda. All these herbal remedies of Planet Ayurveda are 100 percent pure, natural and vegetarian. These are free from chemicals, additives and preservatives. These are safe to use as these are free from side effects.
Dosage
Digestion Support - 2 Capsules twice daily, with plain water after meals.
Kutajghan Vati - 2 Tablets twice daily, with plain water after meals.
Sanjivani Vati - 2 Tablets twice daily, with plain water after meals.
Pitta Balance - 1 Capsule twice daily, with plain water after meals.
Products Description
1. DIGESTION SUPPORT
It is pure natural herbal supplement that contains different herbs. It is well known for its action on digestive system. This is helpful in removal of excess of Kapha which is main reason of loss of appetite.
It is mixture of different herbs which are explained below:
Haritaki (Terminalia Chebula) - It is wonderful herb for digestive system. It helps to clear bowel and prevent the formation of gas. It act as very effective herb for constipation, flatulence etc.
Sounf (Fenniculum vulgare) - It is common used herb that provides relief from gas, acidity.
Babhitaki (Fenniculum vulgare) - It improves whole digestive system. It is mild laxative also.
Dhaniya (Coriandrum sativum) - It is also very common herb that subsides the symptoms of gas, indigestion, acidity and constipation.
Pippali (Piper longum) - It gives strength to whole digestive system. It also increases strength of agni (fire) therefore it helps in relief from digestion related problems.
Jeerak (Cuminum cyminum) - It is useful in abdominal pain and acidity.
2. KUTAJGHAN VATI
Kutaja (Holarrhena antidysentrica) is well known tree mentioned in ayurveda for its medicinal value. The different parts of tree (bark, root, stem and seeds) are known for its medicinal properties like carminative, aphrodisiac etc which makes it is useful for chronic diarrhea, dysentery, intestinal worms. Kurchicin is main constituent of Kutaja which is highly effective against diarrhea, dysentery causing microorganisms.
Kutajghan vati is an herbal preparation which balance all three doshas (vata, pitta and kapha). Especially it pacifies aggravated kapha and pitta in digestive system. It stimulates the digestive fire (agni) and restores proper digestion by normalizing the function of garhani. Therefore it relieves dysentery, diarrhea, digestive problems, IBS.
3. SANJIVANI VATI
In general Sanjivani means that "who one gives life". It is an ancient formula which is mixture of different herbs. It is very effective against digestive problems. It acts through digestive fire by balancing pitta and pacifying vata and kapha. It is beneficial to burn the ama (toxins) which is lying in intestine that causes blockage in system. It relieves diarrhea and dysentery without causing constipation.
This product contains different herbs which are explained below:
Guduchi (Tinospora cardifola) - It is an ayurvedic medicine that enhance whole immune system and balance all three doshas. It helps body to fight against health conditions like indigestion, allergy.
Ardraka (Gingiber officinale) - It also enhance the immunity.
Vidanga (Embelia ribes) - It is carminative and digestive stimulant.
Vacha (Acorus calamus) - It looks like ginger stem. It has bitter substance called acorin. It has positive effect on digestive system and nervous system.
Shudh bhallatak (Semecarpus anacadium) - It is the one of the most fast acting herb in ayurveda. It works in conditions like GIT problems, skin problems etc.
Shudh vatsanbh (Aconium ferox) - It balances all three doshas especially vata and Kapha. It improves strength, digestion and other conditions.
Amlaki (Terminalia officinalis) - It enhances the immunity and clears all toxins from body therefore it fight against all health issues.
Bhabhitaki (Terminalia belerica) - It is mild laxative and useful in many digestive problems.
Haritaki (Termianlia chebula) - It is effective laxative which is used for constipation and abdominal gas.
4. PITTA BALANCE
Pitta balance is an herbal formulation by planet ayurveda which balances the pitta dosha in body and fight against various health ailments.
It is mixture of different natural compounds which are explained below:
Praval pisti (Coral calcium) - It is found at sea bed and it is rich source of calcium. It helps in balancing pitta dosha and provides calcium to body.
Akik pisti (Agate calcium) - It helps to balancing vata and pitta doshas and it also effective against vata and pitta doshas related problems.
Jawar mohar pisti (calcium compound) - It is the source of calcium which is helpful in GIT problems.
Kamdhudha rasa (calcium compound) - It keeps the digestive system healthy by balancing pitta dosha.
Mukta pisti (Pearl calcium) - It is very effective against pitta vitiated conditions like indigestion, acidity and heart burn conditions.
Giloy (Tinospora cardifola) - It enhances all three doshas of body and enhance immune system of body therefore it provides complete health.
To buy IBS Care Pack, please visit store.planetayurveda.com/products/ibs-care-pack
Diet and Lifestyle
Avoid heavy meal
Avoid caffeinated drinks
Take proper diet
Eating at regular time
Drink plenty of water
Exercise regularly
Share On
MD (ALT. MEDICINE) View Profile