Natural Treatment for Halitosis (Bad Breath)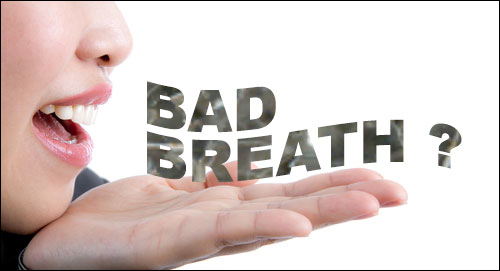 About Bad breath
Bad breath, is a common problem faced by many people around us. Being a source of bad impression, bad breath is a sign of unhygienic lifestyle. The problem mainly occurs due to improper cleaning of teeth and tongue that in turn leads to build up of germs in the mouth and throat. This in turn causes foul smell in the mouth while talking and is totally unbearable. The problem is known as Halitosis.
What are the Causes of Bad Breath?
The common causes of this problem are listed below:
Unhygienic oral health.
Eating food having bad odor.
Excessive bacterial growth due to dryness in mouth.
Medical problem may often lead to this problem.
Intestines and stomach related disorders are also responsible for the same.
Improper digestion of food is another main reason for the same.
What are the Symptoms of Bad Breath?
The common symptoms of Bad breath are listed below:
Pain in teeth
Swollen gums
Pus in gums
Plague between teeth
Dryness of mouth
Difficulty in engulfing food
Ayurveda for Bad Breath
Ayurveda, being a natural way to manage numerous disorders, offers a natural treatment for bad breath as well. The treatment involves the herbal way to enhance the functioning of the body. The herbs are there to control the symptoms of bad breath. They help in fighting infections and other related dental problems that are responsible for this problem.
The Ayurvedic treatment uses the herbs that help fighting against germs and bacteria in the mouth and in turn, helps in cleaning of the mouth.
The treatment is totally safe for everyone, as it involves the natural herbs which are free from side effects. Otherwise, modern treatment has the major disadvantage of giving the risk of side effects.
Herbal Remedies for Halitosis (Bad Breath)
Planet Ayurveda offers best combination of effective herbal remedies such as Halitosis Care Pack for ayurvedic treatment of halitosis (bad breath). We provides 100 percent pure and natural products. All of them are free from side effects and are safe to use. And they are formulated by MD Ayurveda doctors. All of the medicines from the house are made without the addition of chemicals or additives or preservatives in it.
Dosage / Usage
Digestion Support - 1 capsule, twice daily with warm water after meals.
Triphala Capsules - 1 capsule, twice daily with warm water after meals.
Gum Care Powder - Massage your teeth and gums gently with 3-6 gm powder. Rinse the mouth with lukewarm water after 2-3 minutes.
Pitta Balance - 1 capsule, twice daily with warm water after meals.
Irimedadi Oil - Oil pulling for 10-15 minutes before brushing. Then rinse your buccal cavity with lukewarm water mixed with black salt or pink salt.
Products Description
1. Digestion Support
Improper digestion is also one of the reasons for this health problem. For the proper digestion of food, the house has digestion support capsules. As the name suggests, the product is the best one to support healthy digestion of food.
The product is made using an effective combination of some wonderful herbs that are beneficial for this problem. The herbs include Amla (Emblica officinalis), Haritaki (Terminelia chebula), Bahera (Terminelia bellerica), Sounf (Foeniculum vulgare), Dhania (Coriander sativum), Pippali (Piper longum) and Jeerak (Cyminum cuminum).
The product helps to relieve heat produced within the body and hence manages the problem of bad breath. It suppresses the gas formation in the body. The product stimulates the secretion of digestive juices and thereby provides strength to the digestive system.
2. Triphala Capsules
This product is made using the pure extracts of three most wonderful herbs- Amlaki (Emblica officinalis), Haritaki (Terminelia chebula) and Bibhitaki (Terminelia bellerica).
These herbal capsules are useful for the removal of toxins such as high uric acid, high cholesterol etc. from the body. Each fruit component used in the preparation of these capsules is effective in making the digestion process healthy enough. Unhealthy lifestyle leads to imbalance of vata and pitta dosha of the body. This product is useful for the balancing of these two aggravated doshas and hence, a great way to balance the digestive fire.
The product is the effective one to manage bad breath.
3. Gum Care Powder
Another most effective herbal formulation from the house is gum care powder for bad breath. It is used as a tooth powder and is made using the combination of 9 effective and useful herbs.
This herbal powder is good for gum diseases. It helps in the brightening of the teeth and supports healthy oral health. It is helpful in preventing the decay of the gums. It is useful in gum bleeding, pyorrhea and gingivitis. In short, it is an excellent one to remove bad breath.
4. Pitta Balance Capsules
The product is another great way to manage the bad breath. Pitta balance capsules of Planet Ayurveda are made using a special combination of the following ingredients.
Praval pishti (coral calcium), Akik pishti (Agate calcium), Jawar mohra pishti (calcium compound), Kamdudha ras (calcium compound), Mukta pishti (pearl calcium) and Giloy satv (Tinospora cordifolia extract).
As the name suggests, the product is actually used to restore the pitta balance of the body. The pitta dosha of the body controls the digestion and metabolism process. And digestion must be healthy enough to control the symptoms of bad breath.
Praval pishti is used as a natural calcium compound and is helpful in boosting the immunity. Mukta pishti is known to provide relief from the burning sensation while the Giloy is used for detoxification process as well as to boost the immune system. Sometimes infection in the mouth is also a cause of bad breath. And a healthy immune system helps to stay away from infections.
5. Irimedadi Oil
Irimedadi oil is a taila preparation which is used for all types of problems typically related to buccal cavity. The formulation has ingredients like Gayatri (Acacia catechu), Manjishtha (Rubia cordifolia), Til oil (Sesamum inidicum), Clove (Syzygium aromaticum), Arimaedah (Acacia farnesiana / Casia flowers) and many others. The buccal cavity of a human being is having various bacterias in their mouth but the growth of bacterias exaggerate when there are favourable factors for their growth like not maintaining proper hygiene, eating too much sweets etc and hence as a result halitosis result. If you suffer from too much halitosis then irimedadi oil is a very good choice as it helps in pulling out all the toxins from the mouth. The preparation has khadir as its main ingredients which helps in maintaining the health of gums as well as teeth.
To buy Halitosis Care Pack, please visit store.planetayurveda.com/products/halitosis-care-pack.
This effective product combination of this Halitosis care pack is the perfect one to manage the problem of bad breath to a great extent. And also, all of these products are made using the pure ingredients without addition of any chemicals or additives or preservatives to it. All of them are 100 percent pure, natural and vegetarian. Hence, are safe to use and are free from side effects. And they are formulated by M.D Ayurveda doctors.
Diet and Lifestyle
Taking a healthy and balanced diet will help managing bad breath. Because the food we eat is digested and absorbed into the bloodstream and is expelled by our lungs when we exhale. Certain foods such as extreme fasting foods and low carb diet will cause bad smelling breath.
Take vegetables and fruit that contain more water in it. They will help clearing of debris in the mouth. Avoid garlic, onion and other spicy foods as they will add bad odor in the mouth. Avoid drinking too much coffee and other caffeinated drinks. Avoid smoking. Limit the intake of alcohol. Always stay hydrated by drinking lots of water. Always brush your teeth after taking meals. Restrict the sugary drinks as well. Limit the intake of sugar rich foods, as sugar can make the condition worse. These ways will help to some extent to manage this problem.
Share On