Natural Treatment of Rheumatoid Arthritis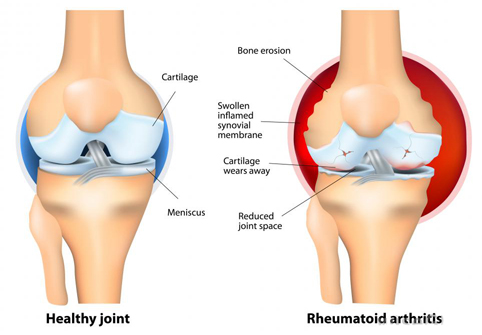 A serious autoimmune disease that attacks joints and other body parts, yes we are talking about rheumatoid arthritis. If you are a victim of rheumatoid arthritis and looking for natural ways to deal with this painful condition, we are here to help you out! Planet Ayurveda, a herbal manufacturing company offers effective herbal remedies for many health ailments and it has for rheumatoid arthritis too. First of all, let's discuss in detail about rheumatoid arthritis, its causes and how it presents.
What is Rheumatoid Arthritis?
Rheumatoid Arthritis is a chronic auto immune disorder that attacks the synovial joints. It is an inflammatory situation characterized by tremendous pain and swelling. This eventually leads to immobility. Swelling of the synovial cells, synovial fluid and development of the tissues in the synovium are the major characteristic features of Rheumatoid Arthritis.
What are the Major Signs and Symptoms of Rheumatoid Arthritis?
Early rheumatoid arthritis tends to affect your smaller joints like, joints that attach your fingers to hands and toes to your feet. As disease progress and become chronic it involves wrist, hip, ankle and shoulders too, either of one side or both sides.
Following are the signs and symptoms of rheumatoid arthritis:-
Tender and swollen joints
Warm or sometimes numbness of joints
Morning stiffness that may last for couple of hours
Firm bumps under the skin on your arms
Fatigue – mental and physical
Fever
Weight loss
What are Common Causes of Rheumatoid Arthritis?
Rheumatoid Arthritis is also termed as "Cooked Food Disease".
The major cause of this disorder is heredity and genetic.
Other causes may be stress, hormonal imbalance, infection, shock and injury.
Deficiency of Vitamin D also gives rise to Rheumatoid Arthritis.
Smoking is yet another significant cause of Rheumatoid Arthritis.
What are the Complications of Rheumatoid Arthritis?
If rheumatoid arthritis is not treated on time, can lead to various serious complications like:-
Osteoporosis
Lung diseases
Cardio vascular diseases
Carpel tunnel syndrome – if wrist joint is involved, nerve that serves most of the part of hand and arm is affected by inflammation.
Depression
Hence it is very much important to take care that you manage and treat this disease in natural way so that there are no side effects and it is eliminated from the root level.
Herbal Remedies for Rheumatoid Arthritis by Planet Ayurveda
Planet Ayurveda provides best combination of effective herbal remedies such as RA Care Pack for natural treatment of rheumatoid arthritis. These herbal remedies are prepared from using best quality herbs and strictly follow the principles of Ayurveda. All these herbal remedies of Planet Ayurveda are 100 percent pure, natural and vegetarian. These are free from chemicals, additives and preservatives. These are safe to use as these are free from side effects.
Dosage
Ashwagandha Capsules - 2 capsule twice daily with warm water, after meals.
Boswellia Curcumin - 2 capsules twice daily with warm water, after meals.
Aamvatantak Churna - 1 teaspoonful twice daily with warm water, before meals.
RumoGin 5 Capsules - 1 capsule twice daily with warm water, after meals.
Joint Aid Plus - 2 capsules twice daily with warm water, after meals.
Yograj Guggul - 2 tablets twice daily with warm water, after meals.
Products Description
1. Ashwagandha Capsules
Ashwagandha capsules which are packed with standardized extracts of pure herb ashwagandha (Withania somnifera). Ashwagandha, as name says – one that possess gandha of ashwa (smell of a horse), indicating that the herb imparts the vigor and strength of a mare! This herb helps you to strengthen the whole defense mechanism of a person. It has got rejuvenating, stress buster and nerve tonic properties that helps body to induce sound sleep.
2. Boswellia Curcumin
Boswellia Curcumin is a blend of pure extracts of 2 outstanding herbs Shallaki (Boswellia curcumin) and Haridra (Curcuma longa). These both herbs are very well known for their actions and properties. Boswellia Curcumin offered by Planet Ayurveda is best indicated in your inflammatory and painful conditions and this work amazingly effective in rheumatoid arthritis. This not only helps you to reduce pain and swelling but improves local blood circulation and flexibility of your joints. It is also advised in conditions like osteoarthritis, and cervical spondylitis.
3. Aamvatantak Churna
Aamvatantak churna is the perfect blend of a number of herbs. The literal meaning of 'Aam' is endotoxins. This churna helps to digest ama (endotoxins/waste products) in body. It contains herbs - Withania somnifera-Ashwagandha, Curcuma longa-Haridra,Trigonella foenum graecum-Methi, Colchicum autumnale-Surnajan, Sphaeranthus indicus-Gorakhmundi, Zingiber officinale-Sonth. methi, Aamvatantak churna helps you to improves metabolism and corrects your liver functions, also reduces local pain, swelling and stiffness. This boosts the immune system and improves the blood flow of affected joints.
4. RumoGin 5 Capsules
Rumogin capsules are a pure herbal formulation which comprise of Curcumin, Saunth, shallaki, Maricha and Pippali. This herbal combination works towards complete detoxification of the body as a result making the joints healthy and movable again. It aids in managing Rheumatoid arthritis effectively.
5. Joint Aid Plus
We have Joint aid plus, an herbal formulation in the form of capsule for you. This is a perfect blend of many wonderful herbs like Nirgundi (Vitex nirgundo), Shallaki (Boswellia curcumin), Ashwagandha (Withania somnifera), Sonth (Zingiber officinale), Guggulu (herbal extract/Comiphora mukul) and Giloy (Tinospora cordifolia). All these herbs work amazingly effective in reducing pain and inflammation of joints up to a huge extent. This is highly advised by Planet Ayurveda's Experts in diseases like Rheumatoid Arthritis, Cervical Spondylitis, Osteoarthritis, Joint Pain, Stiffed Joint, Inflamed Joints and various other complications. This is packed with properties like natural Anti-Inflammatory, Analgesic, Immunomodulator, Anti-Stress, Blood Purifier etc. Standardized extracts of best quality herbs are used for complete cure!
6. Yograj Guggul
This is a classical Ayurvedic formulation. This classical medicine is very effective in musculoskeletal disorders. It mainly works on Vata dosha. The tablets of Yograj guggul is prepared from the herbs like Guggul (Commiphora mukul), Chitrak (Plumbago zeylanica), Chavya (Piper chaba), Pippali (Piper longum), Musta (Cyperus rotundus), Amla (Emblica officinalis) and some other herbs. These ingredients help in maintaining proper digestion by stimulating the digestive fire. As we know that, Rheumatoid arthritis occurs due to digestive problem. It is caused by the formation of Aama (Endotoxins) in the body. The herbs in this formulation are works on this Aama. They digest this Aama and maintain the good and proper digestion.
To buy RA Care Pack, please visit store.planetayurveda.com/products/ra-care-pack.
All these herbal remedies for rheumatoid arthritis are highly effective in Rheumatoid Arthritis and other related health issues.
Thus, to avoid the painful situations and further complications related to Rheumatoid Arthritis, the herbal remedies provided by Planet Ayurveda are the best and extremely beneficial.
What are Dietary and Life Style Recommendations?
Diet has got major role when you take herbal remedies and it is very much important to follow the diet schedule to achieve maximum positive effects of herbs. In rheumatoid arthritis is advised to opt for anti-inflammatory diet. Have some specific fish like salmon, tuna and cold water fish as they have inflammation fighting omega 3 fatty acids and help to reduce inflammatory proteins of body. At least take once or twice in a week. Go for antioxidant rich foods like berries (blueberries, strawberries, cranberries, and raspberries), apples, broccoli, kale, spinach, garlic, onions.
Use olive oil for cooking.
Totally say to junk, fried and all kind of packed foods.
Do not take curd especially at night.
Avoid taking much potatoes, peas, chick peas, soybeans etc.
Use hot and cold compresses alternately. This helps to fight pain, swelling, numbness and improves blood circulation of affected joint.
Massage with mustard oil, coconut oil or olive oil to ease the pain.
Try to lose weight if you are obese.
Wear flat shoes only which are comfortable.
Avoid get exposing in cold environment.
What are Advantages of Our Products?
We use standardized extracts of best quality herb to formulate our products so that we give our best to people across the world.
We use pure vegetarian capsules made from plant cellulose and do not contain hard gelatin which is low in cost and made from cow cartilage, chemicals or pig intestines.
We fill 500 mg pure extracts of herbs in our vegetarian capsule shell while many other manufacturers use 250 mg herbal extracts or raw herb powder along.
Cost of raw herb is very less where as pure extracts are 10 time more than raw material. As our herbal products are with standardized extracts still are available at very reasonable price.
Our products are free from any chemical, added colour or preservative.
All our products undergo quality, quantity and potency check before they reach to customers/patients.
Share On
MD (ALT. MEDICINE) View Profile