Ayurvedic Treatment of Acne (Pimples)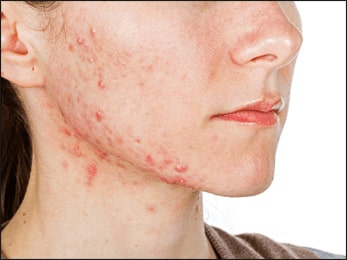 What is Acne?
Acne is one of a common skin problems. It usually occurs when the hair follicles become plugged with oil and dead cells of the skin.
Acne mostly appears on the face, chest, back, neck and shoulders as well. Effective treatments are generally available for more serious problem, but it can be persistent. While, the pimples and bumps heal slowly by its own. But it is seen, that when one begins to go away, then at the same time, other pimples crop up.
It is one of the most common problems among teenagers. Younger children are at higher risk of getting acne.
This skin problem may cause emotional stress and scar the skin as well. But it depends on its severity. So it is advisable to treat the condition as early as possible. Earlier treatment may lower the risk of getting any physical damage.
What are the Causes of Acne?
The common causes of this skin problem are listed below:
The production of oil on the skin
When the cells of the skin become dead.
Clogged pores
Bacteria are another main cause.
What are the Symptoms of Acne?
The symptoms of the acne depend on the severity of the condition and the common among them are listed below:
Whiteheads or the closed plugged pores.
Blackheads or open plugged pores.
Small and red colored tender bumps on the affected area.
Pimples with pus at their tips.
Large painful lumps that are present beneath the skin surface.
Presence of pus-filled lumps beneath the surface of the skin, also known as cystic lesions.
Diagnosis of Acne
In most of the cases, this skin problem is easily diagnosed by a dermatologist or other health care provider. However, a doctor may ask some questions regarding your general health to ensure a proper diagnosis.
He may ask the following questions:
About affected area or something about sensitive skin or eczema
Other history of diseases that may affect the ability of the medications to handle the skin problem.
Allergies to drugs.
Whether you are using steroids for body building.
About mood disorders or depression.
About usage of contraceptives and something about your current or past pregnancy as well as breast feeding.
In rare cases, acne may mimic other similar skin problems like rosacea. This information may also help a lot in diagnosing this skin problem.
Trigger factors for Acne
The following factors may worsen an existing acne problem:
Hormones
Hormones such as Androgens pose a higher risk of getting acne at the stage of puberty in young boys and girls. The hormone causes the sebaceous gland to make more sebum and is well responsible for its enlargement.
Hormonal changes during pregnancy is another risk factor of acne. The use of oral contraceptives may also affect the production of sebum.
Certain medications
Medicines containing corticosteroids, androgens or lithium in it, may also pose a risk factor for acne.
Diet
Diet also plays an important role in making the condition of acne worse. Foods such as dairy products and carbohydrate-rich foods like bread and chips are also responsible for acne. Chocolate is also known for making the condition of acne worse.
Stress
Stress is also a main factor that can make acne worse.
Herbal Remedies for Acne by Planet Ayurveda
Planet Ayurveda offers best combination of effective herbal remedies such as Skin Care Pack for ayurvedic treatment of acne (pimples). These herbal remedies are prepared from using best quality herbs and strictly follow the principles of Ayurveda. All these herbal remedies of Planet Ayurveda are 100 percent pure, natural and vegetarian. These are free from chemicals, additives and preservatives. These are safe to use as these are free from side effects.
Usage / Dosage
Neem Capsules - 1 capsule twice daily, with warm water after meals.
Radiant Skin Hair Nails Formula - 1 capsule twice daily, with warm water after meals.
Gandhak Rasayan - 2 tablets twice daily, with warm water after meals.
Manjishtha Capsules - 1 capsule twice daily, with warm water after meals.
Nirgundi Oil - As directed by physician.
Tea Tree-Aloe Vera Premium Handmade Bathing Bar - As directed by physician.
Products Description
1. Neem Capsules
Standardized extract of Neem (Azadirachta indica) is used to prepare Neem capsules that possess all the medicinal properties of neem. These capsules help to treat any kind of skin ailment like psoriasis, eczema, ringworm and other infectious and non-infectious skin diseases. These capsules are full of medicinal properties just like the herb neem, possesses anti-inflammatory, antibacterial, antimicrobial, antioxidant and detoxifying properties.
2. Radiant Skin Hair Nails Formula
As the name suggests these herbal capsules help to maintain the health of the skin and help to treat ailments like psoriasis, eczema, lichen planus, scabies etc. It helps in maintaining the elasticity, smoothness and firmness of the skin. Strength of hair and nails is also improved by these herbal capsules.
3. Gandhak Rasayan
These herbal tablets help in maintaining the moisturized skin and remove the dead skin cells. Purified sulphur (shuddh gandhak) is used to prepare these herbal tablets. Gandhak rasayan tablets have the property of drawing the moisture from the surrounding atmosphere into the skin, hence preventing dryness. It also helps to treat many skin ailments like acne, leprosy, ringworm, scabies etc.
4. Manjistha Capsules
Rubia cordifolia (Manjistha) is the herb used in standardized form to prepare these herbal capsules. It possesses numerous medicinal properties like they act as a blood purifier, promote early wound healing, treat calcium deficiency, relieve skin ailments, relieve menstrual cramps, detoxify the body, destroy tumors and treat joint pains.
5. Nirgundi Oil
Vitex negundo is the main herb content of this oil that helps in relieving various skin complaints. There are also some other herbs in small proportion in Nirgundi oil to enhance its medicinal quality, like Manjistha, Kalihari and Haridra. It aids in faster wound healing, relieves pain, treats leprosy, inflammation of the skin, lesions on the skin, etc.
6. Tea Tree-Aloe Vera Premium Handmade Bathing Bar
Tea tree oil is the main ingredient of this paraben free bathing soap. Aloe is also present in this herbal soap. Both of the herbs help in maintaining healthy and moisturized skin. It prevents infectious diseases of the skin and also helps to treat them. Regular use of this soap prevents dry skin, moisturizes the skin and clears off the infectious lesions present on the skin.
To buy Skin Care Pack, please visit store.planetayurveda.com/products/skin-care-pack
Acne FAQ's
1. Should I stop wearing makeup if I have Acne?
You don't have to stop wearing makeup when you have an Acne problem but you should opt for some herbal brands because herbal products are free from harmful preservatives, and additives. Avoid hard scrubbing because it may cause breakouts in your skin and your Acne becomes worst.
2. Will my Acne ever go away?
Yeah for sure it's not a permanent problem if you might switching for a healthy lifestyle and try some natural pure herbal products to get rid of this problem. Most often people are affected by Acne problem in their teenage due to hormonal changes. Acne will go away of itself at the end of puberty, but some are still struggling with it in their adulthood. Herbal product treats Acne problems with no side effects.
3. How does Neem works like a wonder for Acne?
Neem is an excellent remedy for Acne and it`s amazing anti-bacterial property provides freedom from this problem and also removes the dark patches from the skin. You should apply raw Neem leaves extract on your skin and also try Planet Ayurveda Neem Capsules for better results.
4. What Acne treatments are best for me?
Whether you are male or female it doesn't matter, to get a proper solution of Acne problems you must opt for pure natural products. All the herbal natural products including Planet Ayurveda Kumkumadi Oil, Neem capsules and aloe Vitals are the best treatment for Acne problems. You can also try raw Neem and aloe vera leaves extracts on your face directly.
5. Can moisturizers cause Acne?
No, moisturizing your skin with good quality moisturizer does not cause any Acne problem on your skin. In fact, it soothes your skin and protects your skin from sebum production. But you need to find herbal moisturizer that suits your skin.
6. Can birth control pills help treat Acne in women?
Yes, it's a great option for women's. Birth control pills that contain both progesterone and estrogen can help to decrease the level of androgen and ultimately reduce the production of sebum in your body. Birth control pills cure Acne flares and leave your skin looking its best.
7. What's the main reason for Acne?
One of the main reasons for Acne is the high level of androgen (male sex hormone). During puberty, the level of androgen goes high and it causes the sebaceous gland to become enlarge and make more sebum, which is the first step towards this problem. Other factors such as heredity, greasy cosmetics may also alter the skin texture and make your skin more prone to Acne.
8. Can I use foaming face wash?
No, you can`t use foaming face wash during Acne problem because foaming face washes contain harmful chemicals such as sodium lauryl sulfate and Cocamidopropyl betaine, which remove your natural oil and cause overproduction of sebum. So it is better you should opt for Planet Ayurveda De-Grease face wash. It's really effective.
9. Can PCOS cause Acne?
Yes, PCOS is one of the reasons for acne problem. During PCOS there are numbers of hormonal induced side effects. PCOS can elevate testosterone level in the women and cause overproduction of it, which ultimately leads to Acne production. So to overcome the level of testosterone and PCOS in your body you can opt for Planet Ayurveda Anti-ovarian Cyst Care Pack.
10. Is Aloe vera effective to treat Acne?
Yes, Aloe vera is one of best natural home remedy for Acne problem. You can directly apply raw aloe vera gel on your face. Aloe vera has anti-inflammatory, antibacterial and antioxidant properties which soothe your skin and prevent it from Acne-causing bacteria.
11. Can greasy foods like pizza, burgers and fried foods cause Acne and breakouts?
Yes, these foods are highly oily and cause acne or make it worse. Excesses consumption of these foods may cause hormonal imbalance in PCOS patient and make your skin more prone to acne. So it is better you should opt for healthy diet habits.
Share On