Amazing Health Benefits of Marigold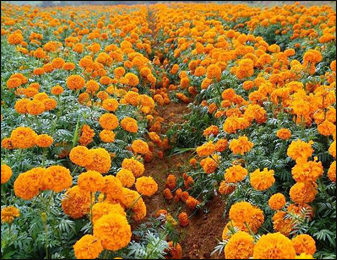 Marigold is commonly known as calendula or pot marigold. The botanical name for marigold is Calendula officinalis. It belongs to the family asteraceae. Marigold is a beautiful flower with orange and yellow petals. Marigold is a perennial flowering plant which grows in a temperate climate. It grows up to 80 cm. The marigold flowers and oil are used for the medicinal purpose. It has a bitter and pungent taste. Marigold can be taken as an herbal tea, used as a tincture and applied as a poultice.
Constituents
Carotenoids
Resin
Essential oil
Flavonoids
Bitter principle
Saponins
Mucilage
Properties
Analgesic
Anti-Inflammatory
Antibacterial
Antiacancer
Antifungal
Antiscrofulous
Astringent
Cholagogue
Ediaphoretic/Sudorific
Emmenagogue
Febrifuge
Health Benefits
Marigold tincture is an excellent remedy for healing bruises, cuts, burns, irritated skin and wounds. It promotes the growth of new cells, tissues, collagen proteins and new blood vessels. It also improves blood flow to the affected area.
On account of antifungal activity of marigold it also helps to cure candida albican, athlete's foot, and ringworm.
Being a rich source of flavonoids and vitamin C marigold have no fat content and therefore assists in weight loss.
The antibacterial and anti-inflammatory properties of marigold make it a good face wash for dry, irritated and acne prone skin.
Possessing and anti-inflammatory activity, marigold is also used in the treatment of allergic reactions, insects bites and dermatitis.
Calendula tinctures are also a concentrated and convenient way to treat sore or infected gums.
For a sore throat or indigestion, drink calendula tea or use it to gargle, for scrapes and bruises apply the tea directly to your skin.
Since marigold is full of wonderful antioxidants such as lutein, zeaxanthin, and lycopene it is one of several herbs used traditionally to treat conjunctivitis and other eye inflammations as it helps to reduce the swelling and redness of eye. It prevents eye diseases and blindness. 
It is believed that marigold may have some anti-spasmodic action and hence it has been used to relieve menstrual cramps.
Marigold infusion is good for digestion. Marigold tea is also known to be beneficial in treating painful mouth, stomach ulcers as well as colitis and symptoms of menopause as it stimulates lymphatic system and hence minimizes swelling.
Marigold flower petals are also used in sitz baths as they are effective in healing vaginal infections, bladder infections, healing of stitches post child birth and haemorrhoids.
Marigold tea also helps to soothe irritations of the GI tract, diarrhea, cramps, colitis, IBS, and other lower bowel problems. Marigold contains calendic acid which is a powerful healing agent for the GI tract that soothes away stomachaches and indigestion.
Marigold tea also helps in detoxification of the body and stimulates the lymph system to flush out toxic substances and get rid of inflammation. It also helps in liver detoxification.
Compresses of marigold blossoms are useful to cure varicose veins.
Marigold contains high-molecular weight polysaccharides which stimulate immune system which in turn have some potent therapeutic activity against the human immunodeficiency virus (HIV).
Marigold flowers can be made into infusions, tinctures, and ointments that work well for skin rashes, bed sores and diaper rash because it's a great antibiotic agent.
Infusing marigold flowers in water is a simple and effective remedy in getting rid of oily skin naturally. It also helps to cure acne and other skin blemishes. 
Marigold tea is great source of lycopene which is essential for prostate health and for preventing cancers. Marigold controls the spread of cancer cells, limits their growth and works wonderfully for breast cancer, prostate cancer, colon cancer, skin cancer, melanoma and leukemia.
Marigold tea has also been used to curb cold, flu and even cough associated with these conditions.
Marigold leaves and flowers can be used in salads, cakes, pies, deep fried and in many different kinds of teas.
One of the health benefits of marigold infusion is that it is very beneficial in healing scabies, corns, calluses and warts.
Marigold has high content of antioxidants. These antioxidants are known to be effective in combating the damage caused by free radicals which are the by-products of environmental factors such as pollution or cigarette smoke or even normal body functions. These antioxidants lower the risk of heart ailments and cancers, protects the eyes from macular degeneration and cataracts.
Dr. Vikram Chauhan (MD-Ayurveda), An expert Ayurveda consultant from India is visiting skopje, macedonia. Nearby people can consult to Dr. Vikram Chauhan.