How to Treat Aplastic Anemia in Ayurveda?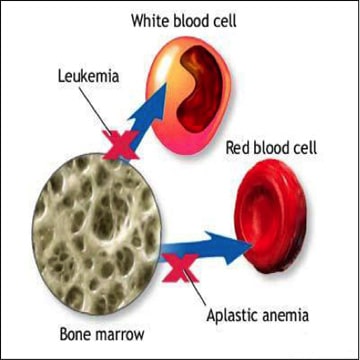 Aplastic Anemia is the condition when your body stops producing enough new blood cells. It's a very rare condition where bone marrow is unable to perform their function of making blood cells. Basically, it occurs when there is bone marrow failure. Aplastic anemia leads to a deficiency of all three types of blood cells i.e. Red blood cells, white blood cells, and platelets. Doctors diagnose aplastic anemia by taking and analyzing the samples of blood and bone marrow. In aplastic anemia, the total count of red blood cells (RBC), white blood cells (WBC) and platelets in the blood are observed low.
What are the Symptoms of Aplastic Anemia?
Pale skin
Fatigue
Weakness in the body
Shortness of breath
Frequent infection
Skin rash
Dizziness
Abnormal bleeding from the gums, nose, and vagina
A headache
Irregular heart rate
What are the Factors Which Cause Aplastic Anemia?
Chemical uses in chemotherapies causes the Aplastic anemia.
Exposure to radiation
Environmental toxins such as benzene, nitrogen mustards, and insecticides.
Many different medications such as sulfonamides, phenylbutazone, and chloramphenicol also cause the aplastic anemia.
Autoimmune disease, when body inappropriately attacks its own blood cells and kill them.
Certain viral infections such as hepatitis B, HIV, and parvovirus B19 is also one of the reasons behind aplastic anemia.
Genetic makeup also influences the aplastic anemia.
The main reason behind Aplastic anemia is damaged bone marrow.
An Ayurvedic Aspect of Aplastic Anemia
Ayurveda is the best treatment for cancer and is probably the only remedy where cancer is cured without any side effect. Chemotherapy and radiotherapies are the treatments which are used to kill cancer cells but it has so many side effects also. Arbuda is the Sanskrit name of cancer, in which the aggravated dosha are accumulated in a particular area of the body that ultimately leads to the formation of lumps and mass of cancer cells in that particular area. All the three doshas (kapha, pitta, and vata) are involved in Aplastic Cancer which causes the vitiation of Rakta, mamsa, and medo. There is also the involvement of Srotamsi (channels of the body), Agni (biological fire), Satkriyakala (involvement of generic sequence), and Sapta dhatus (body tissues).
Ayurvedic Treatment of Aplastic Anemia
Planet Ayurveda is offering the best combination of effective natural herbal remedies such as anemia care pack for the natural treatment of aplastic anemia. This pack contains natural herbs that are 100% pure and authentic. These formulations are formulated under the principles of Ayurveda and have no side effects.
Anemia Care Pack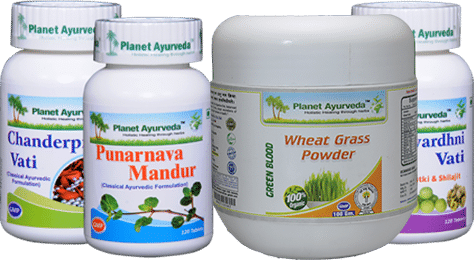 Dosage
Chandraprabha Vati - 2 tablets, twice daily, with warm water, after meals.
Punarnava Mandoor - 2 tablets, twice daily with warm water after meals.
Wheat Grass Powder - 1 teaspoonful, twice daily, mixed in a glass of warm water.
Aarogyavardhini Vati - 2 Tablets, twice daily, with warm water, after meals.
Products Description
1. Chandraprabha Vati
Chandraprabha Vati is an Ayurvedic classical formulation which contains shilajit and Loha bhasma. This formulation pacifies Vata dosha and treats diseases related to Vata dosha such as general debilities. These tablets treat aplastic anemia, urinary tract infections, and abdominal colic pain.
2. Punarnava Mandoor
Punarnava mandoor has diuretic properties that eliminate the excessive water from the body. In Ayurveda, this formulation has been used to clear out the excessive Kapha dosha from the body since ages. These tablets acts on RBC's hence treats anemia.
3. Wheatgrass Powder
Wheatgrass powder is prepared from the fresh and organic leaves of wheat plants because these improve the strength and act as an immune-modulator that increases the immunity of the body. It alleviates vata and pitta dosha and does not vitiate Kapha dosha. This powder boosts up the formation of RBCs and thus, treats anemia.
4. Arogyavardhini Vati
Arogyavardhini vati is an ancient classical Ayurvedic formulation that has been used in Ayurveda for the treatment of anemia and jaundice. It contains Kutki herb that clears out the accumulated bile from the body and also improves the strength of the body.
To buy Anemia Care Pack, please visit store.planetayurveda.com/products/anemia-care-pack
General Guidelines
Take proper and healthy balanced diet because it maintains the overall health of the body. Include foods in your diets such as spinach, eggs, beetroot, nuts, soybeans, whole grain bread, pomegranate, red meat, tomatoes, dates, and seafood.