Terminalia Arjuna for Heart Problems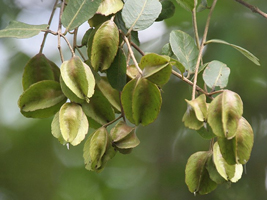 Terminalia arjuna is a huge tree that grows wild in many parts of South Asia, particularly in northern plains of India. The bark of the tree contains natural alkaloids which are very useful Natural care for heart problems. Although there are many other Herbal Remedies for Heart but Arjuna is unique in its action. It not only a care for major heart problems but also for the metabolic diseases which lead to heart weakness and failure. Arjuna has been found to be effective natural and purely herbal remedy for heart problems like blocked coronary arteries, high cholesterol, congestive heart failure and other heart problems. It is an effective herbal heart care herb.
Arjuna is a are 100 % vegitarian dietary supplement. It is purely a natural herbal product containing arjuna, without any chemicals added into them. They are free from side effects and are very useful herbal care for heart problems.
Arjun tree bark is a popular herbal remedy for heart problems, high cholesterol and blood pressure. Many people take the bark and boil it in water and consume it everyday. Arjuna capsules contain extract of Arjuna tree bark. It is a concentrated form of raw Arjuna powder. This makes it very effective solution for many heart and cirulatory problems. It is not only useful in heart ailements but also helps in clearing away the blockage in the arteries. Thus it is also helpful in venous thrombosis.
Arjuna Capsules
Terminalia Arjuna tree is a blessing to mankind for its role in cardiovascular problems. Arjuna capsules are made from Terminalia arjuna bark extract. The Arjuna capsules are 100 % vegetarian
Pack size: Each bottle contains 60 capsules in it.
Dosage: 2 capsules two times a day, with plain water, after meals.
Indications of Arjuna Capsules
Blood Pressure
High Cholesterol
High Triglycerides
Coronary artery disease
Diabetes (As Adjuvant to other diabetes supplements)
Deep Vein Thrombosis
Use with other medicines: No contraindications with other modern medicines
Acts slowly and steadily. Cooling and soothing in general
More About Terminalia Arjuna as a Heart Care Remedy
The pumping activity and the strength of the cardiac muscles is improved by the usage of Terminalia Arjuna, there is also observed a decrease within the LDL cholesterol levels.
Current scientific research has proved that Arjuna contains specific medically active constituents namely triterpine glycosides like arjunetosides I, II, III, IV, arjunine and arjunetein. The bark is rich in saponnins, natural anti-oxidants (flavonoids-arjunone, arjunolone, leteilin) gallic acid, ellagic acid, oligomeric proanthocyanidins, phytosterols, rich in minerals like calcium, magnesium,zinc and copper.
Regular use of terminalia arjuna improves pumping activity of heart, improves cardiac muscle strength, decrease in LDL cholesterol levels.
Research Update On Terminalia Arjuna On Heart Problems
Efficacy of Terminalia arjuna in chronic stable angina: a double-blind, placebo-controlled, crossover study comparing Terminalia arjuna with isosorbide mononitrate.
Indian Heart J. 2002 Mar-Apr;54(2):170-5.
Terminalia arjuna, an Indian medicinal plant, has been reported to have beneficial effects in patients with ischemic heart disease in a number of small, open studies. The need for a double-blind, randomized, placebo-controlled study with adequate sample size has long been felt. The arjuna bark extract contains acids (arjunic acid, terminic acid), glycosides (arjunetin arjunosides), strong antioxidants (flavones, tannins, oligomeric proanthocyanidins), minerals. etc. and exhibits anti-ischemic properties. Fifty-eight males with chronic stable angina (NYHA class II-III) with evidence of provocable ischemia on treadmill exercise test received Terminalia arjuna (500 mg 8 hourly), isosorbide mononitrate (40 mg/daily) or a matching placebo for one week each, separated by a wash-out period of at least three days in a randomized, double-blind, crossover design. They underwent clinical, biochemical and treadmill exercise evaluation at the end of each therapy which were compared during the three therapy periods. Terminalia arjuna therapy was associated with significant decrease in the frequency of angina and need for isosorbide dinitrate. The treadmill exercise test parameters improved significantly during therapy with arjuna compared to those with placebo. The total duration of exercise increased, maximal ST depression during the longest equivalent stages of submaximal exercise decreased , time to recovery decreased, and higher double products were achieved during arjuna therapy. Similar improvements in clinical and treadmill exercise test parameters were observed with isosorbide mononitrate compared to placebo therapy. No significant differences were observed in clinical or treadmill exercise test parameters when arjuna and isosorbide mononitrate therapies were compared. No significant untoward effects were reported during arjuna therapy.
Conclusions
Terminalia arjuna bark extract, 500 mg 8 hourly, given to patients with stable angina with provocable ischemia on treadmill exercise, led to improvement in clinical and treadmill exercise parameters as compared to placebo therapy. These benefits were similar to those observed with isosorbide mononitrate (40 mg/day) therapy and the extract was well tolerated. Limitations of this study include applicability of the results to only men with chronic stable angina but not necessarily to women, as they were not studied.
Antioxidant and hypocholesterolaemic effects of Terminalia arjuna tree-bark powder: a randomised placebo-controlled trial.
J Assoc Physicians India. 2001 Feb;49:231-5.
To evaluate the antioxidant and hypocholesterolemic effects of Terminalia arjuna tree bark (a popular cardiotonic substance in Indian pharmacopoeia) and to compare it with a known antioxidant, vitamin E, we performed a randomized controlled trial. One hundred and five successive patients with coronary heart disease presenting to our centre were recruited and divided into 3 groups of 35 each. None of the patients was on lipid-lowering drugs. Supplemental vitamins were stopped for one month before study began and American Heart Association Step II dietary advice was given to all. At baseline, total cholesterol, triglycerides, HDL and LDL cholesterol and lipid peroxide estimated as thiobarbituric acid reactive substances were determined. Group I received placebo capsules; Group II vitamin E capsules 400 units/day; and Group III received finely pulverized arjuna tree bark-powder (500 mg) in capsules daily. Lipids and lipid peroxide levels were determined at 30 days follow-up. RESULTS: Response rate in various groups varied from 86% to 91%. No significant changes in total, HDL, LDL cholesterol and triglycerides levels were seen in Groups I and II. In Group III there was a significant decrease in total cholesterol, and LDL cholesterol. Lipid peroxide levels decreased significantly in both the treatment groups. This decrease was more in vitamin E group as compared to the arjuna group.
Conclusions
Terminalia arjuna tree bark powder has significant antioxidant action that is comparable to vitamin E. In addition, it also has a significant hypocholesterolaemic effect.
Antigenotoxic properties of Terminalia arjuna bark extracts.
J Environ Pathol Toxicol Oncol. 1999;18(2):119-25.
Compounds possessing antimutagenic properties (polyphenols, tannins, vitamins, etc.) have been identified in fruits, vegetables, spices, and medicinal plants. Terminalia arjuna (Combretaceae), a tropical woody tree occurring throughout India and known locally as Kumbuk, is a medicinal plant rich in tannins and triterpenes that is used extensively in Ayurvedic medicine as a cardiac tonic. The aim of the present collaborative work was to test six solvent extracts from the bark of Terminalia arjuna for antigenotoxic activity using in vitro short-term tests. Terminalia arjuna extracts were obtained by sequential extraction using acetone, methanol, methanol + HCl, chloroform, ethyl acetate, and ethyl ether.