ARMEDADI THAILAM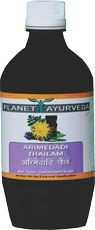 100 percent pure and vegetarian
Helps Maintain healthy oral cavity
Free from side effects
Free from chemicals, additives, preservatives
Formulated by MD Ayurveda doctors
Pack Size of Arimedadi thailam
Each bottle of Arimedadi thailam contains 200 ml of oil in it.
Usage
3 to 4 drops of this oil may be applied on the root of the tooth or you can gargle with this oil. This oil can be applied on the head also.
Sale Price
For Price Quote Kindly Mail Us at :- herbalremedies123@yahoo.com

Common Oral Disease
Oral health is one of an essential condition for our general health and quality of life. Dental cavities, oral cancer, oral infectious disease, tooth decay, tooth loss, periodontal disease, trauma from injuries and hereditary lesions are some of the common oral disease. These are the diseases that limit a person's capacity in smiling, chewing, speaking, biting and psychosocial well-being. Worldwide, 60 to 90 % of school children have dental cavities which often lead to discomfort.
Common Causes of Oral Disease
Unhealthy diet is one of the major causes of oral disease. Use of tobacco and alcohol are the other risk factors of oral disease. Oral diseases are sometimes linked to chronic disease as these chronic diseases are often responsible for the oral conditions. Common chronic diseases that cause oral disease include chronic respiratory diseases, diabetes, cardiovascular diseases and cancer. On the other hand, Poor oral hygiene is also one of a major risk factor for oral disease.
Prevention of Oral Disease
By maintaining a low level of fluoride in the oral cavity, we can prevent dental cavities. We can obtain fluoride from fluorinated drinking water, milk, salt and toothpaste. Fluoride can also be obtained from professionally applied fluoride or mouth rinse. This optimal level of fluoride for long time results in fewer dental cavities in children as well as adults.
There are some other ways to manage the oral disease to some extent which are listed below:
We can prevent oral disease by decreasing sugar intake and maintaining a healthy diet to prevent tooth decay as well as premature tooth loss.
By consuming lots of fruits and vegetables that can protect us from oral cancer.
By avoiding use of tobacco.
By decreasing the intake of alcohol.
By ensuring proper oral hygiene.
Role of Diet on General Health
Healthy and balanced diet is the first and the main requirement in order to maintain the overall health of the body. Poor eating habits like overeating or under eating or eating an excess of junk food can affect our nutrient intake. Chocolates, Cold drinks, and fatty fried foods should be avoided. Cheeses, chicken, other meats, nuts, and milk are some of the common foods that should be included in your diet to maintain good oral health. These foods provide phosphorus and calcium to our body. Firm and crunchy foods should be taken as these foods have a high content of water and hence dilutes the effects of sugars and thereby stimulate the flow of saliva. Fruits such as apples and pears are such type of foods. Generally too much salt should be avoided. Avoid drinking water immediately after meals. Avoid lying down immediately after eating. Evening meal should be light. Heavy meal (largest meal of the day) should be taken at lunchtime.
Are there Any Nutrient Supplement for Healthy Oral Cavity?
Yes, there are so many dietary supplements available in the market. Nutrient supplement that provides natural and pure extract combination is good for maintaining a healthy body. Planet Ayurveda is one of them that provides natural supplements which are for the dietary support and are free from any side effects and hence helps in maintaining overall health of the body.
Planet Ayurveda provides Armedadi thailam for healthy oral cavity.