Best Ayurvedic Doctor in Mohali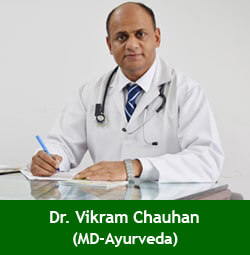 Although there are many Ayurvedic doctors in Mohali and are doing really well but Dr. Vikram Chauhan is a well known experienced Ayurvedic practitioner from Chandigarh and was practicing in Chandigarh from last 15 years (since year 2000). He is now available for Ayurvedic consultations in Mohali at Planet Ayurveda - Plot no. 627, Sector 82 Mohali.
Setting up Ayurvedic Treatment Center in Mohali along with the Manufacturing unit Sector 82, Mohali - Punjab
There were many patients who were taking treatment from Dr. Vikram and were based in Mohali, an adjoining township of Chandigarh.
So Dr. Vikram set up an Ayurvedic clinic and treatment center in Mohali. The center is located in beautiful surroundings and the building of Planet Ayurveda is a unique piece of architect with blend of white and green colors depicting signs of nature.
Dr. Vikram Chauhan is MD in Ayurvedic medicine and an expert Ayurveda consultant from Chandigarh and now practicing in Mohali, India. He is MD in Ayurvedic medicine and has vast experience of herbs and their applied uses.
He has been on various national/international TV channels for interviews and visited many countries to promote Ayurveda and natural medicine to various parts of the world.
He has written articles for various health columns in international newspapers.
He has presented papers and given lectures at various national and international forums and congresses and has regular Ayurvedic clinic in India.
He also visits his distributors around the world for consultations, seminars, lectures etc.
Dr. Vikram is one of the few Ayurvedic doctors who started working through internet in the year 2000. At that time, there were hardly any websites or information about Ayurveda available over internet.
How to Reach Planet Ayurveda?
Planet Ayurveda is situated in foothills of Himalaya in the beautiful township called – Mohali, which is very near to Chandigarh International Airport.
Sector 82 is a newly developed, clean and pollution free green and pollution free industrial zone in Mohali, with wide roads and beautiful parks and trees along road sides.
Mohali is famous for cricket matches and is well connected with New Delhi via Air, Train as well as road.
Mohali railway station is just 1 mile away from Planet Ayurveda clinic.
The international airport is about 4 miles.
If you are coming from Haryana, Himachal and New Delhi – Reach the famous landmark in Chandigarh known as Tribune Chowk. Just come straight from Tribune chowk towards Mohali. After 6 kms, you will reach IESER institute T point. You can easily find 82 Sector from there.
If you are coming from Punjab, You can reach SOHANA SINGH SHAHIDAN GURUDWARA and then you can easily find out way to Sector 82.
Mohali definitely needed an experienced Ayurvedic doctor who has international exposure, experience of Pulse diagnosis, constitution analysis. Dr. Vikram Chauhan is one of those few doctors who have all these qualities and experience of pulse diagnosis. There are patients coming from all over India and various parts of the world to him for treatment of their health concerns.