Vaidya Anthony Rouse III - Clinical Ayurveda Specialist from Louisiana, USA
He is one of the best Ayurvedic practitioner in USA
Vaidya Anthony Rouse III is one of the few dedicated Americans who learned Ayurveda with full devotion, and, practices Ayurvedic medicine in its original form. Since childhood he loved Nature and was always curious about plants and their relationship with Mankind. He achieved a Bachelors of Science Degree in The Culinary Arts, which peaked his interest in the healing qualities of foods. From there, Tony found that Ayurveda offered the most "common sense" approach to Diet.
Having been introduced to ancient Vedic writings such as The Bhagavad-Gita, The Rig Veda, and influenced by the writings such as "Quantum Healing" by Dr Deepak Chopra as a young teenager, Tony felt that learning Ayurveda later on in life was like putting on his old, favorite pair of shoes!
Vaidya Anthony Rouse graduated from the California College of Ayurveda in 2003, where his concentrated areas of study were on: Tri-Dosha Theory, Herbs and Their Usages, Pulse Diagnosis, Yoga, Asana, Pranayama, Panchakarma, Marma Therapy, and Proper Diet (per Prakruti/Vikruti).
Vaidya Anthony has traveled to India many times. Under the expert supervision of Dr Madan Gulati and Dr. Vikram Chauhan, Vaidya tony was able to expand his repertoire into more complex therapies such as Rasa Shastra (Bhasma Therapy).
Under expert supervision, Vaidya Anthony was able to practice Ayurvedic Medicine in its original environment, ranging from charity-field work to clinical settings. Along with Dr. Vikram, Anthony traveled to Kerela, Southern India, to visit Ayurvedic Hospitals and various Pancha Karma clinics, as well as to observe Ayurvedic Herbal Farming techniques and practices.
Vaidya Anthony has delivered lectures on various concepts such as Tri-Dosha Theory and Agni, among other topics, to medical students at Dayanand Ayurvedic College, a leading Ayurvedic Medical College in Jalandhar, India.
His knowledge about the healing principles of Ayurveda is very vast and his method of explaining Ayurveda is quite extraordinary. He has been on various national TV channels for interviews on Ayurveda and discussions about Ayurvedic and Natural Remedies.
Vaidya Anthony Rouse writes articles for various newspapers and blogs. He is a member of NAMA (National Ayurveda Medical Association, USA) and has participated in many national and international conferences on health.
Vaidya Tony runs a successful Ayurvedic private practice in Louisiana, USA, where he has been practicing Ayurveda in its true form for the last eight years. He provides online consultations. However, he prefers that the patient visit him rather than taking phone consultations or e-mail consultations.
Vaidya Anthony Rouse's Role in Helping Planet Ayurveda To Be A Global Company: Vaidya Anthony Rouse helped Planet Ayurveda to think globally. He helped us to become US-FDA certified, and thus has extensive knowledge of Import/Export Law. He helped us to change our packaging to meet international standards and was instrumental in designing the labels and names of the Planet Ayurveda products, as per market trend.
How to Contact Vaidya Anthony Rouse III?
If you are interested to contact Vaidya Anthony Rouse III for an Ayurvedic consultation, information about Ayurveda or herbs, or wish to invite him to conduct a workshop or lecture on Ayurveda.
Send your e-mail to herbalremedies123@yahoo.com with ATTENTION ANTHONY ROUSE in the subject line.
Curriculum Vitae of Vaidya Anthony Rouse III
Vaidya Anthony Rouse, III, C.A.S., PKS.
Graduate, 2003, from the California College of Ayurveda.
Degrees:
C.A.S. (Clinical Ayurvedic Specialist), PKS. (Pancha Karma Specialist)
Concentrated Areas of Study:
Pulse Diagnosis
Aromatherapy
Chromotherapy/Light Therapy
Marma Therapy ( Traditional Pressure points in the body - like Accupuncture/Accupressure in Chinese medicine)
Dravyaguna ( Herbal Pharmacology and Pharmacognosy)
Praschat Karma/Rasayana - Rejuvenation Therapy
Upayogasamtha/Samyoga - Proper Diet/Food Combining
Study/Field Study/Personal Tutelage in India under Dr. Chauhan and Dr. Madan Gulati:
Ras Shastra/Proper use of Bhasma Therapy
Ayurvedic Pharmacology and Pathology
Pranayama and Yoga Asana
Dravyaguna - Knowledge of Plants and Herbs
Current Position
Currently working with Dr. Chauhan and Dr. Gulati to form an international society for the promotion of Ayurveda, and to make Ayurveda understandable, and available to all people.
Lecturer of Ayurveda at Indian Medical Universities, and in the USA.
Eight years of private practice.
Writing books on various topics of Ayurveda and natural healing with Dr. Vikram and Dr. Madan Gulati.
Photo Gallery
Vaidya Anthony in an Ayurvedic medicinal plant garden at Dayanand Ayurvedic College, Jalandhar, India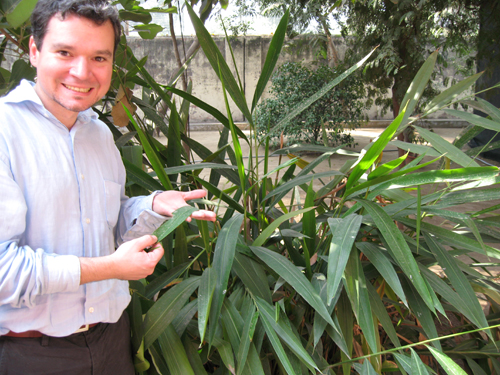 After giving the lectures in an Ayurvedic institute in India - with the Principal and other doctors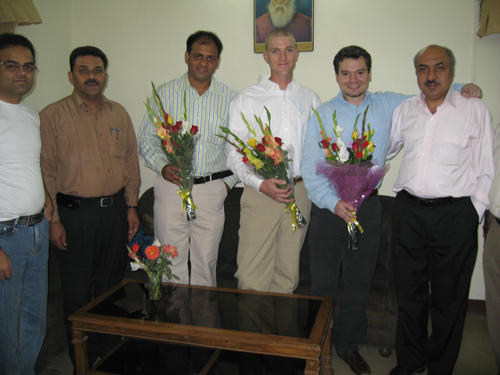 Traveling to various forests in India for Ayurvedic herbs with other Vaidyas and Dr. Vikram Chauhan