Herbal Remedies for Ankylosing Spondylitis
About Ankylosing Spondylitis
Ankylosing spondylitis is a form of spinal arthritis that causes ankylosis of vertebral and sacroiliac joints. It is more common in young males. The word Ankylosing spondylitis comes from the two Greek words "ankylos" and "spondylo". The word "ankylos" means stiffening of a joint and the word "spondylo" means vertebra. In general, Spondylitis is an inflammation of the spine or adjacent structures of the vertebrae.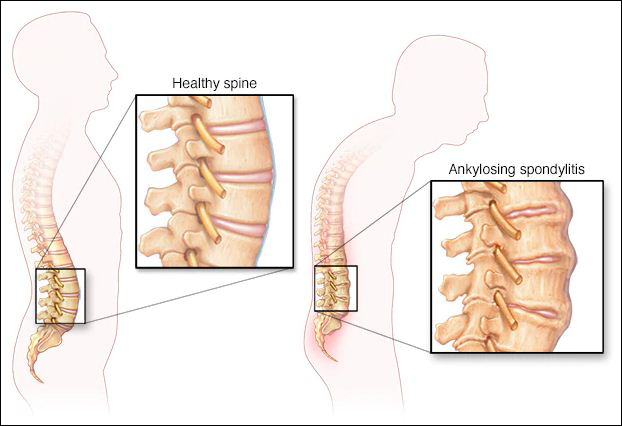 Symptoms of Ankylosing Spondylitis
Pain and stiffness in lower back, buttocks and hips.
Bony fusion which is caused by an overgrowth of the bones.
Pain in ligaments and tendons.
Person may have fever, loss of appetite and fatigue.
Inflammation in the eyes may occur.
Cause of Ankylosing Spondylitis
The exact cause of this disease is not known, but a strong genetic or family link may be responsible for this condition. Most of the people with Ankylosing spondylitis carry a gene which is known as HLA-B27. No doubt, People carrying this gene are at higher risk of developing this disease, but still it is found that up to 10 percent of the people with this gene have no signs or symptoms of this disease.
How can Ankylosing Spondylitis be Diagnosed?
Ankylosing spondylitis is a systemic disease that can be diagnosed by medical history and the physical examination of a person. Several tests may be used to confirm the diagnosis of this condition. These tests include X-rays, MRI and blood test.
Is there any cure for Ankylosing Spondylitis?
No, Ankylosing spondylitis cannot be cured, but the symptoms of this disease can be managed. Medications are used to treat this disease. In some of the cases, surgery may be used to repair joint damage which is caused by this disease. Healthy lifestyle, healthy diet and healthy weight are some of the ways to manage the symptoms of this disease.
Herbal Remedies for Ankylosing Spondylitis by Planet Ayurveda
Planet Ayurveda offers best combination of effective herbal remedies such as Joint Support Pack for natural treatment of ankylosing spondylitis. These herbal remedies are prepared under the supervision of renowned Ayurveda experts.
Dosage
Bone Support - 2 Capsules twice daily
Coral Calcium Complex - 1 Capsule twice daily
Joint Aid Plus - 2 Capsules twice daily
Curcumin Capsules - 2 Capsules twice daily
Products Description
1. Bone Support Capsules
Bone support capsule has natural calcium extracts obtained from the natural, herbal sources of calcium. Each capsule contains standardized extract of herbs like asthishrinkhala (Cissus quadrangularis), Shudh Laksha (Laccifera lacca), Sahijan (Moringa oleifera), Arjun (Terminalia arjuna) and mineral source, Praval pishti (Corallium rubrum).
These extracts stimulate increased absorption of calcium from the blood into the body. The hormonal control that helps in calcium absorption in the body is also influenced by regular use of this capsule.
In case of osteoarthritis, Capsule bone support can be taken as a great health supplement to support joint mobility and minimize loss of synovial fluid which leads to swelling and inflammation at the site of joint.
2. Coral Calcium Complex
Coral calcium capsule from the house of Planet Ayurveda is a combination of natural plant and vegetable extracts that effectively help in sustained and efficient calcium absorption by the body.
the body. These capsules are purely vegetarian and made from the best quality and purified coral and plant extracts which are rich in many minerals such as Phosphorus, Magnesium, Silica, Vitamin D etc.
All these minerals together help to support healthy bones and joint support in the body. In patients of osteoarthritis, these capsules help in maintaining bone density thereby reducing bone fragility. It also helps to diminish chances of bone fractures that occur due to reduced bone mass in old age.
The ingredients of coral calcium complex are as follows:-
Praval pishti
Akik pishti
Jwar mohra pishti
Kamdudha rasa
Mukta pishti
Giloy satva.
3. Joint Aid Plus
Capsule Joint aid plus contains standardized extract of Nirgundi (Vitex negundo), Guggul (Commiphora mukul), Shallaki (Boswellia serrate), Ardarak (Zingiber officianale), Giloy (Tinospora cordifolia) and Ashwagandha (Withania somnifera).
These capsules help in dealing with all kinds of joint conditions that cause any kind of skeletal problem in the body. Regular use of this product helps in the maintenance of joint flexibility and lubrication so as to minimize wear and tear in patients of osteoarthritis.
Besides this, the capsules act as a great source of dietary nutrition for the bones and joints in the body
4. Curcumin Capsules
Curcumin is the main active chemical present in Turmeirc which is responsible for the remarkable medicinal properties exhibited by turmeric. Curcumin is a very potent anti – inflammatory agent that helps relieve any kind of inflammation in the body.
It suppresses the immune response that is involved in the development of inflammatory symptoms in the body. Planet Ayurveda's Curcumin capsule contains standardized extract of 95% curcuminoids present in Turmeric. These extracts give the best results, therefore it is always good to go for 95% curcuminoid content while purchasing any Turmeric supplement.
Planet Ayurveda's Curcumin capsule is a very versatile herbal supplement that has great rejuvenating properties and is very helpful in managing senile disorders like osteoarthritis.
To buy Joint Support Pack, please visit store.planetayurveda.com/products/joint-support-pack
Diet and Exercise for Ankylosing Spondylitis
A healthy diet is good for everyone. By maintaining a healthy weight, stress on the painful joints can be reduced, which is required to manage the symptoms of this disease. In case of rheumatoid arthritis (an inflammatory joint disease), a diet high in omega 3 fatty acids help to reduce the inflammation in the joints. Cold water fish, flax seeds and walnuts are some of the foods that are a good source of omega 3 fatty acids.
Regular exercise helps to reduce the stiffness and gives strength to the muscles that are present around the joints and hence decreases the risk of disability. Deep breathing exercises are good for chest cage flexible. Swimming is one of an excellent exercises for people who are suffering from Ankylosing spondylitis.