Ayurvedic Treatment for Anxiety Disorder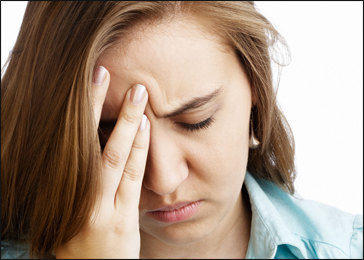 About Anxiety Disorders
Anxiety is a psychological and physiological state categorized by somatic, emotional, cognitive, and behavioral components. The basic meaning of the word anxiety is 'to vex or trouble'. Anxiety is a feeling of uneasiness, nervousness, or fright. The foundation of this uneasiness is not always known or recognized, which can add to the suffering you feel.
Other Names: Anxiety, Stress, Tension, Apprehension, Depression
Anxiety or a little stress is a normal part of life. In small quantities, stress is helpful — it can motivate you and help you be more productive. However, too much stress, or a strong response to stress, is harmful. It can lead you to poor health, as well as physical and psychological illnesses like infection, heart disease, and depression. In its progress stress can lead to anxiety and harmful behaviors like overeating and misuse of alcohol or drugs. Emotional states like grief or depression, and health conditions like an abnormal thyroid, low blood sugar, or heart attack can also cause stress-like symptoms.
Symptoms of Anxiety Disorders
Symptoms of anxiety disorders are often chronic, and include difficulty in concentrating, high irritability, tense muscles, disturbed sleep, and trouble overcoming worries.
Treatment for Anxiety
If no physical illness is found, you may be referred to a psychiatrist or psychologist, mental health professionals who are specially trained to diagnose and treat mental illnesses. Treatment for anxiety most often includes a combination of medicine and cognitive-behavioral therapy.
Ayurvedic Treatment for Anxiety
One should use, apply Ayurvedic Massage Oils such as Hibril Oil
The appliance of Paste of Ayurvedic Herbs (Tagara, Vacha, Rakta-Chandan and Nilotapala-these four herbs mixed with Luke warm Ghee).
Take ayurvedic medicines internally, such as:-

Ashwagandha which is one of the most effective ayurvedic resources
Vacha (Acorus calamus),
Jyotishmati (Celestrus paniculatas),
Shankhapushpi (Convolvulus pluricaulis),
Tagara( Valeriana jatamansi),
Jatamansi (Nardostachys jatamansi),
Brahmi (Centella asiatica),
Haritaki (Terminalia chebula) etc.

In addition, relaxation techniques, such as deep breathing and biofeedback, may help to control the muscle tension that often accompanies anxiety
Don'ts During Anxiety
Don't use nicotine, cocaine, or other leisure drugs.
Eat a well-balanced, healthy diet. Don't overeat.
Do Yoga exercises (including Pranayama) and Meditation habitually.
Find self-help books and go through
Get enough sleep without fail
Learn and practice relaxation techniques like progressive muscle relaxation, yoga, tai chi or meditation.
Avoid caffeine and alcohol as much as you can.
Take breaks from work. Make sure to balance fun activities with your responsibilities. Spend time with people you enjoy.
Take Relaxing baths, spas or healing therapies.
Press the soothing pressure points.
Herbal Remedy for Anxiety
Ashwagandha Capsules
Ashwagandha capsules can be extra contributing if you are looking forward to quick anti-depression or anti-anxiety ayurvedic remedies.
Its Explanation is Given Below:-
Ashwagandha, a herb that has widespread use in Ayurvedic medicine has been traditionally used to care for a variety of diseases. The plant's roots, leaves, and berries have been used in Ayurvedic treatments. Legend has it that Romans used to add it to their wines. Its Latin name is 'Withania Somnifera'. It has been found to be efficacious in the treatment of anxiety, depression and other psychiatric disorders. The plant's roots, leaves and berries have been used for years in Ayurvedic treatments. Now scientific studies have confirmed that it has many medicinal properties.
It has Following Beneficial Effects in An Anxious or An Anxiety Ridden Person:
Reduces anxiety.
Acts as an antioxidant.
Improves brain function.
Have antibacterial properties.
Lowers cortisol levels.
Boosts sexual vitality.
Dosage:
1-2 capsules twice daily, with plain water after meals
Benefits of Ashwagandha Capsules
Ashwagandha capsules are a natural and protected way to decrease anxiety and stress without any harmful side effects. What is motivating is that these Ayurvedic claims have been validated by modern herbal research, which has found that its effect on anxiety and depression is analogous to modern drugs. Ashwagandha has been tested at various research centers using clinical trials to inspect its safety and effectiveness. It is widely proven that Ashwagandha has anxiolytic and antidepressant properties without any toxicity or side effects.
Since many people have used antidepressants the natural treatment without side effects could positively affect the lives of millions of people. Ashwagandha capsules can be the antidote for the stresses of the modern world.
To buy Ashwagandha Capsules, please visit store.planetayurveda.com/products/ashwagandha-capsules