Ayurvedic Treatment for Fatty Liver
The liver is a majorly significant organ as it is the core/hub of the five digestive fires of the human anatomy and also the converter of plasma into blood. Therefore, keeping the Ayurvedic point of view in mind, the liver is the main controller of the whole human body. However, due to its large functionality liver is prone to a large number of disorders also and one of the very common one of these is the abnormal enlargement of the liver, which is also called hepatomegaly in scientific terms. Enlarged liver however cannot be referred to a disease. It is an indication of an underlying problem like hepatitis, heart failure or cancer.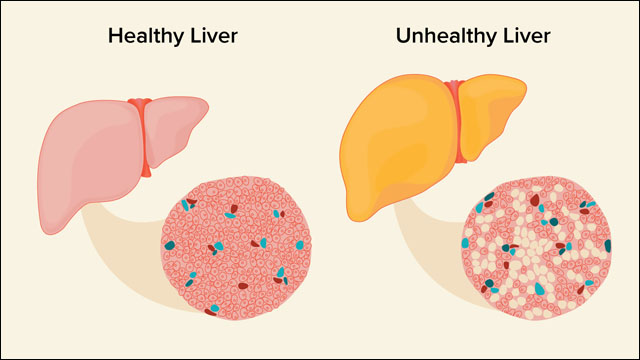 However, the treatment of an enlarged liver depends on the cause of its occurrence.
An enlarged liver is the outcome of many probable disorders that need instant professional medical assistance. It is often related to a similar symptom: distended spleen. There are many conditions that may ground to swollen liver or enlarged liver, including liver disorders such as hepatitis and a variety of other diseases not directly associated to the liver.
Natural and Herbal Treatments for Enlarged Liver
The Indian aloe is used in healing of hepatomegaly. The pulp of the plant is taken and assorted with black salt and ginger. This can be really helpful.
Chicory juice is acquired from its flowers and is very beneficial in the cure of several liver problems.
The kantakari herb is helpful in the treatment of swelling of both the liver and the spleen, which is known as hepatomegaly & splenomegaly.
Gokulakanta herb is used for treatment of several liver problems including jaundice, hepatitis and derangement of the liver.
Eat four to six small meals every day in place of only three main meals. Try to include fresh fruits, vegetables and unprocessed foods in your eating course. Drink plenty of water to flush toxins. Vitamin A, Vitamin B-complex, Vitamin C, Magnesium, Potassium and Calcium rich foods should be the priority in case of liver enlargement or fatty liver.
Dandelion has a very constructive outcome on the liver, as it stimulates the liver to carry out its normal function.
The bark of the henna plant is taken in powder to treat the problem of liver enlargement.
 Eclipta is a creeper which has great benefits in the treatment of enlargement of the liver.
For liver enlargement, the dhatu of copper is also generally prescribed. It is taken in the form of a bhasma.
Various factors become the causes of liver enlargement, to state some: glandular fevers, hepatitis, malaria, liver abscesses and even grave diseases like leukemia and lymphomas. During liver enlargement, due to displacement inside body, irritation is caused and this irritation can cause coughing.
Enlargement of the liver can become a life-threatening condition. It is extremely essential to seek treatment as soon as possible. Still trying, these herbal remedies can be of great help and effect. After all Ayurveda has become an answer to a lot of unanswered and given up conditions.
Herbal Remedies for Fatty Liver by Planet Ayurveda
According to Ayurveda fatty liver is known as "Yakrit vridhi". Imbalance of three energies (Vata, Pitta & Kapha) leads to fatty liver. Planet Ayurveda provides best combination of effective herbal remedies such as Fatty Liver Care Pack for Ayurvedic treatment of fatty liver. These herbal remedies are prepared from using best quality herbs and strictly follow the principles of Ayurveda.
DOSAGE
Yakrit Plihantak Churna - 1 teaspoonful twice a day before meals with warm water or decoction method.
Livoplan Syrup - 2 tsp twice a day after meals.
Liver Detox Formula - 1 capsule twice a day after meals with warm water.
Products Description
1. Yakrit Plihantak Churna
This is a herba powder made from the wonderful herbs like Bhumiamla (Phyllanthus niruri), Katuki (Picrorhiza kurroa), Makoy (Solanum indicum), Punarnava (Boerhavia diffusa), Kalmegh (Andrographis paniculata), Kaasni (Cichorium intybus), Sharpunkha (Tephrosia purpurea) and Bhringraj (Eclipta alba). This is very useful in all the liver anomalies. This herbal powder helps in the treatment of liver cirrhosis, fatty liver, spleenomegaly, hepatitis B, etc.
2. Livoplan Syrup
This is a herbal syrup that contains herbs such as Bhringraj (Eclipta alba), Sharpunkha (Tephrosia purpurea), Kalmegh (Andrographis paniculata), Shyonak (Oroxylum indicum), Rohitaka (Tecomella undulata), Bhumiamla (Phyllanthus niruri), Patol (Trichosanthes diocia), Kasni (Cichorium intybus), etc. These herbs regenerate the liver cells and protect the liver from toxins. It eliminates the toxins from the liver and provides a healthy liver function.
3. Liver Detox Formula
To buy Fatty Liver Care Pack, please visit store.planetayurveda.com/products/fatty-liver-care-pack.