Ayurvedic Treatment of Amenorrhoea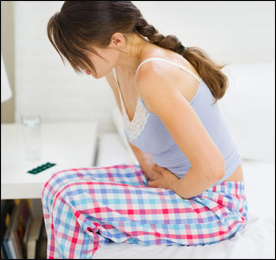 About Amenorrhoea
It is a condition when at childbearing age, the women fails to menstruate is known as amenorrhoea. It may happen due to some kind of problem in the reproductive system of the women. The problem can arise when the body fails to produce certain kind of hormones that are responsible for the efficient working of female reproductive system.
It is further classified into two types:-
Primary amenorrhoea - It happens when at the starting age of puberty (that is from the age of 14 years) when there is no sign of periods occurring and no other sign of sexual characters.
Secondary amenorrhoea - It is the absence of menstrual bleeding in a woman who had been menstruating but later it stops for 3 or more months in the absence of pregnancy, lactation or menopause.
Causes of Amenorrhoea
Mental stress
Loosing weight
Excess of exercise
Improper functioning of endocrine system
Medications
Cyst in the ovary
Abnormalities of vagina
Early menopause
Diagnosis of Amenorrhoea
Urine test
Medical history
Various hormonal tests
CT scan and ultra sound of reproductive system
Physical examination
Herbal Remedies for Amenorrhoea by Planet Ayurveda
Planet Ayurveda provides effective herbal remedies like Female Health Support, Shatavari Capsules, Fenugreek Capsules, Pradrantak Churna and Kumari Saar (Aloe Vera Juice) for ayurvedic and natural treatment of amenorrhoea. These herbal remedies are formulated by Planet Ayurveda with natural herbs and herb extracts. These herbal remedies have no chemicals added in them and are free from any side effects.
This herbal remedy is formed using three herbs namely arjuna, lodhra and shatavari. The barks and roots of these herbs are combined to formulate this wonderful remedy. These herbs are great hemostatic agents that can control bleeding from any site in the body. The herb shatavari is considered as the best female rejuvenating herb since ancient times. It has great importance in the ayurvedic medicines. This herb controls the hormones and brings balance in the body and regulates the blood flow during menstruation.
The herb lodhra is considered as best for uterus related problems. This herb provides relief from the pain that arises due to excessive bleeding in the form of cramps.
Dose: 1-2 capsules two times a day with plain water after meals.
This herb also known as Indian asparagus is very beneficial for the female reproductive system. This herb is known for treating the problems such as early menopause, weak bones and low bone density. It is free from any kind of hormones and works naturally for the efficient working of the female reproductive system and also provides strength and support to the female reproductive system. The root of these amazing herbs is also used to get rid of urinary tract infections. There are many other treatments that can be treated using this particular herb.
Dose: 1-2 capsules twice on daily basis. Use for few weeks for better results.
It is also known as methika in Sanskrit is best herbal remedy for the females suffering from this problem. This herbal remedy is also used commonly in Indian kitchens for cooking purpose as including it in daily diet helps the body free from any diseases and are also considered good for maintaining female libido and hormonal balance. This herbal remedy is also helpful in maintaining balanced glucose level and supports female reproductive system. The seeds of this herb are used to formulate this herbal remedy. The seeds are bitter in taste and are rich in vitamins such as thiamin, folic acid, niacin and minerals such as copper, calcium, potassium, zinc, magnesium and manganese.
These are hundred percent natural and free from any kind of chemicals. It is suggested to take this remedy on regular basis for better results and for early recovery from this particular problem.
Dose: 1-2 capsules twice daily with plain water after half an hour of meals.
This herbal remedy is a blend of great herbs namely ashoka, udumbar, arjuna and lodhra. These herbs have marvelous blood clotting properties that helps in vasoconstriction in the blood thus reducing excessive bleeding. Ashoka is best known for its properties that help in treating all kind of female disorders.
Dose: 1-2 teaspoon twice daily with water, iced tea or flavored juice after meals.
This remedy is aloevera juice and is considered best for the treatment of digestive as well as reproductive problems. Kumari saar is especially formulated for females to fight with the symptoms that arise due to this particular disease or menopause. When females undergo this process, there are various changes noticed and happening inside their body so, kumari saar helps to make this complex process easy by eliminating the problem such as pain, fatigue, cramps etc. This herbal remedy is also helpful in treating many other problems such as weak immune system, various digestive system related problems etc. The essential vitamins and minerals present in this herbal remedy have many beneficial properties that are considered very beneficial.
Dose: Three tablespoon of this juice mixed with equal amounts of water should be consumed daily.