Ayurvedic Treatment of Brain Tumor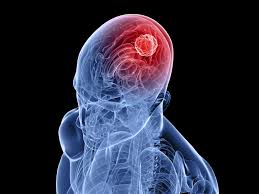 About Brain Tumor
Brain tumor occurs when there is an abnormal growth of cells in the cranial region or brain. This situation is also known as intracranial neoplasm. The situation may be benign or malignant.
There are two types of brain tumors:
Metastatic Brain tumors
Primary brain Tumors
Metastatic brain tumor is the most common one than the primary brain tumors. The major causes of the occurrence of the brain cancer are the exposure to harmful radiation, vinyl chloride, mutation, multiple endocrine neoplasia, neufibromatosis type 2 and several others.
Signs and Symptoms of Brain tumor
The major symptoms of the brain tumor are classified into three groups:
Irritation - Fatigue, Weariness, Absences, Tremors and Epileptic seizures.
Dysfunction - Memory loss, Lack of recognition, emotional changes, hypoesthesia, aphasia, ataxia, smell impairment, vision impairment, impairment to swallow, facial paralysis, dizziness, double vision.
Consequences of Intracranial hypertension - Headache, Vomiting, Somnolence, Coma, Increased intracranial pressure, herniation of certain brain parts.
Herbal Remedies for Brain Tumor by Planet Ayurveda
According to Ayurvedic point of view tumor is known as "Arbud" that is due to imbalance of all three doshas (Vata, Pitta & Kapha). Planet Ayurveda provides best combination of effective herbal remedies such as Crab Care Pack for ayurvedic treatment of brain tumor. These herbal remedies are prepared from using best quality herbs and strictly follow the principles of Ayurveda. All these herbal remedies of Planet Ayurveda are 100 percent pure, natural and vegetarian. These are free from chemicals, additives and preservatives. These are safe to use as these are free from side effects.
DOSAGE
Ashwagandha Capsules: 2 capsules to be taken two times in a day with warm water after meals.
Guggul capsules: 2 capsules to be taken two times in a day with warm water after meals.
Curcumin Capsules: 2 capsules to be taken two times in a day with warm water after meals.
Tulsi Capsules: 2 capsules to be taken two times in a day with warm water after meals.
Chanderprabha Vati: 2 tablets to be taken three times in a day with warm water after meals.
Kanchnaar Guggul: 2 tablets to be taken three times in a day with warm water after meals.
Products Description
1. Ashwagandha Capsules
These capsules are formed from the extracts of the Withania somnifera. The capsules help to enhance the physical stamina, strength and endurance level of the individuals. These capsules help to fight stress, nervous breakdown, ageing, arthritis, insomnia, blood pressure, diabetic neuropathy, chronic fatigue syndrome, weight loss due to cancer and many other functions.
2. Guggul Capsules
Guggul capsules have the properties to treat obesity effectively. It also acts as an anti-ageing agent, which restores the youthfulness and longevity of the individuals. These are formed by the combination of some herbs, which work together to provide relief from the spread of the cancer cells to the various parts of the body.
3. Curcumin Capsules
These capsules are biologically active phytochemicals formed from the extracts of the turmeric herb. The capsules have anti-cancer, anti-inflammatory, anti-hypertensive, anti-diabetic, anti-histaminic, anti-ageing, anti-mutagenic, anti-hepatotoxic, anti-coagulant, anti-thrombotic, cholerectic, anti-parasitic and anti-amoebic properties. Curcumin capsules help in treating sinusitis, tonsils, increase LDL level, ankylosing spondylitis, scleroderma and many other disorders effectively.
4. Tulsi Capsules
This herbal supplement is formed from the Tulsi herb, which has a lot of medicinal properties. It helps to treat cancer, autoimmune disorder, chronic rhinitis, allergy and chronic sinusitis. It has the immune modulator properties, which are highly efficient in treating AIDS successfully. These capsules have no side effects at all.
5. Chanderprabha Vati
These classical herbal tablets impose a calming impact on the body of the individuals. The tablets have anti-infective, blood detoxifying properties, which help to shed the extra fats from the individuals, eliminate anemia, cause blood oxygenation, lessen resistance of the insulin, provide greater vitality, enhance strength and physical endurance, treat pain and weakness, treat diabetic neuropathy and have many other essential benefits.
6. Kanchnaar Guggul
These tablets are formed from the combination of several herbs, which helps to treat inflammation of the lymph nodes, blockages of the lymphatic vessels, ovarian cysts, uterine fibroids, goiter, metastatic tumors, and malignant cancers effectively. These are highly effective in treating the tumors of all kinds. The supplement contains Triphala, Trikatu, Elaichi, Varun, Dalchini, Tejapatra, and Shudh guggul herbs.
To buy Crab Care Pack, please visit store.planetayurveda.com/products/crab-care-pack
These products provided by Planet Ayurveda are absolutely safe to use and are devoid of artificial and chemical preservatives, fillers, sugars and salts. They are purely vegetarian and natural. These are the standardized product with a very high rate of efficiency. They make use of the natural herbs, which have a lot of positive impact on the individuals and help to get rid of the dangerous diseases effectively.