Ayurvedic Treatment of High Uric Acid (Gout)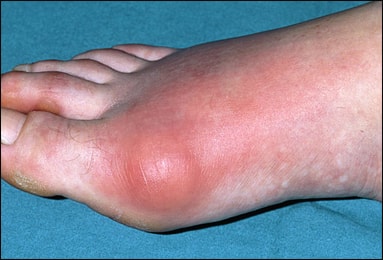 About Gout
Gout is a complicated disorder which results into recurring attacks of severe inflammatory arthritis. A person suffering from this disease could experience formation of a red, hot and swollen joint. This disease mostly affects the joint at the base of the toe. The main cause behind this issue is the increased amounts of uric acid in the blood. High uric acid crystallizes, and leads to formation of crystals in joints and tendons which ultimately results into excruciating pain and discomfort.
About Navkarshik Churna
Navkarshik Churna is an herbal medicine available at Planet Ayurveda which is considered to be immensely helpful for treatment of gouty arthritis, mostly when the level of uric acid is exorbitantly high and affecting the toe joint. These herbs functions together synergistically and are very beneficial in treating swollen and painful joints from its root. This churna is a blend of highly effective herbs that helps in removing harmful toxins from the body. Consumption of this churna helps in blood purification, boosts the metabolism of the body and alleviating all types of muscular, joints and head pain.
Besides these, Navkarshik Churna has got so many medicinal uses. It works as an anti – inflammatory, antiseptic and anti-bacterial medicine that not only helps in relieving pain but also heals wounds and prevents any sort of infection in the body. It acts as an immunomodulator and helps in improving the immunity power of a person. It supports and strengthens bodily joints and ligaments.
This churna is an herbal formulation of well-known and effective herbs. These herbs are: Manjista, Katuki, Amalaki, Haritaki, Babhitaki, Giloy, Vacha etc.
Ingredients and Their Benefits:-
1. Haritaki (Terminalia chebula)
This herb carries high astringent and laxative properties which make it very beneficial for treating all types of liver disorders. It is helpful in preventing fatty liver and liver cirrhosis. It is powerful agent to minimize uric acid from the blood to a larger extent. Acts an effective blood purifier.
2. Amalaki (Emblica officinalis)
This herb acts as an anti – bacterial, hypoglycaemic, carminative, hypotensive, stomachic and astringent. It has a cooling and diuretic effect on the system. It's anti -oxidative, immune – modulator and anti-hepatotoxic helps in counteracting free radicals in the body. IT helps in developing resistance in the body to fight against illnesses. This natural herb is a rich source of vitamin C which assists in eliminating gout crystals from the various body parts formed as a result of gout.
3. Katuki (Picrorhiza kurroa)
This is one of best Ayurveda herb recognized for its liver detoxifying functions. It strengthens liver to remove the toxins and clear the uric acid from the blood. Liver has to put in excess efforts to do this job but katuki herb does it very quickly and effortlessly.
4. Manjistha (Rubia cordifolia)
This herb is widely used in cleaning the blood containing toxins in it. All the different types of toxins such as uric acid, harmful bacteria etc are successfully removed from the blood. It is efficient in several types of skin problems like acne, pimple, scars, marks, blemishes, wrinkles, burns, cuts etc. Use of Manjistha is also good in painful joints as a result of gout.
5. Neem (Azadirachta indica)
Neem is very popular herb well known for purifying blood and overall cleansing of body. Neem is highly beneficial to reduce high levels of urea, uric acid, toxins and cholesterol in the blood.
6. Babhitaki (Terminalia belerica)
The herb acts as a cleansing agent and helpful in digestive disorders like constipation, acidity, infection etc. It is highly effective in anthelmintic. Its styptic properties is useful in stopping bleeding within the joints quickly. It is effective in flushing out toxins like uric acid from the body and relieves pain due to gout.
7. Vacha (Acorus calamus)
Vacha is immensely useful for memory sharpening, improving concentration, reducing inflammation, alleviate pain and lowering uric acid from the body.
8. Daru haldi (Berberis aristata)
This is a wonder herb in Ayurveda for treating gout effectively. It does this by reducing uric acid levels and toxins from the blood. It is also very useful in purifying blood, improving skin complexion and texture.
9. Giloy (Tinospora cordifolia)
This herb is especially used for gut, high cholesterol, diabetes, allergic rhinitis, digestive disorder, lymphoma and several types of cancers. It works by neutralizing the uric acid levels and reduce them in a natural way. It's a magical herb which detoxifies the body by eliminating toxins from the body. It also has plenty of natural anti-oxidants. Also boosts the immune system.
Dosage : 1 teaspoonful twice daily, after meals, with plain water
To buy Navkarshik Churna, please visit store.planetayurveda.com/products/navkarshik-churna