AYURVEDIC TREATMENT OF OVARIAN CYSTS
ABOUT OVARIAN CYSTS
Ovarian cysts are major cause of concern among female reproductive diseases. Many of women have ovarian cysts at some time during their lives. Most of the ovarian cysts are harmless and do not produce any side effects. Some time there is low backache but sometimes can produce more symptoms. Always look for the symptoms and schedule regular pelvic examination.
WHAT ARE OVARIES?
Ovaries are 2 in number situated on either side of uterus in women. These are almond shaped. Eggs or ova develop and mature in ovaries and are released every month during periods in childbearing age.
WHAT ARE OVARIAN CYSTS?
Ovarian cysts are fluid filled pockets or sacs with in or on the surface of the ovary.
Most of the ovarian cysts are result of normal ovaries functions which are known as functional cysts. Ovaries produce follicles like structures which release estrogen and progesterone when one ovulate. Sometimes follicle keeps growing and changes in to cyst called as functional cyst.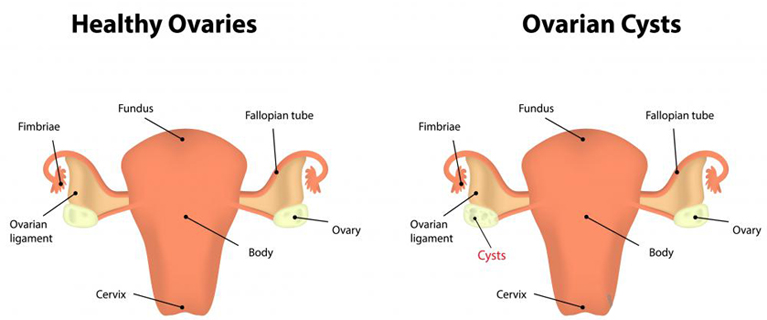 These are follicular and corpus luteum cysts.
SYMPTOMS OF OVARIAN CYSTS
Lowe back pain
Pain during intercourse (dyspareunia)
Heaviness in abdomen
Increased frequency to urinate and difficulty in emptying the bladder
Nausea, vomiting
Breast tenderness sometimes
Pain during bowel movement.
CAN OVARIAN CYSTS MAKE IT HARDER TO GET PREGNANT?
Not necessary. Most of the cysts do not interfere with pregnancy. POCS (Polycystic Ovarian Syndrome) when there are many cysts in the ovaries and endometriomas, when endometriosis that covers inner lining of uterus starts growing outside the uterus - are conditions which may lead to infertility.
HOW OVARIAN CYSTS ARE FOUND?
When you feel the symptoms like low back pain, irregular periods, painful intercourse etc., consult an expert.
Doctor can confirm ovarian cyst after pelvic examination and ask you to go for ultrasound to confirm the shape, size etc. of cyst. If needed pregnancy and hormonal tests can be done to rule out its effects.
WHAT IS AYURVEDIC VIEW?
Ayurveda suggests that this is a Vata disorder. Vata gets vitiated due to improper diet and life style which causes obstruction of body channels and present with above said symptoms.
For a healthy body there should be balance of dosha, dhatu and mala in body. Ayurvedic approach is based on the equilibrium of doshas with dhatus and mala. Therefore it advises to choose a healthy and natural diet with active life style.
HERBAL REMEDIES FOR OVARIAN CYSTS
Planet Ayurveda provides best combination of effective herbal remedies such as Anti-Ovarian Cyst Pack for ayurvedic treatment of ovarian cysts. These herbal remedies are prepared from using best quality herbs and strictly follow the principles of Ayurveda. All these herbal remedies of Planet Ayurveda are 100 percent pure, natural and vegetarian. These are free from chemicals, additives and preservatives. These are safe to use as these are free from side effects.
Dosage
Chandraprabha Vati - 2 tablets twice daily with warm water.
Pradrantak Churna - 1 teaspoonful twice daily with warm water.
Kanchnaar Guggul - 2 tablets twice daily with warm water.
Punarnava Mandur - 2 tabs twice daily with plain water after meals.
Kumari Saar -2 tsp twice daily with plain water after meals.
PRODUCTS DESCRIPTION
1. CHANDRAPRABHA VATI
It is a classical natural formulation, blend of many ingredients, which are explained in ayurvedic texts. It is particularly effective in painful menstruation, pre-menstrual syndrome (PMS), irregular menses, uterine fibroids, ovarian cysts and leucorrhoea.
Chandraprabha Vati contains Vacha (Acorus calamus), Mustak (Cyprus rotundus), Devdaru (Cedrus deodara), Ela (Eletteria cardamomum), Musta (Cyperus rotundus), Pippali (Piper longum), Maricha (Piper nigrum), Tejpatra (Cinnamomum tamala), Haridra (Curcuma longa), Chavya (Piper retrofractum), Vidanga (Embelia ribes) etc. which are known for their actions and properties.
2. PRADRANTAK CHURNA
Pradrantak Churna is a classical formulation that contains Pushyanug Churna with Ashok (Saraca asoca). It is a complete herbal formulation to take care of female health problems. It is particularly effective in painful menstruation, pre-menstrual syndrome (PMS), irregular menses, uterine fibroids, ovarian cysts and leucorrhoea.
Pushyanug Churna is a blend of ingredients such as Jambu (Syzygium samarangense), Amra (Spondias mombin), Daruharidra (Berberis aristata), Pashanbhed (Bergenia ligulata), Lajjalu (Mimosa Pudica), Musta (Cyperus rotundus), Bilwa (Aegle marmelos), Lodhra (Symplocos racemosa) etc.
3. KANCHNAAR GUGGUL
Kanchnaar Guggul is a combination of ingredients such as Kanchnar (Bauhinia Variegata), Triphala [Amalaki (Emblica officinalis), Haritaki (Terminalia chebula) and Bibhitaki (Terminalia bellirica)], Trikatu [Pippali (Piper longum), Marich (Piper nigrum) and Shunthi (Zingiber officinale)], Varun (Crataeva nurvala), Twak (Cinnamomum zeylanicum), Tejpatra (Eletteria cardamomum) and Shudh Guggul (Commiphora wightii) herbal extract.
It is a natural supplement in tablet form. Kachnar is a tree with beautiful flowers. Kanchnar maintains healthy tissues.
4. PUNARNAVA MANDUR
Punarnava Mandur is an effective herbal formulation prepared using the most effective herbs like Punarnava (Boerhavia diffusa), Pippali (Piper longum), Amalaki (Emblica officinalis), Haridra (Curcuma longa), etc. All these herbs have proven benefits in eliminating toxins from the body and to help get rid of the accumulation of fluid in any part of the body. This formulation helps in treating ovarian cysts very effectively. Besides this, it also helps in maintaining the overall health of the female.
5. KUMARI SAAR
Kumari saar is a juice preparation prepared from the mesmerizing herb Ghrit Kumari (Aloe barbadensis). This herb contains active phytochemicals like anthraquinones, amino acids, hormones which are enriched with antiviral, antibacterial, anti-inflammatory properties. Ghrit kumari balances all the three doshas but predominantly balances vata and pitta dosha. In gynecological disorders, kumari saar works very well as it reduces the size of multiple cysts present in the ovaries and balances the level of oestrogen and progesterone.
To buy Anti-Ovarian Cyst Pack, please visit store.planetayurveda.com/products/anti-ovarian-cyst-pack