Ayurvedic Treatment of Rheumatoid Arthritis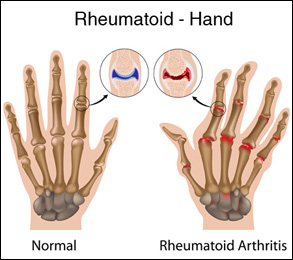 About Rheumatoid Arthritis
Rheumatoid arthritis is an autoimmune disorder that causes inflammation in your joints. Rheumatoid is a chronic disease. Rheumatoid is a form of arthritis that cause pain, swelling or stiffness of the joints. It can affect any joint but common in the wrist and fingers. It can also reduce the function of the joints. Most common in the old age and it often starts in middle age. A normal joint is a combination of two or more bones meet together. Due to joints you can move bones freely but within the limits. The joints is surrounded by the synovial fluid, which nourishes the cartilages and lubricates the joints. The ends of your bones are covered with cartilage, which has very slippery surface. Rheumatoid arthritis causes inflammation in the synovium. This condition is seen like any infected cut or wounds.
Rheumatoid Arthritis - According to Ayurveda
There are three active energy forces that govern the function of our body. They are vata, pita, kapha. According to Ayurveda mostly pains are caused by aggravation of vata dosha.
Symptoms of Rheumatoid Arthritis
Redness
Sever Pain
Swelling
Rise of Temperature
Tenderness
Morning Stiffness
Fatigue
Fever
Weight Loss
Anemia
Inflammation In The Eye
Causes of Rheumatoid Arthritis
Genetic
Environmental Factors
Hormonal Factors
Smoking
Excessive Taking Of Red Meat
Drink A Lot Of Coffee
Deficiency of Vitamin D
Low Immunity Power
Incompatible Diet And Lifestyle
Indigestion
Day Sleep
Sedentary Work
Diagnosis of Rheumatoid Arthritis
X-Ray
Blood Test
MRI
Ultrasonography
Physical Examination
Herbal Remedies for Rheumatoid Arthritis by Planet Ayurveda
Planet Ayurveda provides best combination of effective herbal remedies such as RA Care Pack for ayurvedic treatment of this painful situation of Rheumatoid Arthritis. These herbal remedies are manufactured from 100% pure and natural herbs; without the use of any chemicals, binders, fillers, colors, yeast, starch, preservatives or additives. These herbal remedies are prepared under the supervision of renowned Ayurveda experts.
Dosage
Ashwagandha Capsules - 2 capsule twice daily with warm water, after meals.
Boswellia Curcumin - 2 capsules twice daily with warm water, after meals.
Aamvatantak Churna - 1 teaspoonful twice daily with warm water, before meals.
RumoGin 5 Capsules - 1 capsule twice daily with warm water, after meals.
Joint Aid Plus - 2 capsules twice daily with warm water, after meals.
Yograj Guggul - 2 tablets twice daily with warm water, after meals.
Products Description
1. Ashwangandha Capsules
Ashwangandha capsules very effective in the treatment of rheumatoid arthritis. It gives strength to the muscles. It is a nerve tonic and also used as immune booster.it is also beneficial in stress, insomnia, general debility.
2. Boswellia Curcumin
This capsules by Planet Ayurveda is best herbal product for inflammatory disease. This is best joint pain relief without any side effect. This is also used in many other chronic disease.
3. Aamvatantak Churna
Ama is responsible factor for autoimmune system disorder. Ama is a sticky substances which leads to many disease, for the treatment of many disease first of all treat the ama because without treating ama there are no use of other medicine. So aamvatantak churna by Planet Ayurveda is very effective for the ama. It is an anti-inflammatory, anti-painkiller and immune booster. It also good for metabolism of food.
4. Rumogin 5 Capsules
Rumogin capsules are a pure herbal formulation which comprise of Curcumin, Saunth, shallaki, Maricha and Pippali. This herbal combination works towards complete detoxification of the body as a result making the joints healthy and movable again. It aids in managing Rheumatoid arthritis effectively.
5. Joint Aid Plus
This is a blend of many natural herbs which is useful in inflammation. It is also called anti- inflammatory herb. Joint aid plus contains extracts of Nirgundi, Gugullu, Giloy, Ginger, Ashwangandha and Shalaki. This aid plus is very effective in the treatment of rheumatoid arthritis.
6. Yograj Guggul YOGRAJ GUGGUL
This is a classical Ayurvedic formulation. This classical medicine is very effective in musculoskeletal disorders. It mainly works on Vata dosha. The tablets of Yograj guggul is prepared from the herbs like Guggul (Commiphora mukul), Chitrak (Plumbago zeylanica), Chavya (Piper chaba), Pippali (Piper longum), Musta (Cyperus rotundus), Amla (Emblica officinalis) and some other herbs. These ingredients help in maintaining proper digestion by stimulating the digestive fire. As we know that, Rheumatoid arthritis occurs due to digestive problem. It is caused by the formation of Aama (Endotoxins) in the body. The herbs in this formulation are works on this Aama. They digest this Aama and maintain the good and proper digestion.
To buy RA Care Pack, please visit store.planetayurveda.com/products/ra-care-pack.
General Guidelines
Curd is not ideal to take in rheumatoid arthritis
Cold water or frozen food stuff increase vata, leading to pain and stiffness
Avoid excessive taking of black gram
Don't avoid natural urges
Avoid stress and insomnia
Avoid food that are heavy to digest
In rheumatoid arthritis oil massage is not advised
Manage weight