Best Ayurvedic Doctor in Chandigarh - India
Dr. Vikram Chauhan is MD in Ayurvedic medicine and is an expert ayurvedic physician practicing in a beautiful city called Chandigarh, which is located in North India. Dr. Vikram Chauhan is an expert nadi vaidya (Pulse Diagnosis) and regularly conducts workshops on ayurveda at various national and international ayurvedic centers/ institutes. He is invited by various ayurvedic organizations, conferences worldwide for seminars, lectures, workshops, Ayurvedic consultations and patient examinations and pulse diagnosis.
Dr. Vikram Chauhan has deep interest in natural medicine and once has vast experience of ayurvedic herbs and their uses. He is MD is in herbal pharmacology of medicinal plants. He is also author of the famous book- Ayurveda- God's manual for healing.
Having seen a lot of adulteration in ayurvedic medicines and inclusion of chemicals, preservatives, use of improper raw herbs and alternatives in making of herbal products, Dr. Vikram Chauhan started his own herbal trading company along with his clinic in 1999 in the name of Krishna Herbal Company. This company was later registered with US-FDA and then he also launched his own manufacturing unit under the brand name – PLANET AYURVEDA. It is a GMP certified, ISO 9001:2015 , US-FDA registered herbal company. There were more and more products added later on which were based on clinical trials and efficacy. The products spread worldwide without marketing support because of their effectiveness, purity and 100 % natural consistency.
The name - Planet Ayurveda also got popular among masses and soon there were many products under this brand. Slowly there were PLANET AYURVEDA franchisees opening up in various cities around the world with trained ayurvedic experts handling the patients and doing proper panchakarma treatments. The first center was opened in Eastern European country called – Macedonia in 2005.
Now Planet Ayurveda is present in various countries – USA, Singapore, Czech Republic, Italy, Australia, Malaysia, Romania, Japan, Nigeria, Israel, Brazil and of course India.
CLICK HERE TO VIEW CURRICULUM VITAE OF DR. VIKRAM CHAUHAN...
BIGGER AWARDS
1. RECEIVED RAJIV GANDHI NATIONAL AWARD BY GOVT. OF INDIA - "RASHTRIYA EKTA SAMMAN"(NATIONAL AWARD) FROM NATIONAL UNITY CONFERENCE - NEW DELHI FOR OUTSTANDING ACHIEVEMENTS IN THE FIELD OF AYURVEDA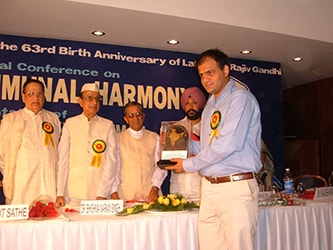 2. RECEIVED AWARD FROM MALAYSIAN HEALTHCARE SDN BHD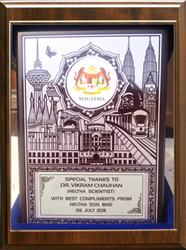 3. RECEIVED HEALTH EXCELLENCE AWARD AND CERTIFICATE FROM ALL INDIA BUSINESS & COMMUNITY FOUNDATION IN 36TH NATIONAL SEMINAR