Terminalia Belerica (Bibhitaki) – Uses, Benefits, Dosage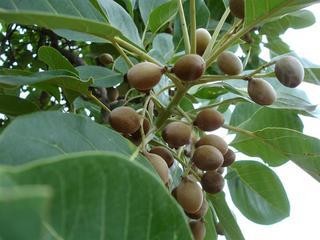 Scientific Name: Terminalia Bellerica
English Name: Belliric myrobalan
Sanskrit Name: Bibhitaki
Description
It is big and handsome tree about 60-80 feet. Erect, long trunk. 3-8 inch long, alternate square and oval leaves. Either white or yellowish flowers. Fruits are less than one inch in diameter, nearly five angled after drying, grayish, which contain one seed. New leaves appear in February-March, flowers appear in May. Fruits are ripened during January-February.
Part Used
Fruit
Phytochemicals
Its principal constituents are ß- sitosterol, gallic acid, ellagic acid, ethyl gallate, galloyl glucose, chebulagic acid, glucose, galactose, fructose and raminose.
Medicinal Properties
It is Astringent, Tonic, Expectorant and Laxative. It has lithotriptic, rejuvenative and antibacterial properties.
It is used in coughs and sore throat.
While using herbal eye drops containing T. bellirica, encouraging results have been obtained in cases of myopia, corneal opacity, immature cataract, chronic and acute infective conditions.
Dosage
Powder: 3-6 gm.
To buy Bibhitaki Powder, please visit store.planetayurveda.com/products/bibhitaki-powder