What are the Uses and Health Benefits of Common Purslane (Portulaca Oleracea)?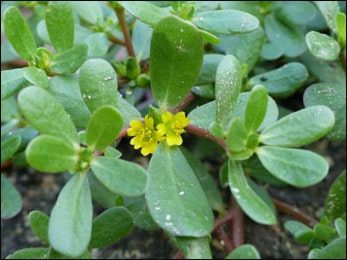 What is Common Purslane (Portulaca Oleracea)?
Purslane has its origin in India and hence considered as a gift of India to the world. The herb is different in a crowd of other herbs because of its various shapes, colors, and smell. Purslane are leafy greens with red stems. For gardeners, it can be the most annoying weed as it grows rapidly in all the directions. Purslane can tolerate the extreme climate of heat and dry conditions because it can store water in its stems and leaves. Most people are unaware if this herb is edible or not. Usually, it is collected from the wild and not cultivated. Purslane is an herb used for various health ailments.
What is the Botanical Name of Purslane?
The botanical name of Purslane is Portulaca oleracea.
What are the Other Common Names used for Purslane?
The other names of Purslane are verdolaga, parsley, red root, little hogweed, and green purslane.
How is the Herb Purslane Scientifically Classified?
Kingdom - Plantae
Phylum - Angiosperms
Subphylum - Eudicots
Order - Caryophyllales
Family - Portulacaceae
Genus - Portulaca
Species - P. oleracea
General Description of Purslane
Purslane is a taproot with smooth, reddish stems and the leaves which are close together at stem joints and ends. Flowers are yellow in color and have five parts measuring each 6mm wide. This herb flowers during rainfall. These flowers open only on sunny mornings. Tiny pods consist of seeds. These pods open when seeds are mature. Fruit measure about 4-8 mm and consists of round egg-shaped capsules.
Where is Purslane Distributed?
It is distributed worldwide including the Indian subcontinent, North Africa, Southern Europe, Australia, and Malaysia.
In which Areas Purslane Grows Well?
Purslane grows well in orchards, crop fields, vineyards, gardens, roadsides, and landscape areas.
What are the Chemical Constituents of Purslane?
It consists of noradrenaline, dopamine, calcium salts, malic acid, citric acid, glutamic acid, asparagic acid, nicotinic acid, alanine, glucose, fructose and sucrose.
What are the Medicinal Properties of Purslane?
Bactericide, refrigerant, antipyretic, antidote, antiphlogistic and antidysenteric are the medicinal properties of Purslane.
What are the Medicinal uses of Purslane?
Purslane has a laxative effect and helps to relieve constipation effectively.
Purslane prevents high blood pressure and high cholesterol as it contains a high amount of omega-3 fatty acids.
It prevents heart problems by inhibiting and treating inflammation and also manages normal functioning.
It improves and maintains normal functioning of the immune system and eliminates free radicals from the body. This herb increases the body's strength to fight against infections.
Purslane fights and eliminates carcinogens from the body.
It improves dental and bone health.
Nerve, blood, and muscles functioning can be improved by the consumption of this herb.
It increases hemoglobin production in the body by increasing the iron absorption.
Purslane helps to repair damaged tissues in the body.
It helps in the breakdown of cholesterol and fats, preventing cardiovascular diseases.
Visual health can be improved and maintain by this herb and is also important for cell and bone growth.
It is used to treat various types of headaches.
Fever and its associated symptoms can be relieved by the use of Purslane.
It can help to maintain blood sugar level in diabetic patients as Purslane support body's own insulin supply.
As it prevents inflammation so this herb can be used to treat psoriasis. Purslane relieves itchiness, scales, and redness due to psoriasis.
It kills or stuns the growth of the bacteria in the body and prevents various bacterial infections.
This herb has diuretic action which helps to eliminate the excess of water from the body and maintains kidney functions. It can be used to treat various urinary tract infections.
Purslane effectively treats a dry cough and relieves shortness of breath.
Cooling and soothing effects of this herb help to relieve pain and burning due to burns and insect stings.
It treats abnormal uterine bleeding.
This herb has wound healing properties and can be used to heal wounds by applying topically on wounds.
It can be used for a face mask as Purslane refreshes, cleanses and tightens the skin.
Purslane is used to treat inflammation of the breasts and hemorrhoids.
It kills and eliminates the intestinal worms.
This herb can be used to treat depression as it has anti-depressant effects.
What can be the Side-Effects of Purslane?
During pregnancy, this herb should not be used as it can cause contractions of the uterus.
Overdose can cause digestive ailments and kidney problems.