Shankhpushpi (Convolvulus Pluricaulis) - Benefits & Uses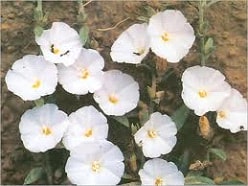 As it is very well stated that "The brain is wider than a sky, and to think is to practice the brain chemistry".
But in this 21st century, we humans have overloaded our Brains with too much of thoughts, tensions, and stress which basically damages its functioning and efficiency. To deal with this daily stress, tensions, memory loss, and sleeplessness Ayurveda has mentioned a splendid herb known as Shankhpushpi.
Latin Name : Convolvulus pluricaulis
Kingdom: Plantae
Family : Convolvulaceae
Order: Solanales
Genus: Convolvulus
Sanskrit Name : Shankhpushpi
Hindi Name : Shankhahuli, Shankhahul
English Name : English speedwheel
Marathi Name: Sankhvel
Telugu Name: Sankhapuspi
Gujrati Name: Sankhavali
Urdu Name: Sankali
Description
It is a plant that grows widely during rainy season. The plant is about 2 to 3 inches in height.
Leaves: Its leaves are small in size and are about 0.5 to 1.5 inches in length. Its leaves are alternate, elliptical.
Flowers: Flowers are about white or red in colour, they are round or bell shaped.
Part Used
Moola (Root) is the part that is predominately used but all the other parts are also useful like flowers, leaves, stem and roots.
Origin
It is generally found in India and Burma.
Physical Properties
Ras (Taste): Tikta (Bitter)
Guna (Properties): Snigdha (Oily), Picchila (Sticky)
Virya (Action): Cold Potency (Sheet), According to Bhavamishra - Hot Potency (Ushna)
Vipaka (Post Digestive Effect): Madhura (Sweet)
Dosha: Balances Pitta and Kapha
Chemical Constituents
Kaempferol, B-sitosterol, Sankhapushpine, N-hexacosanol, and Hydroxy cinnamic acid etc. are major chemical constituents.
Main Indication of Shankhpushpi
Shankhpushpi is also commonly called as a major brain tonic.
It has been claimed as one of the few herbs which reduces stress level and puts brain in a relaxed state.
The herb controls neurotoxicity levels, it is not only a stress reliever but is also an anti - depressant, and it reduces the effect of toxins in the brain.
It improves the memory, it is indicated that about 20 grams of powdered or juice formed Shankhpushpi should be taken along with honey.
This herb is beneficial in rejuvenating the brain, works as a psycho-stimulant and tranquilizer.
The herb induces the feeling of calmness, peace and promotes good sleep.
Other Uses and Indications
Shankhpushpi has got analgesic properties, the pain killer properties help in dealing with other painful diseases like:
Rheumatic pain
Arthritis
Osteoarthritis
The painkiller effects produced by Shankhpushpi are same as that of induced by Morphine, but Shankhpushpi is totally natural and does not have any side effects.
It can cure Hyperthyroidism as it regulates the rate of metabolism of the body by producing thyroid hormones.
Shankhpushpi should be taken daily by the patient suffering from Epilepsy.
This herb reduces gastric ulcers, studies have proven that Shankhpushpi is a very good herb that can reduce gastric ulcers by healing the lesions faster and also by strengthening the mucus membrane.
It is indicated that about 20 grams of powdered or juice form of this herb along with honey have shown miracle effects in treating leprosy (skin diseases).
To buy Shankhpushpi Powder, please visit store.planetayurveda.com/products/shankhpushpi-powder
Our Similar Products
To keep your Bain cells Healthy and Active, Planet Ayurveda serves to you with Medhya Churna and Sleep Natural.
Charak (The Reowned Ayurvedic Acharaya) have mentioned about Medhya Rasayan in his texts, he claimed that this Rasayan is the one which enhances the brain vitality and functions. He has also mentioned Shankhpushpi as one of the Medhya Rasayan herb.
Medhya Churna formulated by Planet Ayurveda is a natural and totally herbal memory brain supplement, that works miraculously to increase concentration, reduce stress level and lowers down anxiety.
Our product along with Shankhpushpi also contains other natural herbs like Licorice, Giloy, Vacha, and Ashwagandha.
Pack Size: Per Jar of Medhya Churna contains 100 gm Herbal Powder
Dosage: 1/4 teaspoon once daily with 1 spoon of Cow Ghee (Clarified Butter).
Side Effects: No Side effects, can be used with other herbal supplements, vitamins or other herbal remedies or natural products.
Another product presented to you by Planet Ayurveda is Sleep Natural.
Sleep Natural also contains Shankhpushpi and along with it also contains another magical herb like Ashwagandha, which also helps in reducing stress level, and helps in calming the nerve cells. It also contains Tagar, Jatamansi, Brahmi, Vacha, and Sarpagandha.
Pack Size : Per Bottles of Sleep Naturals contains 60 Pure Veg. Capsules.
Dosage : 2 capsules twice daily with plain water after meals.
Side Effects : No Side effects, can be used with other herbal supplements, vitamins or other herbal remedies or natural products.
Advantages of Our Product
Planet Ayurveda is an Ayurvedic Manufacturing Company offering wide range of herbal products for the treatment of various ailments. Our task is to keep on developing the natural way to keep every human to look young and healthy. We promise to all the consumers the Best Quality herbal supplements and at an affordable cost. All our products are manufactured and marketed with utmost care. The active ingredients in our products are time tested and well documented in the Ayurvedic System of Medicine.