Dhanwantharam Thailam, Herbal Massage Oil – Benefits, Ingredients, Dosage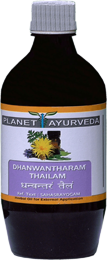 Ref. Text – (SAHASRAYOGAM)
Action
Dhanwantharam Thailam or Dhanwantaram massage oil is Analgesic, Counter irritant, Anti-inflammatory. For Soothika, baala (Children) , Injuries in Marma (Vital parts), Asti bhanga (Fracture) or such Abhighaataja rogas. Also in the cases of Ksheena (Weakness), Jwara (Fever), Gulmam, Graham (Planet), Unmaada (Psychic disorders), Mutraaghaatam, Antravrudhi (Tumours), Yoni rogam.
Indication
Neuralgia, Rheumatic pain, Recommended for all Rheumatic complaints with severe pain, Numbness, Chest pain, Swelling in joints, Tooth-ache, pain in ears etc.
Applications
For treating injuries. Its specific action is to clear blockages and restore circulation. As a relaxant it regularizes breathing by breaking down excessive kapha in the chest. It regulates the body temperature. It optimizes the body energy utilization breaking down excessive mucus in the body. It helps respiratory congestion, cramps, numbness, pain, and swelling.
Indications & Uses
Note : External use only.
Usage : Apply lightly heated oil on entire body or affected part.
SALE PRICE
For Price Quote Kindly Mail Us at:- herbalremedies123@yahoo.com
Packing Size – 200 ml. Herbal Oil in Pet Bottle.