DHURDHURAPATRADI THAILAM - BENEFITS & USAGE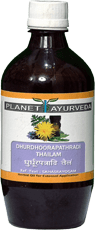 Maintains healthy blood circulation.
Maintains healthy hair.
Balances Vata and Kapha dosha in body.
100% natural product.
Absolutely free from chemicals, additives, extra colors, fillers and yeast etc.
Formulated by M.D Ayurveda experts.
Available at reasonable cost.
INGREDIENTS
Til taila (sesame oil)
Juice extracts of dhurdhurpatradai (dhatura metel) leaves
Seeds of dhatura metel
REF - SAHSRA YOG, TAIL YOGA PRAKARAN
PACK SIZE
200 ml
HOW TO USE?
For external application only
Take Dhurdhoorapatradi thailam (oil) in a bowl.
Now take cotton swab and dip it in oil.
Apply properly all over the scalp.
Massage gently for some time.
Leave this oil over night.
Wash with herbal shampoo in the morning.
It can also be applied just before half an hour of head bath.
SALE PRICE
For Price Quote Kindly Mail Us at:- herbalremedies123@yahoo.com
WHAT IS DANDRUF (Ayurvedic Approach)?
Health is achieved when there is perfect harmony between your body, mind and spirit. A disruption between these is responsible for sickness or health ailment.
Vata, Pitta and Kapha are three doshas which indicate your Prakriti or body nature. As per your body nature, body demands (diet and life style) plays an important role. If one goes opposite of this vitiation of doshas occur and leads to accumulation of Ama (toxic matter) along with blockage of body channels and therefore disease take place.
Dandruff is known as "Darunaka" in Ayurveda. It comes under "Kshurda" roga (minor diseases). It is a Vataja kapha disease. Causative factors like intake of more sour things, awakening at night, taking too much cold things, having heavy and more food at a time or skipping meal etc causes Vata to move out of control which take Kapha to scalp channels and block them. Therefore a white dust like material can be found over scalp, shoulders or near ears which is known as dandruff.
Dandruff may form due to some serious skin diseases like psoriasis, some health conditions like liver disorders or due to some medications.
Symptoms are:-
Itching all over the scalp
Local numbness
Hair fall
Burning sensation of scalp
Dryness which can lead to cracks and bleeding even
Prickling feeling over head
Heaviness
WHAT IS DHURDHOORAPATHRADI THAILAM?
Dhurdhoorapatradi thailam is a natural formulation in oil form. This helps to maintain healthy scalp and hair. It has til taila (sesame oil), juice extracts of dhurdhurpatradai (dhatura metel) leaves and seeds of dhatura metel as ingredients. It can be used on daily basis or at least use on every alternate day. Dhurdhoorapatradi thailam balances Vata and Kapha dosha and supports healthy blood circulation therefore maintain healthy hair.
IS DIET IMPORTANT WHILE USING NATURAL SUPPLEMENTS EXTERNALLY?
Ayurveda believes to go for natural diet only even person is healthy. It's our diet and life style only which make us sick.
So if you are using some natural supplements like natural oils for external use, it's equally important to maintain a healthy diet.
Avoid sour foods like curd, pickles, tamarind etc.
Do not prefer frozen or packed food items.
Do not go for wrong food combinations.
Limit or avoid alcohol totally.
Do not suppress natural urges.
Do not expose yourself to strong sun light.