Dr. Meenakshi Chauhan - Best Ayurvedic Doctor in Mohali from Chandigarh
We all have heard about people getting inspiration from an actor or a choreographer whom they have been watching for many years down the line. Actually, we all at one or another time have been fascinated by a particular character and wanted to like them but it's one out million cases when we get inspiration from closed ones particularly from a blood relation. We have one of that one out of million stories.
Dr. Meenakshi Chauhan Early Life

An Ayurveda Expert (BAMS-Gold Medalist), (MD-Alternative Medicine)
Dr. Meenakshi Chauhan who has made wholeheartedly contribution to the welfare of many people through Ayurveda is one of the million people who were inspired by her father and her own life incident to choose correct path in her life. Born in a family of renowned physician Dr. Madan Gulati and Dr. Saras Gulati, she was brought up under the shadow of Ayurveda. This was not just a reason to choose Ayurveda as her career but one of her childhood event also molded her into a true believer of Ayurveda. At the age of 3, Meenakshi seriously fell ill with recurrent fever and relapse malaria. Her condition was so serious that even PGI, Chandigarh gave up hope for any kind of recovery. During that time, Ayurveda came like a silver lining in her life. Ayurveda gave her a hope to live a healthy life. In her childhood innocence, she referred Ayurvedic medicine Bhasam as "Mitti Waali Medicine". Her recovery also inspired her father Dr. Madan Gulati to practice Ayurveda more dedicatedly and be a firm believer of unlimited properties of herbal medicine. Dr. Gulati even wanted his daughter to make a career in Ayurveda but he was open to her career choices.
Like every teenager, she was also fascinated by many things and has tantrums of joining a corporate world. She even joined BBA course for pursuing her vague dream but just in period of one month, she realized that business is not her cup of tea and she want to do something by which she can make a difference in others life. She called it off and soon joined BAMS course in college where there was still one month for a session to start. Having a convent background, it got tough for her to read Sanskrit Shaloks and learn their deep meanings but her matured personality help her to realize that Ayurveda is not just about physical well-being but has its roots in the eternal level of sustenance of living beings.
Along with Ayurveda, she was always inclined towards literature and has been fascinated by great works. For extending her reach towards literature and understanding all the aspect of arts, she enrolled herself in MA. English in Panjab University. Likewise, she achieved excellence in the field of Ayurveda in many ways. Along with that she always wanted to explore various arenas of skin care and cosmetics, she earned a Diploma in Cosmetology from VLCC in 2005. She also made a mark in the field of medical astrology and earned a degree of Jyotish Praveen in the year 2002.
Dr. Meenakshi Chauhan Love Life
Before going further through her professionally, let's briefly visit the beautiful phase of her life when the love of her life came in to the scene. Well actually, he came in Dr. Madan Gulati's life at first. When Dr. Vikram Chauhan (Dr. Meenakshi's husband) was in his 1st year in Jalandhar College, he used to have frequent attacks of Tonsillitis and was fed up of allopathic medication for they didn't yield satisfactory result; he decided to go for herbal medicine and visited Dr. Gulati for the treatment. He visited Dr. Gulati's clinic one fine day and as a matter of chance Dr. Gulati was examining some patients and explaining the line of treatment. While Dr. Gulati was explaining the treatment, he put forward one of Sholaks in front of interns and asked them to explain the meaning of it. None but one boy in queue told the meaning of Shlokas and he was none other than Dr. Vikram Chauhan.
Dr. Gulati was very impressed by him for being so well versed with Shlokas and learning so well. Dr. Gulati was so impressed by the diligence of Dr. Vikram Chauhan and for a kind of person he was that he wanted to see him as son-in law in the future. Things turned up well and Dr. Meenakshi and Dr. Vikram Chauhan were tied in a pious knot for the rest of their life.
Dr. Meenakshi Chauhan and Planet Ayurveda
In Planet Ayurveda, she is a consultant Ayurvedic Physician and guides to develop many herbal products for the production unit. She gives consultation in the Planet Ayurveda clinic on a regular basis. She is one of the Best Ayurvedic Doctor in Mohali from Chandigarh, North India.
Objective
To seek to continuously add value through initiative, innovation and experience to my organization and it's objective.
Personal Details:-
Name: Dr. Meenakshi Chauhan
Clinic Address: Plot No. 627, JLPL Industrial Area, Sector - 82, Mohali - 140306, Punjab (INDIA)
Phone No.: 0172-521-4030 (India), +91-172-521-4030 (Outside India)
Personal E-mail ID: herbalremedies123@yahoo.com (Please write attention Dr. Meenakshi in Subject line if you want Dr. Meenakshi to write to you directly)
Professional Education:-
Doctor of Indian Medicine (BAMS-Ayurveda) GOLD MEDALIST, Panjab University, Chandigarh, India. (1996-2002).
MD in Alternative Medicine from Calcutta.
Diploma (GNIIT) from National Institute for Information Technology. (NIIT).
Present Position:-
At Planet Ayurveda, Dr. Meenakshi Chauhan is an Ayurvedic physician. She has guided to develop many herbal products for manufacturing units. She is a renowned Ayurvedic expert in Chandigarh. She has regular clinic and many patients visit her from all around the world.
Personal Academic Achievements:-
Stood 1st throughout school, college and university.
Awarded a certificate of Merit for the Mathematics Competition organized by the State Institute of Education in 1993-94. Recipient of a medal in Science in the All India junior National Talent Search contest, 1991-92.
Awarded a Certificate of Merit in General Knowledge in the All India Junior National Talent Search Contest, 1991-92.
Gold medalist in Ayurvedic Medicine, Panjab University, Chandigarh, India.
Recipient of the Dabur Academic Awards (Awarded by Dabur India Ltd) in recognition of the academic performance at the University.
Recipient of Himalaya Drugs Award. Awarded by Himalayan Drug Co. Ltd.
Recipient of Aimil Award by Aimil pharmaceuticals.
Diploma in Information Technology at NIIT, (Java, Visual Basic, Visual C++, UNIX, SYSBASE and HTML) Scientific, Sales and Marketing Experience.
Participated in marketing activities for Dabur as consulting scientist during Agrotech in Chandigarh.
Gave courses in Yoga and Meditation Camps organized by the Divine Life Society from 1991-1994.
Degree course in Reiki method of Natural healing from Akshita Reiki Centre, Karnal, Haryana.
Participated in 'Vita Foods' Expo held at Geneva, Switzerland in 2003.
Participated in 3rd International Seminar on Ayurveda organized by Gujarat Ayurveda University, Jamnagar, Gujarat, India.
Participated in 1st International Conference on Cardiology in 2004 organized by Fortis Heart hospital in Chandigarh, India.
Actively participated in National seminar on 'Ayurveda-Native wisdom in Health and Medicine' organized by the DAV Ayurvedic Research foundation, Ludhiana, India.
Participated in National Conference on Development of Ayurveda at Chandigarh, organized by the Rashtriya Ayurveda Parishad or National Ayurved Council.
Author of "Reversing Heart Disease" for an American company.
Degree of Jyotish Praveen in 2002 in medical astrology.
Diploma in Cosmetology from VLCC in 2005.
Headed the Vita food stall of Planet Ayurveda in Hong Kong in 2013.
Awards
1. Dr. Meenakshi Chauhan Receiving Gold Medal for standing 1st in B.A.M.S. Degree Course on Dec. 13, 2003 from Prof. K.N. Pathak (VICE CHANCELLOR)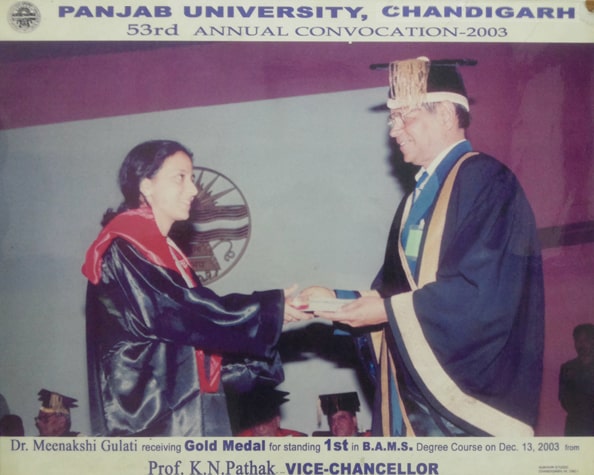 More Awards & Activities
In March, 2023
Dr. Meenakshi Chuahan in DIL KI BAAT with Legendary Icon Javed Akhtar Sahab
In February, 2023
Dr. Meenakshi Chauhan seeking Blessings from BK Sister Shivani
In June, 2022
Dr. Meenakshi Chauhan with her patient, Mrs. Manjit Kaur Aulakh (Lead Actress in Ni Main Sass Kuttni - 2022 Punjabi Movie)
Attended Dr. Khadar Valli Millet Workshop on 19th June, 2022
IN MAY, 2022
Dr. Meenakshi Chauhan honoured with Matri Shakti Award 2022 by Naturefit
IN OCTOBER, 2021
Dr. Meenakshi Chauhan being Awarded by Rana Gurjeet Singh (Current MLA and current Cabinet Minister of Punjab in from Kapurthala Assembly Constituency)
Bollywood Actor Liliput Ji (Real name is M. M. Faruqui.) Giving Blessings to Dr. Vikram Chauhan and Dr. Meenakshi Chauhan
IN 2019
| | | |
| --- | --- | --- |
| | | |
| Dr. Meenakshi Chauhan with Ms. Viera Spackova (Slovakian Distributor) during Vanity Fair Expo, Punjab | | Dr. Meenakshi Chauhan at Planet Ayurveda Stall with her Respective Team During Vanity Fair Expo, Punjab |
| | | |
| Dr. Meenakshi Chauhan at Planet Ayurveda Stall During Vanity Fair Expo, Punjab | | Dr. Meenakshi Chauhan explaining Benefits of various herbs to Planet Ayurveda's Distributors from Slovakia and USA |
IN 2018
| | | |
| --- | --- | --- |
| | | |
| Dr. Meenakshi Chauhan being Awarded by Rana Gurmeet Singh Sodhi (The Sports and Youth Affairs Minister, Punjab) | | Dr. Meenakshi Chauhan being Awarded by Sh. Kaptan Singh Solanki (Honorable Governor of Punjab & Haryana) |
| | | |
| Dr. Meenakshi Chauhan at Numerology workshop by Jyotish Prangan | | Dr. Meenakshi Chauhan with Lilliput Ji (Actor, Writer & Comedian) |
IN 2002
Dr. Meenakshi Chauhan interacting with Late Mrs. Sushma Swaraj at Ayurveda Conference in Switzerland

Dr. Meenakshi Chauhan with Dr. Shalindra (CEO-AYUSH, USA) in Switzerland

Dr. Meenakshi Chauhan in Vitafoods international, Switzerland

Dr. Meenakshi Chauhan with Senior Ayurvedic Doctors during Ayurveda Conference in Switzerland

Dr. Meenakshi Chauhan at Planet Ayurveda Stall in Switzerland
IN 2000
Dr. Meenakshi Chauhan Representing Dabur in an Ayurveda Conference in Holland