Pitta dosha diet and Ayurvedic diet for Pitta dosha Prakriti People
The unique concept of Ayurveda is Prakriti, which denotes the physical, mental and personal traits of an individual. The prakriti of the person is determined right during the conception and is dependent on the state of doshas during that time. Based on all these, the prakriti is broadly classified into three categories, which are also known as the tri-energies.
Vata (responsible for planetary movement)
Pitta (responsible for formation and destruction of universe)
Kapha (responsible for generating and maintaining a new life)
Here, we shall discuss on the Pitta Prakriti people in detail.
Pitta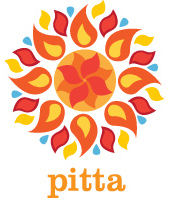 Pitta characterizes "Agnis" or fires of the body. Pitta is responsible for metabolism, digestion, heat, energy production, metabolism and transformation in the body and the mind. It portrays the basic characteristics of the people to distinguish between right and wrong, to control the sensory perceptions. The pivotal function of Pitta is transformation.
Alochaka Pitta: Functioning of the eyes.
Bhrajaka Pitta: Healthy glow of the skin.
Sadhaka Pitta: Desire, drive, decisiveness, spirituality.
Pachaka Pitta: Digestion, assimilation, metabolism for healthy nutrients and tissues.
Ranjaka Pitta: Healthy, toxin-free blood.
Common Characteristics of People of Pitta Dosha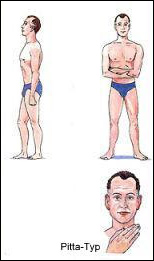 The major attributes to describe the Pitta prakriti people are hot, pungent, light, acidic, penetrating, sour and sharp. Some of the common characteristics describing the people, who predominantly have Pitta body type, are given below.
They have a sharp mind, strong and well-built physique.
They are focused, competitive, ambitious, self-confident, assertive, and aggressive, like challenges, demanding with entrepreneurial mindset.
When in stress, they get angry, impatient as well as irritated.
They enjoy challenges and have good leadership and managerial skills.
They are romantic and passionate.
They cannot tolerate much heat and perspire a lot.
They generally face some common physical disorders like acne, inflammation in the various body parts, skin cancer, boils, ulcers, insomnia, hot sensation in stomach, anemia, heartburns, vision disorder, jaundice and a few more.
Pitta people are generally of average weight and size.
They possess bright red-colored hair.
However, hair loss or perhaps thinning of hair is the typical characteristic in a Pitta prakriti person.
Pitta people may well experience burning feelings, skin breakouts, peptic ulcers, heartburn, intense body heat and indigestion.
Psychological Characteristics of People with Pitta Dosha
Individuals with Pitta attribute possess a strong intellect along with a solid capability to really focus.
While they're in sense of balance, they really are fantastic decision makers, guides and also speakers.
They have a very good capability of understanding and comprehension.
They really are smart, intelligent and intellectual and are likely to be good orators.
Out-of-balance Pittas tend to be short-tempered together with dominative and argumentative.
They possess psychological inclinations towards hate, wrath and jealousy.
Due to the fact that an excessive amount of Pitta dosha overheats the body and mind, individuals with Pitta dosha need to follow a proper diet plan of the food items to lead a happy and healthy lifestyle.
Food Items and Diet Plan for Pitta Prakriti People
Pitta dosha individuals must prefer cool food items as well as liquids. Items with fairly sweet, bitter, and astringent flavors would be the best. Lessen the intake of foods which are pungent, salty, as well as sour.
Much oily foods should be avoided. Ayurveda suggests a reduced consumption of fats and oils, as these enhance the fire in your characteristic. Clarified butter may be a good option. Sunflower, coconut and olive oils are some of the best oils. Using lesser amount of sesame, almond, and corn oil is recommended.
Dairy products can be useful. Consume milk, ghee and butter. Fermented products such as yogurt, sour cream and cheese should be avoided.
Barley, rice, oats and wheat can reduce Pitta and these are helpful for Pitta prakriti people.
Fruits such as apples (sweet), coconuts, grapes, dates, melons, figs, cherries (sweet), avocadoes, mangoes (ripe), pomegranates, pineapples (ripe), oranges, pears, raisins, prunes, plums and water melons are recommended. Reduce the intake of sour fruits like apples (sour), berries (sour), apricots (sour), cranberries, lemons, strawberries (sour), tamarind, grapefruits, mangoes (green), apricots, persimmons, rhubarb and other sour berries.
The vegetables to prefer are cabbage, asparagus, cilantro, cucumbers, kale, potatoes, dandelions, sweet potatoes, peas, green leafy vegetables, parsley, pumpkins, potatoes (white and sweet), broccoli, lettuce, cauliflower, okra, celery, green beans, zucchini and artichoke. And Beets (raw), corn, garlic, eggplant, green chillies, peppers, onions, olive green, prickly pear, spinach, tomatoes, turnips and radish (raw) shall be avoided.
Spices such as coriander, cinnamon, fennel and cardamom are all right. But ginger, black pepper, cumin, fenugreek, celery seed, clove shall be avoided.
Chicken, turkey and pheasant can be consumed. But seafood, eggs and beef shall be minimized.
Cinnamon toast, apple tea and cold cereals are the best breakfast for Pitta. Orange juice, doughnuts and coffee aggravate pitta and shall be avoided.
Fast, processed foods shall be avoided. However, Chinese and Japanese food items can be taken. But, highly spicy Mexican food shall be avoided.
Pitta Balance - Balances Your Pitta Dosha Naturally
Dosage – 1 capsule once to twice daily is enough.
Serving Size – 1 capsule contains 675 mg
Ingredients in Pitta Balance Capsules
There are many herbs, diets which help to keep Pitta dosha in balanced state. The pitta balance is a wonderful combination which comprises of cooling compounds, natural calcium compounds to restore the pitta imbalance quickly. It comprises of the following ingredients
| | | | |
| --- | --- | --- | --- |
| Sr. No. | Common English Name | Classical Ayurvedic Name | Quantity |
| 1 | Coral Calcium | Praval Pishti | 125 mg |
| 2 | Agate Calcium | Akik Pishti | 125 mg |
| 3 | An Ayurvedic Calcium compound | Jahar Mohra Pishti | 125 mg |
| 4 | An Ayurvedic Calcium compound | Kamdudha Ras | 125 mg |
| 5 | Pearl Calcium | Mukta Pishti | 50 mg |
| 6 | Tinospora corifolia stem extract | Giloy Satva | 125 mg |
The outer capsule shells are 100 % vegetarian and natural and organic, and the product is free from all chemicals, yeast, gluten, animal products and preservatives.
To buy Pitta Balance, please visit store.planetayurveda.com/products/pitta-balance.