GINGER LEMONGRASS LOOFAH SOAP
From the house of Ayurveda, Planet Ayurveda brings to you an all new range of herbal cosmetics which will leave your skin with everlasting radiance and shine and fetch you compliments day after day. One of the premium products from the collection is Ginger Lemongrass Loofah Soap. It is an interesting mix of tangy, lemon grass and spicy ginger fragrance which will smoothen your skin with its conditioning properties and impart a natural citrus fragrance to your body making you feel refreshed and energetic. Along with Glycerin it helps to keep the skin hydrated, unlike other soaps that are harsh on the skin due to their strong alkalizing action.
CONTENTS
Lemon Oil (Citrus Limonium)
Ginger Oil (Zingiber Officianale)
Lemon Grass Oil (Cymbopogon Flexuosus)
Madarine Oil (Citrus Reticulate)
Licorice
Aloe Vera (Aloe Barbedensis)
Glycerine
Sorbitol
Coconut Oil (Cocos Nucifera)
Ammonium Lauryl Sulphate
Propylene Glycol
Vegetable Natural Loofah
Turmeric (Curcuma Longa)
1. LEMON OIL
Lemon works in a wonderful way to bring back shine in dull and dry skin. It helps in revitalizing and rejuvenating the skin by ridding it off its sagginess. Lemon oil has an astringent action on the skin which helps in closing open pores and preventing infections. It may also help to control the amount of sebaceous secretions from the skin by absorbing the excess oils and maintaining the right amount of moisture which is required to keep the skin soft, supple and youthful. Its antiseptic properties also help in making it useful in skin problems like Pimples, Acne and other skin disorders. Besides these, the distinct aroma of lemon oil has a very soothing effect on the body and mind providing relaxation and improving alertness.
2. GINGER OIL
Ginger is a plant of great medicinal importance. If we talk about skin, ginger has amazing beneficial effects on the skin. Ginger oil is particularly loaded with more than 40 antioxidants that protect the skin and body from daily wear and tear and keep it firm and youthful. It is very soothing on burn marks and regular use can even fade off the scar mark.
Ginger oil is a strong cleanser and powerful antiseptic and helps to keep the skin blemish free and smooth. It also stimulates the skin by strengthening its immunity and imparting it enough resistance to fight against various infections. Ginger oil is a great toner which gives the skin a radiant hue which makes it looking younger. Its aroma is said to arouse feelings of leadership and empowerment in people who are feeling dejected or discouraged.
3. LEMONGRASS OIL
It is a priced essential oil mainly because of its aroma which has a relaxing, and refreshing effect on the mind. This essential oil is especially useful in case of oily skin which is prone to infections like pimples and acne. It is used in a diluted form as it may be toxic on the skin if used undiluted. It has an antiseptic effect on the skin helping it to fight against folliculitis, cellulitis, fungal infections etc. It smoothens skin texture providing relief in medical conditions like eczema, dry skin etc.
4. MANDARINE OIL
It is extracted from the peels of the mandarin fruit, which is found in South America. It helps in rebalancing and refining the skin to maintain its texture. It is also a great toner like lemon grass oil and ginger oil and helps improve skin resistance against all kinds of skin disorders. It is a very effective aromatic oil which does not normally lead to any type of sensitivity on the skin, neither does it have any toxic effect on the skin. It is a well-known product in the cosmetic industry. Its use as oil over the skin should be avoided when going out in the sun. It fights against all signs of skin ageing and is especially useful in case of dull or oily skin. It also has cytophylactic properties which help in rapid cell regeneration and repair making it effective against all kinds of wear and tear that the skin goes through. The aroma has a sedative action on the nervous system.
5. LICORICE
It is the root of Glycirrhiza glabra. Licorice is again a good antioxidant and has a very soothing and calming effect on the skin. It regulates production of sebaceous glands thereby controlling oil secretion preventing appearance of acne, pimples etc. It also lightens pigmented skin and fights against all the blemishes and imperfections.
6. ALOE VERA
Aloe Vera as we know it is a complete herb when it comes to skin conditions. It is a marvelous moisturizer for the skin, is equally beneficial in all kinds of skin conditions and is a great therapeutic agent. It helps in rapid skin healing and regeneration and has a cool and calming effect when applied locally. The gel extracted from its thick leathery, long leaves is the main active part of the plant which is responsible for all its properties.
7. COCONUT OIL
It not only is a great hair oil but works beautifully on the skin as a massage oil. It offers great sunscreen protection, better than most other sunscreens that are not only highly priced but are doped with harmful chemical base. It is rich in Vitamin E and a lot of proteins which imparts it anti-ageing properties and rapid recovery from wear and tear. The main constituents of coconut oil are the medium chain fatty acids which are easily absorbed by the skin and are responsible for keeping it soft and supple. They also deposit under the skin on regular usage, maintaining skin tone and banishing excess fats below the skin that cause obesity. Coconut oil also helps lighten stretch marks and scars.
8. TURMERIC
Turmeric is a household name in India when it comes to homemade day to day beauty remedies. It has antiseptic properties and is used as a good skin healer in case of burns, wounds, cuts etc. It also protects the skin against wrinkles, stretch marks and other signs of ageing. Turmeric is used in a wide variety of cosmetics as it improves skin complexion and helps it to fight against all the skin imperfections, acne, pimples etc. It is primarily used as an ointment against burns, scalds etc.
BENEFITS OF USING GINGER LEMON GRASS LOOFAH SOAP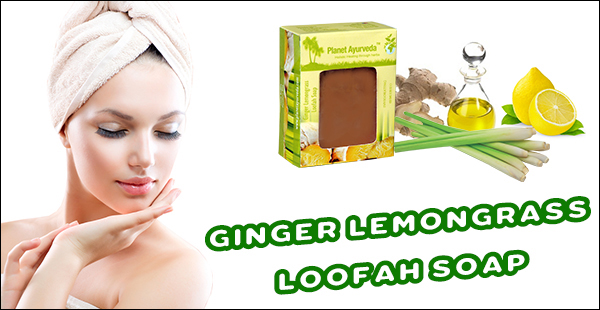 The ingredients of the product are formulated in such a way that the person feels fresh and rejuvenated after subsequent use making him feel all pumped up and relaxed to pursue any activity.
The fresh aroma has a stimulating effect on the mind and body and capture your senses that you would want to use it more and more after every use. Loofah fibres have been added in the preparation for an effective scrubbing experience. One does not have to use a scrubber separately after application of the soap, making it so much more convenient to use saving you the extra time and money for an added scrubber or loofah fibre pack.
MEDICAL CONDITIONS IN WHICH GINGER LEMON GRASS LOOFAH SOAP CAN BE USED
Apart from its amazing aesthetic benefits, Ginger lemon grass loofah soap can be used in a few medical skin conditions such as:
Excessive sweating
Boils, acne, pimples sometimes over the whole body
Hyperkeratinization of the skin
Folliculitis
Cellulitis
Burns or scar marks
Pruritic conditions
Eczematous conditions
To buy buy Ginger Lemongrass Loofah Soap, please visit store.planetayurveda.com/products/ginger-lemongrass-loofah-soap