Gorakhmundi Powder - Herbal Remedies for Gout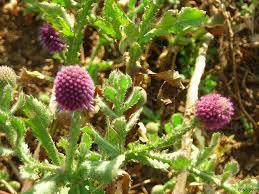 Latin name - Sphaeranthus indicus
English name - Rice field weed
Indian name - Gorakhmundi, Mundi
Gorakhmundi (Sphaeranthus indicus) is a common winter season weed Every season, several tract loads herb is supplied to fulfill the increasing demand of this herb in national and international drug markets. It is commonly called Rice field weed as it grows as a wild weed in the rice fields but has extremely valuable medicinal properties.
Plant Description
Gorakhmundi is a much branched herb about 30 cm high and branches cylinderic, with toothed wings, glandular and hairy. Leaves sessile, decurrent, ovate oblong, glandular hairy, serrate or dentate, flowers compound heads globose avoid, penduncles with toothed wings, fruits achene, glabrous, stalked.
Chemical Constituents
Methyl chavicol, a-ionone, d-cadinene, p-methoxy cinnamaldehyde as major constituents and a-terpinene,citral, geraniol, geranyl acetate, b-ionene, sphaerene, sphaeranthine as minor constituents of essential oil have been identified.
Parts Used
Powder of flowers 2-4 gm
Benefits of Gorakhmundi (Rice field weed)
High uric acid, Gouty arthritis with Tinospora (Giloy).
Increased urea creatinine levels, Chronic prostatitis.
Gorakhmundi is a unique herb which has been found to be most useful natural treatment for gout and high uric acid levels. Ayurveda- traditional Indian system of medicine has explained this herb as one of the best herbs for Gout.
To buy Gorakhmundi Powder, please visit store.planetayurveda.com/products/gorakhmundi-powder.
More Herbal Remedies for Gout
Dosage
Giloy Capsules - 1 capsule twice daily, after meals, with warm water.
Kaishore Guggul - 2 tablets twice daily, after meals, with warm water.
Navkarshik Churna - 1 teaspoonful twice daily, after meals, with warm water.
Punarnava Capsules - 2 capsules twice daily, after meals, with warm water.
Dashmularisht - 2 teaspoonful twice daily with equal amount of water, after meals.
Products Description
1. Navkarshik Churna
Navkarshik Churna is a herbal powder available at our website which contains this herb and is a very useful treatment for gout. It is a combination of 9 herbs which are effective herbal remdies for gout. Navkarshik Churna should be used alongwith Gorakhmundi herb powder to get quicker results in treating gout and high uric acid naturally.
2. Kishore Guggul
Kishore Guggul tablets are good to bring pain relief as well as purify the blood. This herbal remedy helps a lot in gout and high uric acid. It relieves the inflammation as well. They are also useful in removing toxins from the blood and therby useful in many skin disorders as well.
3. Punarnava Capsules
Punarnava Capsules is another herbal remedy for gout and uric acid. It's one of the best natural treatment for Gout, if used alongwith Navkarshik Churna, Kishore Guggul tablets and Gorakhmundi Churna. It reduces swelling around the joints, helps in decongesion and removing poinsonous debris around joints. It helps not only in lowering down the uric acid but also helps in reducing the other toxins like urea, creatinine, cholesterol. It helps in fatty liver too. It helps the liver to perform its functions in a better way.
4. Giloy Capsules
Giloy (Tinospora cordifolia) is a well-known plant in Ayurvedic system of medicine. It bears small flowers and prefers tropical climatic conditions for its growth. Giloy capsule is prepared by using standardized extract of Giloy herb. The capsule shells are 100 % vegetarian and free from gelatin.
5. Dashmularisht
Dashmularisht is a classical herbal formulation which is very helpful in pain and inflammatory disorders, this is very helpful in protecting the bones and joints to undergo in any degenerative changes. this is very beneficial in vata anulomna and helps to alleviate most of the nervine disorders that are associated with bone and joint disorders. Bilva (Aegle marmelos), sonpatha (Oroxylum indicum) etc. is added in this herbal formulation that supports the bones and joints in elder people and helps in strenghthening the muscles.
To buy Gout Care Pack, please visit store.planetayurveda.com/products/gout-care-pack