Herbal Remedies for Hair Problems (Hair Loss, Baldness, Alopecia)
About Hair Structure and Hair Life Cycle, Hair Growth Cycle
Hair is composed of strong structural protein called keratin. This is the same kind of protein that makes up the nails and the outer layer of skin. Each strand of hair consists of three layers.
An innermost layer or medulla which is only present in large thick hairs.
The middle layer known as the cortex. The cortex provides strength and both the color and the texture of hair.
The outermost layer is known as the cuticle. The cuticle is thin and colorless and serves as a protector of the cortex.
Structure of the Hair Root
Below the surface of the skin is the hair root, which is enclosed within a hair follicle. At the base of the hair follicle is the dermal papilla. The dermal papilla is feed by the bloodstream which carries nourishment to produce new hair. The dermal papilla is a structure very important to hairgrowth because it contains receptors for male hormones and androgens. Androgens regulate hairgrowth and in scalp hair Androgens may cause the hair follicle to get progressively smaller and the hairs to become finer in individuals who are genetically predisposed to this type of hair loss.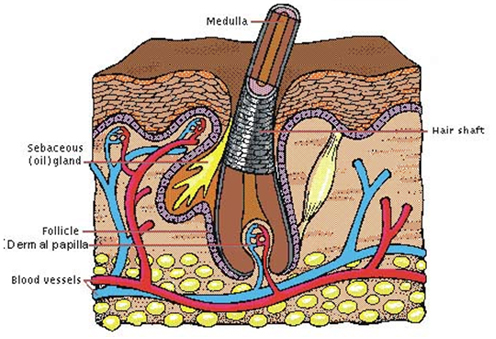 The Hair Growth Cycle
Hair follicles grow in repeated cycles. One cycle can be broken down into three phases.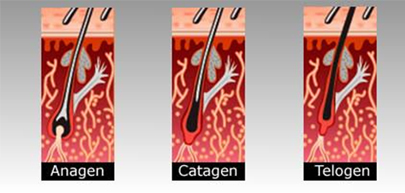 Anagen - Growth Phase
Catagen - Transitional phase
Telogen - Resting Phase
Each Hair Passes through the Phases Independent of the Neighboring Hairs
Anagen Phase - Growth Phase
Approximately 85% of all hairs are in the growing phase at any one time. The Anagen phase or growth phase can vary from two to six years. Hair grows approximately 10cm per year and any individual hair is unlikely to grow more than one meter long.
Catagen Phase - Transitional phase
At the end of the Anagen phase the hairs enters into a Catagen phase which lasts about one or two weeks, during the Catagen phase the hair follicle shrinks to about 1/6 of the normal length. The lower part is destroyed and the dermal papilla breaks away to rest below.
Telogen Phase - Resting phase
The resting phase follows the catagen phase and normally lasts about 5-6 weeks. During this time the hair does not grow but stays attached to the follicle while the dermal papilla stays in a resting phase below. Approximately 10-15 percent of all hairs are in this phase at an one time.
At the end of the Telogen phase the hair follicle re-enters the Anagen phase. The dermal papilla and the base of the follicle join together again and a new hair begins to form. If the old hair has not already been shed the new hair pushes the old one out and the growth cycle starts all over again.
What is Hair Loss, Baldness and Premature Graying of Hair?
Hair loss may be due to several factors. It's hereditary too and genetic factors play very important role to have with hair loss. Some other causative factors like pregnancy, puberty, menopause, hormonal changes, some major illness like cancer, use of some medicines etc. also cause hair loss.
Common Hair Problems are:
Hair loss
Baldness
Premature graying of hair
Hair fall is loss of hair from scalp, whereas baldness refers excessive loss of hair from scalp. Patches can be seen on particular area. Premature graying of hair is when hair loses its texture, color in young age only. Hair look whitish gray which is a sign of old age person.
Our diet and life style habits these days have changes our living style totally if we compare from past. We are only sufferer and facing various small to big health issues.
Opt for natural supplements so that there is no point of worrying about side effects. Eat healthy.
What are Ayurvedic Thoughts?
Health is achieved when there is perfect harmony between your body, mind and spirit. A disruption between these is responsible for sickness or health ailment.
Vata, Pitta and Kapha are three doshas which indicate your Prakriti or body nature. As per your body nature, body demands diet and life style.
Dosha vitiation is responsible for accumulation of toxins which get settled on scalp and present with various hair health issues like hair loss, baldness, premature graying of hair etc.
Herbal Remedies for Hair Problems
Well, shopping for hair products can be daunting! Leave your worries to us. Planet Ayurveda, a renowned herbal manufacturing company provides best combination of effective herbal remedies such as Hair Care Pack for ayurvedic treatment of Hair Loss, Dandruff, Baldness, Alopecia, premature graying of hair etc.
This package include herbal products in the form of capsules which can be taken internally on regular basis for long, strong and healthy hair. Yes, your damaged hair could be the reason of your weak immunity power or poor digestive system. Let's make our body system strong and deal with several hair health issues in a very natural way.
DOSAGE / USAGE
Go Richh Protein Shampoo - Apply appropriate quantity of this shampoo to wet hair & scalp. Massage in circular motion & rinse well.
Radiant Skin Hair Nail Formula - 2 capsules twice daily, with water.
Hair Growth Formula - 2 capsules twice daily, with water.
Go Richh Hair Conditioner - After shampooing, gently apply along the length of wet hair from base to tip. Leave it for two minutes. Rinse thoroughly.
Go Richh Hair Oil - Apply hair oil every night. You can gently massage the scalp taking around 5-10 ml of oil.
Products Description
1. Go Richh Hair Shampoo
Go Richh Hair shampoo is an effective hair cleanser which cleans the scalp sans drying out. It removes frizz and gives life to dull and lifeless hair. This product has no harmful chemicals and as a result prevents hair loss.
2. Radiant Skin Hair Nail Formula
Radiant Skin Hair Nail Formula is a perfect blend of herbs such as Manjistha (Rubia cordifolia), Pitt papda (Fumaria officinalis), Chirayata (Swertia chiretta) and Ghrit Kumari (Aloe barbadensis). These help you to give bouncy, healthy and beautiful hair along with skin and nails. Herbs are proved beneficial in nourishing hair from the root level and repair broken, splitted and damaged hair. They nourish them and give natural strength and smooth texture. This formula when used regularly, removes dandruff and other impurities from scalp and let hair roots grow more with strong hair. All these herbs are cooling in nature which pacifies the pitta (heating factor) dosha in body which is root cause for all sort of hair problems according to Ayurveda.
3. Hair Growth Formula
This is another excellent herbal formulation from Planet Ayurveda house which is a perfect blend of herbs, Yashtimadhu (Glycerrhaza glabra), Ashwagandha (Withania somnifera), Bhringraj (Eclipta alba), Bhumiamalaki (Phyllanthus niruri), Amalaki (Emblica officinalis), Brahmi (Bacopa monnieri). Herbs are very effective and result giving in hair loss, baldness, premature graying of hair etc. They also take care of underlying conditions which result in damaged hair. They are well researched herbs to improve hair texture, strength and overall health of even scalp too. They penetrate deep in scalp and help to regenerate new hair efficiently.
4. Go Richh Hair Conditioner
Go Richh Conditioner gives soft and bouncy hair with its natural ingredients. A small amount provides a smooth sheen to the hair giving it a healthy appearance. It works best if used after Go Richh Hair Shampoo.
5. Go Richh Hair Oil
This herbal supplement is formulated to take care of all hair problems. It is an amazing combination of various herbs like Bhringraj (Eclipta alba), Amalaki (Emblica officinalis), Bibhtaki (Terminalia Bellerica), Haritaki (Terminalia chebula) and Brahmi (Bacopa monnieri). This herbal supplement is beneficial for both male and female hair problems. Go rich hair oil penetrates the scalp and provides nourishment to hair and clears the dirty particles. It protects the scalp from dandruff, protect hair roots and prevent hair from fungal infections. Split end in female is most seen and this herbal product is used to cure split ends too. 100% natural oil works on our hair without disturbing our body's hormonal mechanism.
Why Planet Ayurveda Products?
We use standardized extract of best quality herb so that we give our best to people across the world.
We use pure vegetarian capsules made from plant cellulose.
We fill 500 mg pure extracts of herbs in our vegetarian capsule shell.
Our products are free from any chemical, added colour or preservative.
All our products undergo quality, quantity and potency check before they reach to customers.