Herbs for Natural Treatment of Allergy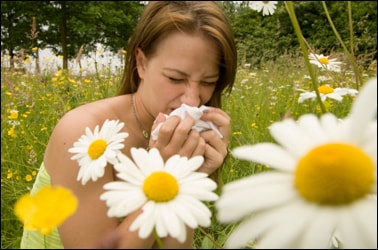 "Every season can be an allergy season, depending on what you are allergic to." Allergies are caused because of various allergens. Immune system perceives these allergens as foreign threatening invaders that react against these allergens. Weak immunity is the main cause for various allergies. Hence to get rid of allergy you should improve the function of your immune system. Staying away from allergens will just help temporarily but real cause is the week immune system. In Ayurveda "Oja" known as essence of all dhatus are correlated with "Immunity". It is believed that erroneous working of immune system is because of all three energies (Vata, Pitta & Kapha) in body. Most people take over the counter allergy medication to resolve seasonal allergies, but there are also natural ways to avoid symptoms without having to spend tons of money every year. Various Ayurvedic remedies for allergy exist and one should make full use of these remedies in life to stay away from unwanted and embarrassing allergies. If these allergies are not taken care of in time they can lead to very serious chronic diseases.
Various Types of Allergies
More than Ninety Percent of Allergies are Caused by these Common Allergens:-
Skin contact
Latex
Animal dander
Pollen
Some products on Creams, cleansers and detergents
Ingestion
Peanuts
Eggs
Milk
Wheat
Shellfish
Soy
Injection
Drugs & Medication
Bee Sting
Inhalation
Dust
Fungus spores, mold & mildew
Pollen
Animal Dander
Symptoms for Recognizing Allergy
Allergies can irritate with no end. Some of the symptoms to recognize these never ending allergies are all time runny nose, itching on the skin, watery eyes, itchy throat, sneezing, stomach pain, gastrointestinal problems, cramps in stomach, nausea, vomiting, heart beat becomes irregular and difficulty in breathing. These allergies make one miserable and helpless.
Complications
Asthma
Eczema
Dermatitis
Anaphylaxis
Sinusitis
Hiccup
Natural Tips for Treatment of Allergy
Lots of herbs in ayurveda have proved to help patients with allergies.
Tulsi (Ocimum sanctum) is a life giving herb. Regular use of Tulsi (Ocimum sanctum) in one or the other form will help to avoid and combat many common ailments, allergies and also some major diseases. Early in the morning eating 5-7 crushed fresh leaves of Tulsi on empty stomach is beneficial.
Turmeric (Curcuma longa) helps to fight inflammation. Turmeric (Curcuma longa) is used in almost all Indian cuisine. Consuming half teaspoon of pure turmeric with warm milk is beneficial to combat inflammation of all types.
Ashwagandha (Withania somnifera) enhances the defence system of the person. A teaspoon of Ashwagandha (Withania somnifera) taken with a cup of warm milk during bedtime will also balance Vata dosha.
Neem (Azadirachta indica) helps in all types of skin problems. Drinking tea of neem leaves two times a day is beneficial. Neem (Azadirachta indica) paste can also be applied directly on the skin after mixing it with coconut oil.
Avoid Spicy food, pickles, red chilies, citrus fruits like oranges and lemons.
You should avoid eating late nights as this leads to improper digestion. This indigested food enters our system and leads to imbalance of pitta, vata & kapha doshas.
Take plenty of water this helps to cleanse the system. Water should be consumed throughout the day.
Stay away from all the allergens which aggravate the condition.
Take plenty of sleep as it repairs and rejuvenates the system.
Herbal Remedies for Allergy by Planet Ayurveda
Ayurveda is the best way to treat various types of allergies. As per Ayurvedic point of view, line of treatment for allergies are to balance all three energies (Vata, Pitta & Kapha) & increases weak immune system in body. Planet Ayurveda offer best quality herbal products prepared from effective herbs for ayurvedic treatment of Allergy. These remedies contain combination of herbs that relieves signs & symptoms associated with it. All these herbal remedies of Planet Ayurveda are 100 percent pure, natural and vegetarian. These are free from chemicals, additives and preservatives. These are safe to use as these are free from side effects.
Dosage
Tulsi Capsules: 2 Capsule, twice daily with warm water after meals.
Praanrakshak Churna: 1 teaspoonful, twice daily with warm water after meals.
Aller-G Care: 2 Capsules, twice daily with warm water after meals.
Curcumin Capsules: 2 Capsule, twice daily with warm water after meals.
Products Description
1. Tulsi Capsules
Tulsi capsules are prepared from standardized extract of herb (Ocimum tenuiflorum). The capsule helps to reduce inflammation in lungs. It also helps to fight with flu, viral infections, cough, cold, breathlessness & various other conditions. Apart from removing allergies Tulsi capsule help in various other common problems. Tulsi capsules improves immune-system of an individual.
2. Praanrakshak Churna
As the name suggests "Prana" means "life-giving" & "Raksha" means "saviour" that support various types of allergy. This churna contains combination of herbs like Shirish (Albezzia lebbock), Vaasa (Adhatoda vasica), Anantmool (Tylphora asthmatica), Dalchini (Cinnamomum zeylanica), Bharangi (Clerodandrum serratum), Kantkari (Solanum xanthocarpum) & Mulethi (Glycyrrhiza glabra) that are beneficial in respiratory disorders associated in allergic condition. Praanrakshak churna is a complete formula that relieves symptoms related to allergies. This churna contains all the herbs that have been researched in Ayurveda in optimized quantity to fight all type of allergies naturally and with no side effects.
3. Aller-G Care
This can be used as a supplement with Praanrakshak churna and Tulsi Capsules. It is useful in all types of allergic reactions. Aller-G Care capsules are prepared from standardized extract of herbs like Haridra (Curcuma longa), Neem (Azadirachta indica), Shirish (Albezzia lebbock) & Ashwagandha (Withania somnifera) that give effective result in various type of allergy. These herbs contain anti-inflammatory, analgesic, immuno-modulator & anti-oxidant properties.
4. Curcumin Capsules
Curcumin capsules are prepared from pure haridra extract (Curcuma longa). As haridra (Curcuma longa) is used from Ancient time for its therapeutic purpose. It is a derivative of Turmeric and is very famous Ayurvedic cure for cancer. The capsules are useful for skin and gastrointestinal allergies. Planet Ayurveda formulates best curcumin capsules as it relieves cough, cold, breathlessness, throat infections & itching problem easily.
To buy Allergy Care Pack, please visit store.planetayurveda.com/products/allergy-care-pack