Herbs & Herbal Remedies for Knee Pain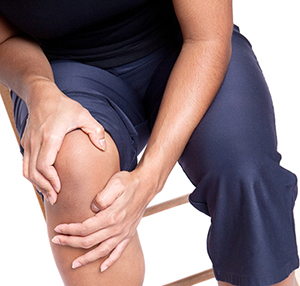 About Knee Pain
Knee pain is one of the most common problems faced by men and women of all ages. One experiences lots of difficulty in walking, bending, running and standing. All physical activities, which put pressure on knee joints, give painful sensations to the person. Knee pain can happen due to an injury in the knee or in the tissues surrounding it. It may be acute or chronic as well.
Causes of Knee Pain
Common causes of people suffering from knee pain include arthritis, injury, gout or infections and gradual wear and tear of ligaments. With the aging of person, the density of bone decreases, which leads to pain in the joints. This problem happens more in women due to less content of calcium in their bodies. It has been found that people, who are more inclined to sedentary lifestyle with minimum physical exercise also experience knee pain in later parts of their life.
Key Symptoms of Knee Pain
Knee Pain is Characterized by the Following:-
Slight or intense pain in the knee joints, which persists for a few days even after taking home remedy
Person experiences severe pain, when involved in any kind of physical exercises
Herbs to Treat Knee Pain
Knee Pain can be treated with herbs in Ayurveda to a huge extent.
1. Nirgundi (Vitex negundo)
This is the most preferred herb for efficiently treating knee pain. It amazingly lessens the painful swellings and inflammation of joints. Nirgundi is also considered helpful in providing absolute relaxation to the tired muscles, relieves pain and anxiety and breathing problems. This herb can be taken externally in the form of capsules or juice. Regular use of this herb will help you to get rid of all kinds of joint pains and soreness in muscles.
2. Shallaki (Boswellia serrata)
This herb shows remarkable pain relieving properties that are very much beneficial in treating osteoporosis, arthritis and joint pains. Regular intake of this herb enhances the level of immunity in a person. With its antibiotic properties, a person develops high resistance towards variety of bacterial infections. Its anti-inflammatory properties give instant relief from burning sensations and pains. This herb is easily available and safe to consume.
3. Guggul (Commiphora wightii)
This herb has been widely used in Ayurvedic medicine for centuries. Apart from healing acute arthritis pain, this herb also reduces the level of low density cholesterol and maintains normal blood pressure.  Mix guggul with other natural substances to effectively treat varieties of health problems like arthritis, hemorrhoids, and urinary tract infections. It also cleans blood and treats skin problems including acne, pimples etc. Its weight loss properties make it very much useful to reduce weight and get back in shape.
4. Sonth (Zingiber officinale)
Dry ginger or Sonth is the commonest of all the mentioned herbs. This herb can be seen often in our kitchen. We all are aware of the uses of ginger. This herb is beneficial for curing various types of knee issues such as rheumatoid arthritis, osteoarthritis, joint and muscle pain etc.  Sonth acts as a pain reliever, joint mobility enhancer, reduces swelling to a considerable extent, antibiotic and lessens muscle stiffness which one experiences mostly during morning time.
5. Ashwagandha (Withania somnifera)
Just a tea spoon of on this herbal supplement and say goodbye to chronic knee pain forever. This herb helps you by way of strengthening your body muscles physically and reduces accumulated stress. It is one of the most effective herbal remedies for joint pain, arthritis and other knee pains. Its capsules reduce joint swelling and nourish body tissues gently. No matter how much chronic your knee pain is, this herb deals with the symptoms and the root causes effectively and helps you to get rid of it completely.
Herbal Remedies for Knee Pain by Planet Ayurveda
Joint Aid Plus
Planet Ayurveda is the most effective herbal products manufacturing company. It offers time tested herbal solutions that has given relief from knee problems to many. All these products are designed to be of superior quality and vegetarian with no side effects. Joint Aid Plus is one of their products, which deals with chronic joint issues efficiently. This herbal medicine is a mixture of highly effective herbs such as Ashwagandha, Guggul, Ginger, Nirgundi, Giloy and Shallaki, which exhibit anti-inflammatory properties. They treat all types of mild, moderate and severe inflammation and swelling in the easiest way.
Dosage: 2 capsules twice daily, with plain water after meals.
Ayurveda is the best way to deal with knee pains. All these herbs are safe and easy to use. Unlike other therapies, impact of Ayurveda herbs gives long lasting relief from knee pain.