Increase Memory Naturally - Bramhi Capsules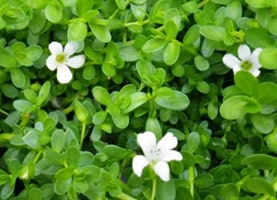 Brahmi is the best herbal supplement to increase memory naturally without causing any side effects. This is one of the best herbal remedies to enhance the brain function, learning capability and retention. Bacopa monneiri or Brahmi is a creeper that grows in marshy lands. The herb contains powerful Bacopasides which enhance memory naturally and many folds. The traditional people in India use Brahmi during their exams to increase the performence. Modern housewives give drinks, jams made up of Brahmi to enhance memory of children. See Brahmi Chawyanprash also to increase memory naturally. Planet Ayurveda offers effective herbal supplements for memory and effective herbal remedies cotnaining Bramhi extract and available in the form of Bramhi Capsules.
Latin Name : Bacopa monneiri
Common Name: Indian Pennywart
Sanskrit Name: Brahmi
Brahmi is purely herbal product containing extract of Bacopa monneiri. This is a time tested herb used to increase memory naturally during ancient times. We have presented this ancient way of memory enhancement in a very modern way but the effects are much more than using crude herb. Many people use this herbal supplement to boost memory during their exams and it really works ! 2 capsules twice daily for 2 months before commecement of exams is recommended dosage by our expert - Dr. Vikram Chauhan.
Brahmi increases memory naturally in many ways. It nourishes the neurons, it improves retention ability. It increases grasping power, learning capability. It contains alkaloids like Bacoposides which are the reason for action of Brahmi to increase memory. Many companies fill herb powder in hard gelatin capsules. We use herbal extract of Bacopa monneiri in vegetarian capsule shells.
We have used vegetarian capsules shells to put in herbal extract of Brahmi. Many companies use hard gelatin capsules and put in 250 mg of herb extract, whereas we have put in 500 mg of concentrated 10:1 ratio extract. Many companies also put raw herb powder in the capsules, which is a very crude way and does not give results. Crude powder is very cheaper as compared to herbal extract of brahmi.
Brahmi is traditionally used in India for its memory enhacing properties. Brahmi is also very useful in common forgetfulness due to stressful life style. So everyone can use it. Bramhi increases the coordination in between brain neurones thus helps in improving short term as well as long term memory. Brahmi increases concentration, stamina and helps in mental fatigue. Brahmi is a complete natural remedy for mind.
Description of Brahmi Plant
This herb spreads on ground and its stems and small leaves are succulent. Roots arise on the modes of the stem also. Flowers arise in the axils of the leaves and are borne on short pedicles.
Distribution
This herb is found in moist or wet places such as on borders of water channels, irrigated fields.
Part Used
Whole Plant
Phytochemicals
Alkaloids, mannitol, saponin, sterols, Brahmin, herpestine etc.
Classical Reference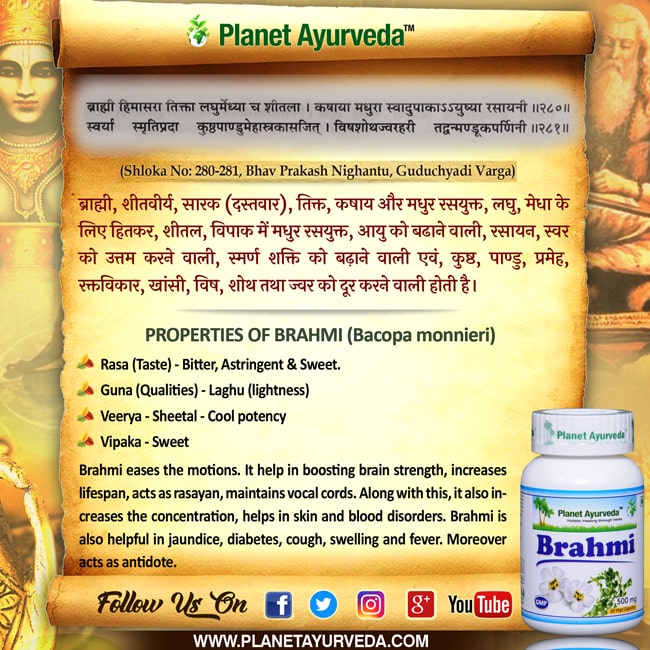 Bramhi Capsules
Serving Size - 1 Vegi Cap
Servings Per Container - 60
Each 500 mg Capsule Contains - Best Quality Herbal Extract of Brahmi - 10:1
Medicinal properties of Bramhi Capsules
It is diuretic, cardiac, Nervine and general tonic.
It is reported to improve intellect, memory, and particularly retention power.
It is also used in treatment of many other ailments like vertigo, anxiety, stress, blood pressure.
It is a very potent nervous tonic and is anti anxiety agent.
It is also considered good fort heart.
Dosage of Brahmi Capsules
1-2 capsules twice daily, with plain water after meals.
To buy Brahmi Capsules, please visit store.planetayurveda.com/products/brahmi-capsules.
Side Effects - No Side effects, Can be used with other herbal supplements, Vitamins or other herbal remedies or natural products.