KAKAMACHI
Latin Name - Solanum Nigrum
Family - Solanaceae
SYNONYMS
English - Garden night shade, black night shade, petty morel.
Hindi - Makoi,
Sanskrit - Kakamachi, Kakahva
PHARMACODYNAMICS
Rasa (Taste) - Tikta (Bitter)
Guna (Quality) – Laghu (Light), Snigdha (Smooth)
Virya (Potency) - Anushna (Not Too Hot)
Vipaka (After Taste) – Katu (Pungent)
PARTS USED
Whole plant, fresh leaves, fruits.
DOSE
Juice - 10-20 ml,
Fruit powder - 1-3 gm.
Decoction - 20-50 ml.
EFFECT ON TRIDOSHAS
It balances all the three doshas.
PHYSICAL FEATURES
It is a very common weed occurring in our backyard. It is however found abundantly growing in all parts of the globe. The plant derived its name Petty morel in the 14th century when it was used by patients of dropsy and canker.
The ripe berries and leaves of the plant are used as food in some tribal areas.
ACTIVE CHEMICALS
Steroidal alkaloid glycosides
Solasonine
Alpha and beta solanigrine
Alpha and beta solamargine
Sapogenin, diosgenin, tigogenin
TOXICITY
It is a very poisonous plant and is not meant for any kind of use in pediatric age group. Its leaves have a strong purgative action when consumed and also stimulates a strong sweating response. It promotes perspiration thereby, helping to maintain the body temperature.
Consumption in large doses may however, lead to death from cardiac arrhythmias, Diarrhea, vomiting, convulsions or may be even paralysis in severe cases. It should therefore be taken in very calculated doses as even slightly higher doses lead to poisoning which may be dangerous if not fatal. In spite of such high levels of toxicity the plant has immense medicinal value in a number of diseases.
CLASSICAL REFERENCE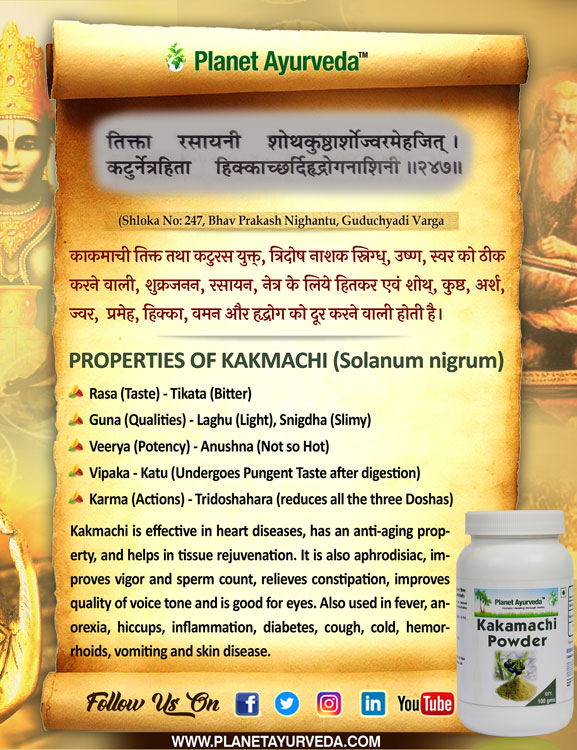 PLANET AYURVEDA'S LIVER DETOX FORMULA
Planet Ayurveda has put together a bunch of herbs that support the Liver and help to maintain all its functions. Planet Ayurveda's Liver detox formula contain standardized extract of the following herbs.
It is a great natural supplement that works towards the maintenance of Liver and other abdominal organs.
LIVER DETOX FORMULA CONTAINS A MIXTURE OF THE FOLLOWING HERBS:-
Kutki- Picrorrhiza kurrao
Punarnava- Boerrhavia diffusa
Kalmegh- Andrographis panniculata
Makoi- Solanum nigrum
Kaasni- Chicorium intybus
Biranjasipha- Achillea millefolium- Yarrow
Jhavuka- Tamarix galluca
Himsra- Capparis spinosa
Haritaki- Terminalia chebula
To buy Liver Detox Formula, please visit store.planetayurveda.com/products/liver-detox-formula