KANTAKARI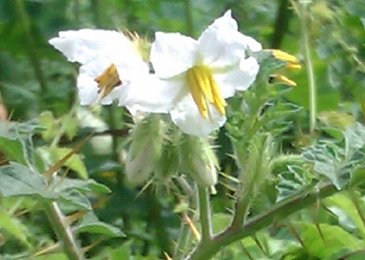 Ayurveda is an age old system of medicine which deals with managing overall health of the body in the best natural way possible. Ayurvedic literature has an ancient compilation of many natural herbs which were cherished for their many unique properties.
Kantakari is one of the most popular herbs in the Ayurvedic literature. It is a herb with many benefits.
Name: Solanum surratense, commonly known as Silk Cotton Tree.
Family: Solanaceae
SYNONYMS:
English - Yellow - berried night shade, febrifuge plant.
Hindi - Choti kateri, bhatkataiyya, rengani etc.
Sanskrit Name - Vyagarhi, Kshudra, duhsparsha etc.
HABITAT:
It is an annual herbaceous plant with thick succulent stems with spicules. It can be commonly found in Asian countries like India and Pakistan, Australia and Northern Africa.
The thorns are yellow in color and small.
Leaves:
These re 4 – 5 inches long and 2 – 3 inches broad, hairy, oval shaped and dentate.
Flowers:
Flowers are blue in color.
Fruits:
Fruits are rounded, green colored when raw and turn yellow at maturity. The seeds are usually small and smooth.
Parts used:
All plant parts can be used effectively.
ACTIVE PRINCIPLES IN KANTAKARI
Diosgenein and Solasonin are the active chemical compounds derived from the plant. The seeds yield a greenish – yellow, fragrant oil.
BIOENERGIES
Guna (Specific Action): Laghu (light), rooksha (dry), tikshna (piercing)
Rasa (Taste): Katu (pungent), Tikta (bitter)
Vipaka (After Taste): Katu (undergoes pungent taste conversion after digestion)
Virya (Potency): Ushna (hot potency)
Actions on Tridosha: Balances kapha and vata doshas.
Dosage: Decoction - 40 - 80 ml.
To buy Kantakari Powder, visit store.planetayurveda.com/products/kantakari-powder
HERBAL REMEDY CONTAINING KANTAKARI BY PLANET AYURVEDA
Planet Ayurveda uses a number of herbs which are used to prepare its high quality health supplements which are completely safe and effective. One of the many bestselling products from Planet Ayurveda is the Praan Rakshak churna.
Praan Rakshak Churna
It is an herbal combination containing many herbs like Kantakari, Shirish (Albizzia lebbeck), Vasa (Adhatoda vasica), Anantmool (Tylophora asthmatica), Dalchini (Cinnamomum zeylanica), Bharangi (Clerodendrum serratum) and Mulethi (Glycirrhiza glabra).
It is one of the best natural supplements for the respiratory system. It can be used to support the person's diet without posing any side effects.