Mahasaindhava Thailam - Herbal Massage Oil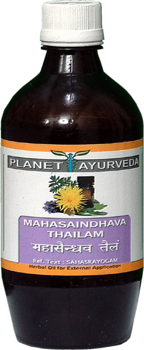 Ref. Text - (SAHASRAYOGAM)
Action : Best for Vatjanaya disorders. Very useful in Joint Pains due to Arthritis, Itchy Skin and Sinus.
Indication : Sinus, Muscular Dystrophy, Lungs Disorders, Itchy Skin, Brain Disorders like Cerebral palsy.
Applications : Mahasaindhava Thilam is meant for external use only. It can be used on Head as well as Full Body Massage.
Indications & Uses
Note : External use only.
Usage : Massage on full body with this Oil is recommended for Joint Pains, Muscular Dystrophy, Cerebral Palsy [Head Massage]
SALE PRICE
For Price Quote Kindly Mail Us at - herbalremedies123@yahoo.com
Packing Size
200 ml. Herbal Oil in Pet Bottle.