Maidenhair Spleenwort (Asplenium trichomanes) - Herbal Remedy for Hair Problems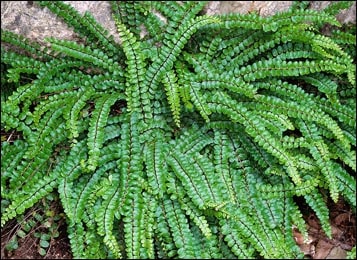 Botanical Name - Asplenium trichomanes
Family Name - Filices
Other Name - Maidenhair spleenwort
Uses of Maidenhair spleenwort
Worms
Rickets
Wounds
Skin conditions
Hair problems
Cough
Bronchitis disorders
Menstrual problems
Sore throat
Insect bites
Headache
How to Use in Different Diseases?
The liquid extract is one of the best anthelmintics against tapeworm, which it kills.
The powder is useful for rickets. The powder is taken one to two teaspoonful twice a day with water.
An ointment is an effect on wounds, bruised and other skin conditions.
It acts as diuretic and expectorant and hence useful for urinary and respiratory disorders.
The whole plant is beneficial in hair problems such as hair falls etc. and menstrual disorders.
Maiden tea is helpful in sore throat.
It is used as a poultice on snake bites, bee stings etc.
A paste made from the fronds is applied to the forehead to relieve headaches and to the chest to relieve chest pains.
Parts used
Whole plant
Dose
Extract - 5 to 10ml
Ointment - Twice daily
Powder - 3 to 6 gm
Tea - 2 to 4gm
Preparations
Extract, Ointment, Powder, Tea