Marjoram (Origanum majorana) - Herbal Remedy for Respiratory Disorders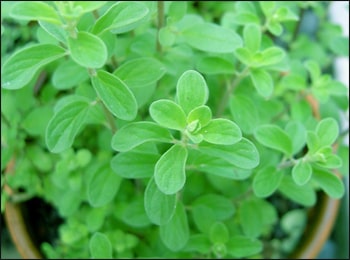 Botanical Name - Origanum majorana
Family Name - Labiatae
Other Name - Marjoram
Uses of Marjoram
Cough
Asthma
Flu
Bronchitis disorders
Headache
Stress
Tension
Migraine
Indigestion
lack of craving
Urinary disorders
Intestinal problems
Infections
Arthritis
Rheumatism
How to Use in Different Diseases?
Marjoram Leaf is an expectorant that has long been used to loosen and expel phlegm from the lungs. Because of its saponin content, it is a fine decongestant that is very useful for bronchial complaints.
Marjoram Leaf helps to ease asthma, bronchitis, dry coughs, sinusitis and sinus headaches.
Marjoram tonic is useful for soothe the nerves, reduce tension, mitigate stress and migraine problems.
The leaf is to treat such as loss of appetite, indigestion, nausea and flatulence.
It acts as diuretic and hence to treat it will promote the flow of urine, helping to relieve stomach bloating and clearing the body of toxins and cleansing the blood.
It has an antiseptic, antifungal and antibacterial properties that possesses healing qualities and combats infection.
The leaf tea is useful for cold, headache and intestinal disorders.
Marjoram capsules are helpful in arthritis and rheumatism pains. Take one cap twice a day with water.
Parts Used
Leaves
Dose
Tonic - 5 to 10ml
Capsules - One caps
Tea - 2 to 4gm
Preparations
Tonic, Capsules, Tea