Momordica charantia (Bitter melon) - Herbal Remedy for Diabetes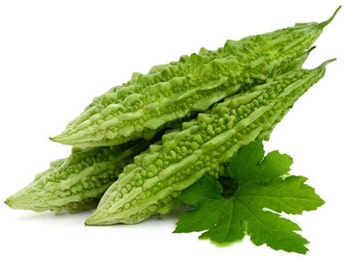 Botanical Name: Momordica charantia
Family Name: Cucurbitaceae
Other Name: Bitter Melon, Bitter Gourd
Uses of Bitter melon
Skin conditions
Wounds
Piles
Burning sensations
Lack of craving
Cough
Diabetes
Inflammations
Fever
Asthma
High cholesterol
H. pylori ulcers
Intestinal gas
Bloating
Stomachache
Intestinal parasites
Digestive disorders
Spleen disorders
Liver conditions
Blood purification
How to Use in Different Diseases?
Momordica paste is also useful for wounds, skin disorders, injuries and piles.
The powder is beneficial in diabetes, urines disorders and upset digestive system. The powder is taken one to two teaspoonful twice a day with water.
It acts as expectorant and hence useful for cough and other lungs congestions.
The fruit is useful in gout, rheumatism, spleen and liver conditions.
It is to treat purify blood.
Due to its bitter taste, it is useful in suppressing the worm infestation.
A leaf tea is used for expel intestinal gas, to promote menstruation, and as an antiviral for measles, hepatitis, and feverish conditions.
It is also used to induce abortions and as an aphrodisiac.
Bitter melon is used to treat infections caused by retrovirus, and is being investigated in the treatment of HIV.
Bitter melon juicer is useful for diabetic patient.
Bitter melon improves the body's ability to use blood sugar and improves glucose tolerances.
Parts Used
Whole plant
Dose
Juice - 5 to 10ml
Tea - 2 to 4gm
Preparations
Juice, Tea