Mugwort (Artemisia vulgaris) - Herbal Remedy for Digestive Disorders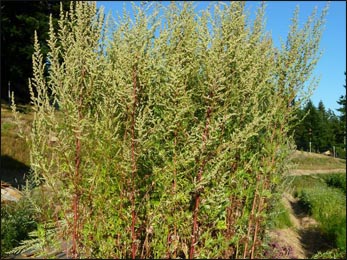 Botanical Name - Artemisia vulgaris
Family Name - Compositae
Other Name - Felon Herb. St. John's Plant. Cingulum Sancti Johannis
Uses of Mugwort
Epilepsy
Cold
Hysteria
Insomnia
Urinary problems
Menstrual problems
Jaundice
Fever
Nervous disorders
Upset stomach
Warts
Gastric
Vomit
Sore throat
Gout
Rheumatism
Health Benefits of Mugwort
It has stimulant and slightly tonic properties, and is of value as a nerving and emmenagogue, having also diuretic and diaphoretic action.
The juice is useful for fevers, agues and jaundice.
An infusion is excellent for all disorders of the stomach, prevents sickness.
Mugwort acts as a bitter digestive tonic, uterine stimulant, nervine, menstrual regulator, and anti-rheumatic.
It is also useful for irregular menses.
The whole plant is useful for depression, lack of craving and vomiting.
Its antispasmodic action may relieve persistent vomit, and epilepsy.
The leaves are useful for warts.
It is to treat stomach ulcers and gastritis disorders.
The infusion is to treat as a gargle also for sore throat.
It is used in alternative medicine to expel intestinal worms, asthma and sterility.
The powder is useful for digestion disorders. The powder is taken one to two teaspoonful twice a day with water.
Parts Used
Whole plant
Dose
Juice - 5to 10ml
Infusion - 15ml
Powder - 3 to 6 gm
Preparations
Juice, Infusion, Powder