Natural Treatment of Asthma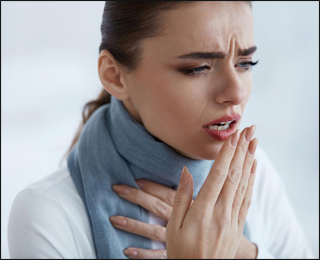 Introduction
Asthma is perhaps one of the most dreadful bodily diseases connected with the respiratory system. It is characterised by sudden attacks of difficulty of breathing with tendency to periodic recurrences at night which leads to suffocation. Due to modern lifestyle, rapid industrialisation this disease has become common among children, adult and old people. Thus Ayurveda has proved beneficial for treating this disease in a natural way using herbs.
About Asthma
Asthma, also known as bronchial asthma is a chronic disease involving inflamed bronchial tubes in the lungs. It is more frequent in males than in females due to greater liability to bronchial affections. During asthma attack, bronchial tubes (airways) become more swollen and muscles surrounding these tubes constrict thus rendering expiration difficult. Attacks may be associated with hay fever, irritation through nervous system or blood, urticaria and hypersensitiveness.
There are Various Types of Asthma Characterised as:-
Cardiac asthma: It is due to heart failure and consists of sudden attacks of shortness of breath when the patient is resting.
Real asthma: It is also due to heart failure and occurs in the terminal stages of chronic Bright's disease.
Allergic asthma: It is caused by allergies and these may be inherited from parents.
Occupational asthma: introduction of dust, pollen, chemical vapours, mechanical irritants, violent emotions while working induce asthma
Ayurveda propounds that there are three defects in the human body, Vata, Pitta and Kapha (air, bile and phlegm). Vata intensifies Kapha and puts obstacles in the path of food, water and air and affects the lungs.
Symptoms of Asthma
During or after physical activities
An asthma attack comes on suddenly between 2 and 4 am in the morning. At night there is diminished circulation and congestion
Expiration is much prolonged and accompanied by noisy wheezing
Headache, sickness, sense of oppression in the chest, depression and disturbed sleep
Coughing
Extremities are cold and pale face with beads of perspiration, feels thirst and motionless
Pulse is small and quick
Anxious expression
After few hours, coughing, expectoration of sputum and sound sleep gives relief
Diagnosis of Asthma
Breathing tests, spirometry and medical history of patients are the measures to check the working of lungs. Allergy test can make patient aware of the allergy and the asthma symptoms can be avoided.
Herbal Remedies for Asthma by Planet Ayurveda
Planet Ayurveda provides best combination of effective herbal remedies such as Asthma Care Pack for natural treatment of asthma. These herbal remedies are manufactured from 100% pure and natural herbs; without the use of any chemicals, binders, fillers, colors, yeast, starch, preservatives or additives. These herbal remedies are prepared under the supervision of renowned Ayurveda experts.
Dosage
Aller-G Care - 2 capsules twice daily with warm water after meals.
Praanrakshak Churna - 1 teaspoonful twice daily with warm water after meals.
Tulsi Capsules - 2 capsules twice daily with warm water after meals.
Shwas Kuthar Ras - 1 tablet twice daily with warm water after meals.
Products Description
1. Aller G care
This herbal supplement is a blend of ashwagandha, neem, shirish and haridra extracts. Ashwagandha has power to enhance the immune system of the body. Neem extract has many useful properties such as anti-microbial, anti-septic, anti-allergic and blood purifier. Diseases such as asthma and other skin disorders are also treated by this herb. Shirish and haridra has anti-inflammatory and anti-oxidant properties.
2. Praanrakshak Churna
Praanrakshak churna of Planet Ayurveda is combination of effective herbs such as vaasa, madhuyashti, shirish bharangi, anantmool, dalchini. This churna has anti-allergic, anti-oxidant and anti-inflammatory properties. It aids in treating asthma and other respiratory disorders as bronchitis and sinusitis.
3. Tulsi Capsules
Tulsi Capsules are very effective for treating asthma. Since these capsules are made of the holy herb, Tulsi, it also has great power of healing following diseases in a natural way:-
Throat and conjested chest
Properties of anti-inflammation and anti-oxidation
Disorders of Respiratory system
Infection of mouth
Cold, cough, flu
Skin disorders
4. Shwas Kuthar Ras
Shwash Kuthar Ras is a Herbo mineral classical formulation. This formulation is really effective in almost all the respiratory problems but has it's best result in Asthma.
To buy Asthma Care Pack, please visit store.planetayurveda.com/products/asthma-care-pack.
Diet and Lifestyle
Along with herbal remedies light exercise, good hygiene, deep breathing, proper rest, massage, regulated diet, sun bath, decrease of worry and self control are all aids in curing asthma and leading a healthy life for long run. Health is mainly dependent on right breathing and right thinking, so preventive care of health is must.