What are the Health Benefits of Kutki (Picrorhiza kurroa)?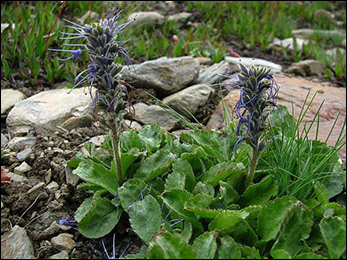 What is Picrorhiza Kurroa?
It is an ancient medicinal plant that grows mostly in the Himalaya region. It is also known as Kutki in Hindi. This plant has helped cure a number patients of various diseases. It has features that are anti-oxidant and anti-inflammatory. Mostly it is used in the Ayurvedic zone to detox liver, cure constipation, sooths digestion, boosts cardiac health, enhancing your appetite, heals arthritis and combats a fever.
Many medicines that are made with some share of this medicinal plant are available in the Ayurvedic zone in many forms of powder and tablets. Mostly its root's powder is used to make the herbal remedies. It has various benefits and cures for many diseases that it can be used as a home remedy, but better consult an Ayurvedic doctor before you proceed. We will discuss some of the significant benefits of this plant now:
What are the Health Benefits of Picrorhiza Kurroa?
Restores Liver Function
Mostly bile get disordered due to the imbalance of Pitta dosha. Kutki can help retain the balance of Pitta and thus produces more bile. Its main aim is to save the liver from getting ambushed by any infection. It governs the enzyme production to stay normal. Its 2 ingredients, picroliv or kutkin are held responsible for all these activities.
When your liver gets an ailment from some toxins that arrive in the liver along with excessive drinking of alcoholic contents, smoking, pollution, and processed food or by taking some medications, Kutki is one that prevents it from any mishaps if taken earlier, Kutki is the one that cures it and restore its health. It cleans the whole liver by throwing out the toxins. An herbal medicine known as Arogyavardhini Vati, Yakrit Plihantak Churna produced by Planet Ayurveda is available for treating your liver. Better consult your Ayurvedic doctor before you make a move. It cures viral hepatitis. After having this remedy, it did reduce the level of serum bilirubin. Transaminase level also dropped, which means that this remedy very efficient results. Kutki also helps in boosting bile production and healing jaundice.
Enhances the Immune System
If Kutki is taken with licorice it eradicates the minor difficulties. Kutki is responsible for doing an activity that bounces the immune responses for the better. A study was conducted to know the Kutki effects and it was found that it's extracts were able to boost the production of lymphocytes and white cells that are responsible for keeping all infections at bay. Kutki also enhances the level of cell signaling proteins called cytokines that maintain the immune defenses of the whole body.
Combats all the Digestive Problems
Apart from enhancing the liver functioning's, Kutki also solves all the problems faced in the digestive system and spleen disturbance. Kutki has a major role in correcting the digestive system and helps in indigestion and dyspepsia. Kutki is there in Ayurvedic zone to heal you from constipation, corrects the bowel movements due to its laxative features. If you are suffering from nausea or vomiting, Kutki again comes to the rescue.
Improves Appetite and Weight Management
If you lose the appetite and don't feel the hunger for anything, a dose of Kutki will do what the doctor ordered. It provokes the gastric secretions and appetite gets a boost. It also counters anorexia - by enhancing your urge to eat more, it may drive away extreme weight loss and tiredness.
On the vice versa, if you are obese, it kindles the agni (digestive fire), enhance metabolism, controls the bowel movement helping you lessen fat collection, inevitably making you able to control weight gain.
Respiratory Benefits
In Ayurvedic zone, Kutki is used to clean the whole respiratory system, with a relief from bronchitis and asthma. Its features, which are anti-inflammatory and immune-boosting makes the muscles relax. Thus it bestows benefits to make your life a healthy life, with a smile on your face enhancing your personality.
Healthy Heart
It enhances the cardio health giving benefits to the heart. It's being anti-inflammatory and anti-oxidant, which prove to be great for cardio health. It contains apocynin, which is able to support the blood vessels by removing all the hindrances from the arteries, making the blood flow easily. A research was done on its use in antithrombotic drugs and it was found that it prevents the blockage caused by platelets clumping.
Combats Cancer
Due to its anti-neoplastic features, Kutki helps in halting the growth or even halts the birth of tumors. It ambushes cancer from other fronts too. Its anti-oxidant features rein in the free radicals that are active in cancer formation. It also kills the cancer cells by apoptosis. It is thought that it is the best remedy for therapeutic cure alongside.
Relief from Skin Problems
Ayurveda uses Kutki due to its anti-oxidant features that help in healing skin disorders. It can be used to reduce skin irritation from dermatitis, combats skin allergies and also cures the cuts and wounds that happen on the skin. Kutki has shown a keen interest to tackle psoriasis effectively. It might even be able to handle Vitiligo, the research is going on.
Cures Fever
The powder of this herb, Kutki can be mixed in warm water and given to a person whose body temperature has risen, due to fever, it does help in bringing it back to normal i.e. 98.6 °F. This powder can also be mixed in authentic ghee and given to the patient. Its powder tastes bitter, but 'bitter cures better'. Even if you have a high degree of fever, at least it will help in reducing it to low level.
Classical Reference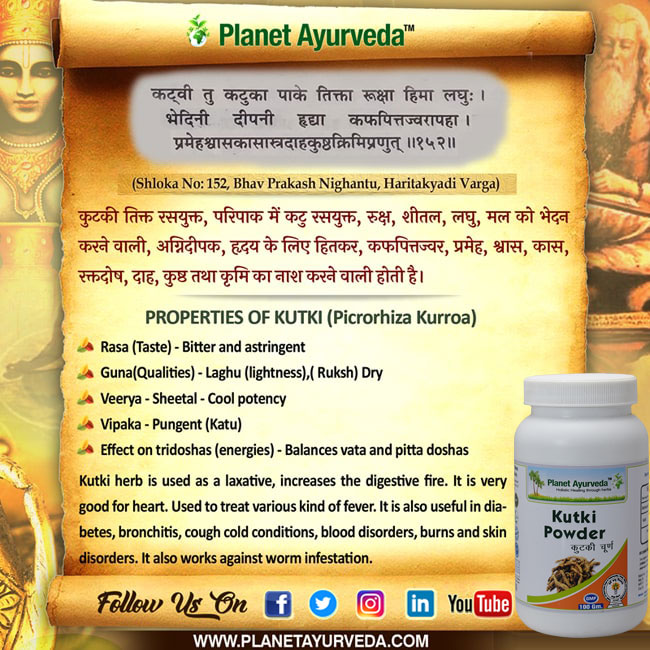 Are you still trying to find authentic Picrorhiza Kurroa?
All these benefits are bestowed by Kutki only if it's grown organic, otherwise you will not be able to reap so many benefits. If you are still searching the net to find organic Kutki. Click on the web site of www.planetayurveda.com. Here you get 100% herbal, authentic and organic products that are created under the watchful eyes of a renowned Ayurvedic doctor.