Planet Ayurveda in New Delhi (Rohini)

Delhi is the capital of India and is vast spread with the number of areas in it. We can say it is divided into parts and are connected to each through metro. Delhi is officially the National capital Territory of Delhi (NCT). It is the union territory of India containing New Delhi as the capital of India. As said above it is a vast area surrounded by Haryana and Uttar Pradesh. The population of Delhi is estimated to be 26 million which is making Delhi to be the second largest urban area according to the United Nation. The population of Delhi gives a clear picture of the traffic, factories and other modes which can disturb the health of people living there. As people living here are running in the race to earn their bread living back their health. We can say they ignore it till the condition reaches the extreme and when things are out of control, they move for such strong medications which can make them ready again to be part of the race. People living in Delhi are also understanding that to win the race of life, they need to stay healthy and the medications they are taking will kick them out of the race because curing one disease is inviting many other side effects. Therefore they want classical, authentical and pure herbal supplements which have a magical effect with no side effects.
The regular visit to Delhi for seminars and meetings, our MD came to know the running condition of people living in Delhi. Dr. Vikram Chauhan -MD (Ayurveda) has an aim or dream of life to spread awareness about how to live healthier lives, not only from our medications but also by sharing knowledge of "Ayurveda". He is running his own Ayurvedic center cum company since 2001 in Mohali, Sector-82, Plot No.-627, JLPL Industrial Area. He deals in the treatment of ITP (Idiopathic Thrombocytopenic Purpura), Ulcerative Colitis, IBS( Irritable Bowel Syndrome), Scleroderma, Kidney ailments- failure, shrinking and stone, Fatty-liver, Hepatitis, Atopic Dermatitis and many more health ailments. The quality and the therapeutic benefits of the products manufactured by Planet Ayurveda has treated the number of people worldwide which ultimately has increased the awareness and importance of Ayurveda and love for Dr. Vikram Chauhan. The patients who are treated by the products of Planet Ayurveda and the diagnosed by Dr. Vikram Chauhan have shared their views, reviews, and the real testimonials which are uploaded in the website and YouTube channel of Dr. Vikram Chauhan to make the people understand the magic of Ayurveda. As he has gained so much of love and respect by serving humanity by Ayurveda. People from worldwide wants to be part of Planet Ayurveda and join the mission and dream of Dr. Vikram Chauhan of spreading Ayurveda.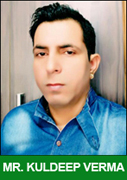 In Delhi, he wanted a person who could understand the importance of Ayurveda and be part of Planet Ayurveda in serving humanity. He met Mr. Kuldeep Verma from Aarogyacare New Delhi who is in Rohini and is the right person to be the link between Dr. Vikram Chauhan and patients in Delhi. Mr. Verma joined Planet Ayurveda in Delhi by opening an Exclusive outlet there. He is working as an outlet incharge and is working in the best way by understanding the needs of patients and helping them by providing Ayurvedic medicines. Mr. Verma believes in serving humanity with Ayurveda and is working successfully with us for years and proved himself to be a strong pillar of Planet Ayurveda.
Today the products of Planet Ayurveda is treating people and has become the first choice of treatment because:-
The supplements are manufactured under the roof of Planet Ayurveda is made under the principle mentioned in the Ayurvedic literature.
The products manufactured here undergo the quality, potency, and test to see whether used ingredients are pure or not.
No chemicals are used - even the capsule shells are 100% vegetarian and are made from plant cellulose.
The products manufactured under Planet Ayurveda are free from chemicals, starch, additives, color, binders, fillers, yeast, and any such thing which is harmful to our body.
To get the products of Planet Ayurveda in Delhi, patients can call and meet Mr. Verma at the address given below.
Contact Details
Address: Arogyacare Ayurveda
B-842, G-Floor, Sector - 1, Rohini, Delhi - 110085
Near Avantika Market & Grover Sweet Wali Gali
Phone No.: 011-6503197
Mobile No.: 9999938860, 9990770771
E-mail Id: aarogyacare.ayurveda@gmail.com
Review for Planet Ayurveda Products