What are the Uses and Health Benefits of Red Clover (Trifolium Pratense)?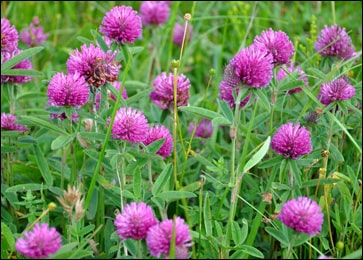 What is Red Clover (Trifolium Pratense)?
Red Clover is an herb that belongs to the legume plant family. It belongs to family Fabaceae. This perennial herb is commonly found in sandy and light soil throughout Europe and Asia. Its flowers range from magenta to white in color and are butterfly shaped.
Red Clover is the richest sources of isoflavones. Isoflavones are the chemicals that are water soluble and they act like estrogens. Red Clover mimics the hormone estrogen.
Red clover is also a source of many valuable nutrients such as calcium, magnesium, phosphorus, potassium, thiamine and Vitamin C.
In Ayurveda, it is typically used to treat respiratory issues such as: asthma, bronchitis, skin disorders such as: eczema and psoriasis and gynecological problems such as: menopausal and menstrual symptoms.
The isoflavone extracts are used as dietary supplements for osteoporosis and high cholesterol.
In addition to isoflavones, it contains other polyphenols such as: afrormosin, calycosin, irilone, methylorobol, clovamide etc.
What are the Characteristics of Trifolium pratense?
Botanical Name: Trifolium pratense
Other names: Wild clover, cleaver grass, marl grass, cow grass, purple clover.
Taste: Bitter and Sweet
Potency: Cooling action
Effect on Tridosha: Balances Pitta and Kapha doshas but increases Vata dosha slightly.
Main action: Expectorant and anti-tussive, esterogenic and spasmolytic
Other Uses: Blood purifier, antiseptic, anti-asthmatic, cancer inhibiting.
Parts used: Flower heads
What are the Health Benefits of Red Clover?
Blood Purifier
It has been long used as a "blood purifier" specifically for the potential treatment of cancer.
The anti-cancer properties of red clover are due to the presence of compounds known as: biochanin-A, caffeic acid, chlorogenic acid, coumarin. All these compounds have anti-cancerous properties.
Researchers have found that isoflavones help in stopping cancer cells from multiplying or growing and therefore induces apoptosis.
It affects those cancer cells that are related to hormonal changes such as breast, endometrial or prostate cancer.
For Thrombosis
Red clover has blood thinner properties due to the concentration of coumarin found in it.
For the treatment of thrombosis and other conditions in which thick blood obstructs blood vessels, red clover herb is beneficial.
Menopause
It contains phytoestrogens which mimic the activity of estrogen, it is used in alleviating the discomfort due to menopause.
It is used in reducing menopausal symptoms such as: hot flashes, night sweats.
It also decreases the risk of osteoporosis later in life.
Isoflavones found in red clover is associated with an increase in "good" HDL cholesterol in pre and post-menopausal women.
Improves Bone Health
In menopausal women, it stops osteoclasts. Osteoclasts are the cells that break down the tissue.
It also increases the bone mineral density and bone formation by promoting osteoblast activity.
Reduces the Risk of Breast Cancer
The isoflavones present in red clover has the potential to reduce the risk of breast cancer.
Regular intake of red clover may provide protection against breast cancer recurrence and mortality.
Cardiovascular Health
It is estimated that many women spend more than 1/3rd of their lives in a state of estrogen deprivation, which leads to a number of significant long-term changes.
Abnormally low estrogen levels not only increase the likelihood of developing osteoporosis but also raise the cardio-vascular risk.
Red clover helps in improving arterial health by reducing the risk of atherosclerosis (hardening or thickening of arteries) and helps in preventing coronary heart disease.
Skin Inflammation
Red clover's isoflavones are effective in slowing down the signs of aging on the skin as well as lowers the inflammatory skin conditions such as: eczema, psoriasis and rashes.
It reduces the effects of skin aging and boosts collagen production.
It also boosts the health of skin follicles, nails as well as scalp.
Respiratory Infections
Red Clover is used for the prevention and treatment of various respiratory conditions such as: a whooping cough, cold, asthma, and bronchitis.
It cleanses the body in a natural way by flushing the extra mucus and fluids from the respiratory system, therefore, relieves a cough and bronchitis in a natural way.
Makes Hair Strong
Being rich in isoflavones, red clover tea is an effective hair rinse.
It makes the hair strong by reducing scalp irritation and eliminating dandruff.
It softens the hair and adds greater volume to thicken the hair and luster to hair.
Precautions
Patients who are taking blood-thinning medicines should not use red clover.
It is not recommended to take this herb before surgery as it may exacerbate surgical bleeding.
It is contraindicated in pregnancy and lactation because it contains phytosterols having abortifacient and estrogenic properties.
It is not recommended for those who are taking birth control pills.
Red clover herb is not advised in children younger than 12 years.