Planet Ayurveda in Cambodia - Siem Reap and Phnom Penh
Cambodia is a small but beautiful country located in South East Asia surrounded by Vietnam, Thailand and Laos.
There are a lot of tourist places in Cambodia like one of the most famous Hindu Temple called - Angkor Wat Temple located in city Siem Reap. It's world's biggest temple and one of the oldest.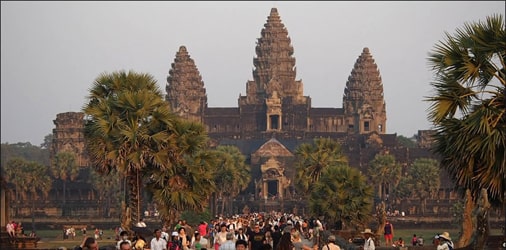 Angkor Wat Temple
Dr. Vikram Chauhan visited this temple in year 2018 and decided that we should have someone in Cambodia so that we can spread Ayurveda in this part of the world.
There are not many authentic Ayurvedic treatment centers in Cambodia but many are coming up just in the name of massages and shirodhara. There are hardly any Ayurvedic products which you can get in Cambodia.
Planet Ayurveda began it's journey in Cambodia when Dr. Vikram Chauhan met Dr. Keang Seng from Cambodia in his office.
Dr. Keang Seng with Dr. Vikram Chauhan (MD-Ayurveda) in Cambodia
It was a very nice meeting and both the doctors decided to spread the word about Ayurveda in Cambodia.
Dr. Keang Seng lives in Cambodia and was already promoting Ayurveda and herbal supplements over there. He was looking for real and authentic Ayurvedic medicine suppliers from India to Cambodia. After meeting with Dr. Vikram Chauhan he immediately decided to start promoting Planet Ayurveda's products in Cambodia. Dr. Keang Seng is lives in Phnom Penh - The capital city of Cambodia.
He immediately liked the products and the passion behind the products. He made the products available in Cambodia and is now an Authorized Reseller of Planet Ayurveda in Cambodia.
Dr. Keang Seng and his family with Dr. Vikram Chauhan (MD-Ayurveda) alongwith Mr. Anil Thakur (Planet Ayurveda Products Reseller in Delhi) at Planet Ayurveda Centre, India
We have a sole goal. We want that people of Cambodia should also get the benefit of Ayurveda and enjoy the benefits of this ancient science and live a healthy long life. Ayurveda believes in preventing illness and improving overall health and treating complicated acute and chronic diseases at home. It's a science of nature. Nature has ability to heal many underlying chronic diseases. Today's lifestyle is affecting people in many countries. People of Cambodia are also prone to lifestyle illnesses because of changing food habits and lifestyle in modern times.
It's very important for common people to use Ayurvedic medicines like Vara Churna, Daily essentials, Triphala, Green essentials, Amalaki Rasayan, Curcumin and Shilajit to prevent the illnesses and also treat complicated diseases like Asthma, Arthritis, Rheumatism, Psoriasis, Colitis, Auto-immune disorders, liver and kidney failure, problems of the gut and so on.
Contact Details
Address: KEANG SENG SIMON INTERNTIONAL CO., LTD.
Lot No. 59, National Road No. 2, Sangkat Prek Kampeus,
K/H Mean Chey, Phnom Penh, Cambodia.
Phone No.: (+855) 23-302-823, (+855) 23-302-824
E-mail ID: mail@kssi.com.kh
Website: www.kssi.com.kh