Planet Ayurveda Products Reseller in Queensland, Australia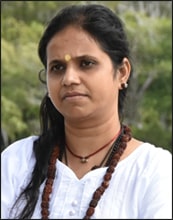 Yogi - B. I. Tech, M.A (Yoga), Dip. Ayurveda.
Yogi is Planet Ayurveda's authorised products Reseller in Queensland, Australia. She is founder of Yoga Peedam (the Very Seat of Yoga) Australia and in India. She is an accredited Executive Member for Yoga Training with IICT (International Institute for Complimentary Therapies). She trains and teaches people on practices of Yoga (comprises of Ayurveda, Yogic Tools-Asanas, Meditation, Yagna therapies) Born in a Traditional Hindu family India and her practices of Yogic life started at the very age of 3 year old, comes from Traditional System of Guru Lineage and is been regarded as Guru of Yoga Vidya Tantra Tradition of Ancient 5th Century Practices on Sri Vidya. For the past 20 years her students, Practitioners of this system is from all parts of the world. Besides working on Health & Wellness profession and in family life, yogic life and practices continues on every moment on her and for the Welfare of the community.
Address:-
YOGI
YOGA PEEDAM
1 Fernhill Place, Diddillibah,
Queensland - 4559, Australia.
Contact Details:-
Phone No.: (+61) 7-5450-0264, (+61) 4-0716-9890 (For Whatsapp Messages and Calls)
E-mail ID: yoginiima@gmail.com