Planet Ayurveda Products Reseller in Trujillo Alto, Puerto Rico, USA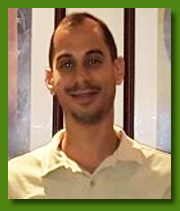 MR. PAOLO DI PIETRO
(D.O.B.:11-11-1985)
Address:-
"AYURBRAHMA" - Holistic Ayurveda Shop and School
Calle Aniceto Diaz #A4, Urb. Golden Hills,
Trujillo Alto, Puerto Rico, 00976 (USA)
Contact Details:-
Phone No.: +1 (787) 645-9665
Qualifications
Associate degree: Associate Degree in Applied Science - Precision Agriculture Technology. UNIVERSITY OF PUERTO RICO, UTUADO CAMPUS. (2005-2007)
Bachelor's degree: (BA), Interdisciplinary Studies: Arts and Humanities.
Concentration: Alternative and Integrative Education Models. UNIVERSITY OF PUERTO RICO, RIO PIEDRAS CAMPUS. (2008-2014).
Master's degrees: (MA) Naturopathic Sciences (Alternative Medicine). EDP UNIVERSITY, HATO REY, PUERTO RICO. (2014 – on progress).
Additional Qualifications
Registered Ayurvedic Practitioner (R.A.P.): Registered Ayurvedic Practitioner with AAPNA the Association of Ayurvedic Professionals of North America (www.aapna.org)
Certified Ayurveda Therapist: Completed Ayurveda Therapist Training Program at the Chakrapani Ayurveda Clinic & Research Center, Jaipur, INDIA. (ISO 9001 & ISO 22000 Certified) (www.chakrapaniayurveda.com)
Publications
Books
Books on Progress to be Released on 2016
Ayurvedic & Scientific Protocol for Total Well Being
Charaka Samhita: Chapter 1 (Spanish version with Sanskrit).
Compendium of Ayurveda Botanicals
Current Employment and Teaching Experience
Job Titles
Ayurvedic Health Educator & Counselor
Italian Language Tutor
Educational Projects and Institutions
Ayurveda Tutor (www.ayurvedatutor.com) : Ayurveda Tutor is a Seva Service based project established by a group of devotees for the successful propagation of the Ancient Vedic Knowledge Revealed to the Wise Sages "Rishis" for the needful and diseased Humanity. The aim of Ayurvedia Tutor is based on - Old Ayurvedic prayer -- "Sarve Bhavantu Sukhinah Sarve Santu Niramayah Sarve Bhadrani Pasyantu Ma Kascit Duhkhabhak Bhavet" : May all be happy May all be free of disease May all see the good May all act free of sin.
Human Medical Supply, Inc. & Farmacia Divina Presencia, Inc.
Course Title & Counselling Activities
Introduction to Ayurvedic Lifestyle courses
Introduction to Italian Language and Culture and Basic Course
Ayurvedic Approaches to Common Diseases
Ayurvedic Food & Nutrition Seminars
Ayurveda and Healthy Cooking Workshops
Lectures on Ayurvedic Medicine using classical texts: Charaka Samhita & Ashtanga Hdryam.
Yoga & Ayurveda Tips for Stress Relieve on Corporative Work fields.
Ayurvedic Pharmacognosis (Dravya Guna).
Ayurveda Pancha Karma Therapies seminar
Healthy Diet & Food counselig
Counseling of the proper use of Natural Supplements, Vitamins & Herbs.
Responsibilities
Unit leader and manager, curriculum designer, staff training, practice of a continuing education protocol, counselling and professional ethics.
More Employment Experience
Job Title
Regional Manager and Director
Institutions
ORGANIC VEDA, LLC (San Juan, Puerto Rico & USA) www.organicveda.com
(Ancient Green Fields, Pvt. Ltd, Tamil Nadu, India) www.agfindia.com
Responsibilities
Working in the Research & Development field of Natural and Ayurvedic Health Products
Manufacturing
Importing logistics
Distribution channel development and managing
Orientation and education on uses and benefits of natural health products.
Job Title
Independent Business Adviser
Independent Free Lance Translator
Institutions
TY Moringa Canarias (www.tymoringa.com)
Responsibilities
Perform research on processes and recommend changes in strategy to improve business.
Develop and maintain effective communication with both internal and external agencies
Manage and monitor effective working of local projects and provide support to marketing plan.
Translate documents from English to Spanish language and vice versa.
Prepare documents in Spanish, English and Italian languages.
Participation on Important Events
World Tea Expo 2010, Las Vegas, Nevadas (USA). World Tea Expo 2010 was held from June 11 to 13, 2010 at Las Vegas Convention Center.
Natural Products Expo East. September 25th - 28th, 2013 • Baltimore, MD
Natural Products Expo West 2014 12. March 6th - 9th, 2014 • Anaheim, CA.
BioCultura, Madrid, Spain at the IFEMA from 12 -15 de november 2015. The most important national fair of organic products and responsible consumption.
Conference Papers Given
"MORINGA: A Miracle Superfood from Ancient Ayurveda". BioCultura, Madrid, Spain at the IFEMA from 12 -15 de November 2015
"Cooking for your Digestion". Featured Speaker invited to the upcoming 17th International Conference "Ayurveda: Food & Nutrition" May 13 – 15, 2016, Indian Community Center, Pittsburgh, Pennsylvania, USA. This Conference Is Open To All Integrative Health Professionals, Dietitians, Nutritionists, Naturopathic Doctors, Chiropractors, Holistic Nurse Practitioners, Ayurvedic & Yoga Practitioners, Herbalists, Massage Therapists and General Public
Competences and Skills
Understanding of my legal and moral responsibilities.
Well learned and well documented on my teaching field.
Good at Communication
Language proficiency.
Spanish, English and Italian languages.
Maintaining a Professional Appearance.
Demonstrating a Commitment to the Profession and Ethics.
Interacting with Students and General Public and Audience.
Create a Learning Environment
Good at Lesson Plan Design
Able to Employ Varied Teaching Strategies
Use Assessments Well
Able to Identify Student Needs
Able to collaborate with other teachers and staff
Integrated Education Approach (Mind – Body – Soul).
Application of modern technology.
Conducted radio programs on healthy lifestyles.
Grants Awarded
Conference grants
Conferencia sobre El Árbol de la Moringa en la Celebración de La Semana del Medio Ambiente en Abril 2010. Universidad APEC es la Institución primogénita de Acción Pro Educación y Cultura (APEC), Santo Domingo, RD. www.unapec.edu.do
Bio-Cultura, Madrid, Spain at the IFEMA from 12 -15 de November 2015. The most important national fair of organic products and responsible consumption.
Featured Speaker invited to the upcoming 17th International Conference "Ayurveda: Food & Nutrition" May 13 – 15, 2016, Indian Community Center, Pittsburgh, Pennsylvania, USA.
Student Entrepreneur Awards
Finalist at the "El Nuevo Día Éxito Empresarial"
Student Entrepreneur Awards from year 2008. Paolo Di Pietro / Paolo's Natural Care.
Research Leave/Awards
Research on Moringa oleifera Lam. on the region of Coimbatore, State of Tamil Nadu, India sponsored by the ANCIENT GREENFIELDS PVT LTD (TAMIL NADU, INDIA). Moringa oleifera is a fast-growing tree native to South Asia and now found throughout the tropics. Its leaves have been used as part of traditional medicine for centuries, and the Ayurvedic system of medicine associates it with the cure or prevention of about 300 diseases.
Moringa, sometimes described as the "miracle tree," "drumstick tree," or "horseradish tree," has small, rounded leaves that are packed with an incredible amount of nutrition: protein, calcium, beta carotene, vitamin C, potassium. It's been used medicinally (and as a food source) for at least 4,000 years.
Referees
Dr. Norma Williams (MD).
Human Medical Supply, Inc.
Address: 1696 Puerto Rico, 1662 Av. Americo Miranda, San Juan, 00921
Telephone : ( 787) 775-8011 / Cellphone: (787) 344-4502


Mr. Jorge Torres
Sanatam Dharma Society of Puerto Rico, Inc.: A religious nonprofit society dedicated to promote the Sanatan Dharma. A religious degree granting institution to educate Vaishnavas and the general public about Vaishnavism and Sanatan Dharma.
Address: Toa Baja, 00950 Toa Baja
Telephone: (787) 453-3274
Photo Gallery